Our Technology
An all-in-one media monitoring, AI pitch writing, journalist recommendation and outreach platform.
AI Powered PR That Gets Results
Manage your PR activities the same way you manage your email marketing or paid ads campaigns with our AI tools, rich analytics, and intuitive campaign management.
Simple Onboarding
Setup your first PR campaign in less than 3 minutes with our simple onboarding. Just enter some basic details about your organization, your industry and your competitors and we'll do the rest.
Custom Journalist Matching
Our proprietary AI technology analyses which journalists are the most relevant to your business and industry, then begins compiling a personalized database of media targets.
Intelligent Media Monitoring
We analyze hundreds of thousands of news articles each day and create a curated list of the stories that are the most relevant to you, so you can stay on top of the news and jump on trending topics.
Automated Pitch Writing & Outreach
Generate timely media pitches based on your talking points and trending news stories with the click of a button, using our AI pitch writing assistant. Then just click send to put each pitch into outreach.
Rich Campaign Analytics
Uncover which campaigns and outreaches are performing better than others and discover the reporters that are generating the most engagement with our campaign analytics dashboards.
Professional PR Support
We're not just a software company. We have a team of highly experienced PR professionals who can manage campaigns on your behalf, create top tier long-form content and devise strategic communication plans.
Manage Everything in Our Platform
Manage everything within our intuitive, easy-to-use cloud-based platform. View your curated list of articles and trending stories, explore your personalized journalist database, and create and send AI generated pitches, all before you've finished your first coffee of the day.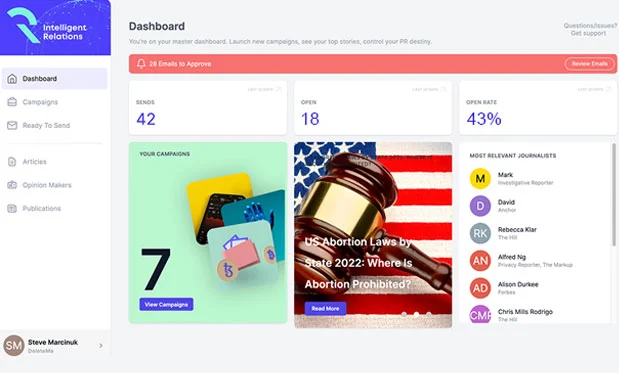 Get Early Access – Book a Demo
Get access to Intelligent Relations before your competitors do.
Book a Demo