Top Kansas City Newspapers and Outlets [2023 Edition]
Known as the Heart of America, Kansas City boasts a vibrant culture and entertainment scene that can't be found anywhere else.
If you're in the entertainment business, then Kansas City is one market you don't want to miss. From its historic music scene to its nationally recognized professional sports teams, there's no lack of entertainment for residents and visitors alike.
Kansas City is also brimming with business opportunities. Bioscience, technology, e-commerce, and finance are all booming industries in the city.
Plus, Kansas City lies in both Kansas and Missouri, making it an one-stop interstate PR shop for your business.
So, no matter what industry you're in, our list of Kansas City newspapers and publications has something for everyone!
From glossy lifestyle magazines to state-wide news outlets, we've got it.
Supercharge Your PR Efforts with Artificial Intelligence
Amplify your news and elevate your brand with AI-powered pitching. Access our entire journalist database + easy-to-use tools – free for 14 days when you sign up now!
9 Top Kansas City Newspapers and Publications – Our List
Kansas City Beacon (@kcbeacon) Kansas City Beacon is a nonprofit online news organization. It covers local news and issues in the Kansas City metropolitan area for both Missouri and Kansas residents.
The organization was founded in 2018 by former Kansas City Star reporters, and is supported by reader donations and grants.
Topics covered by The Kansas City Beacon include:
Local Government
State Government
Education
Healthcare
Housing
Labor
The publication focuses on investigative journalism and providing in-depth coverage of important issues that affect the community.
It also produces multiple topic-specific newsletters and a podcast, providing a wide variety of multimedia content for its readers.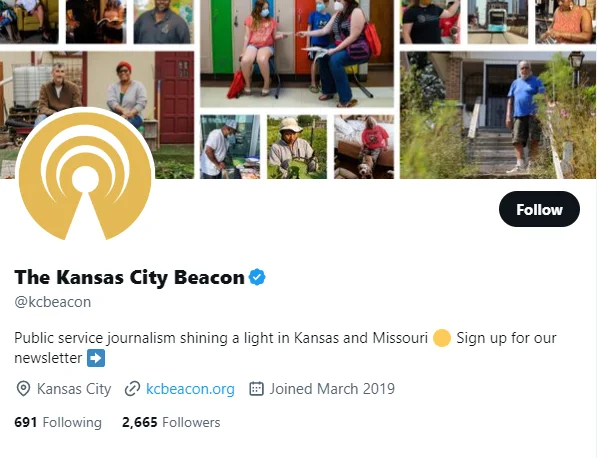 Pitch Kansas City (@TheFastPitch) Pitch Kansas City is an alternative newsweekly that covers local news, politics, music, and culture.
They are known for their irreverent tone and in-depth reporting, and have been one of the staple Kansas City newspapers for over 40 years.
Topics covered by Pitch Kansas City include:
Local News
Food and Drink
Culture
Entertainment
Courts and Crime
Government
This publication also produces an annual special publication called "Best of KC" that highlights notable businesses, events, and people in Kansas City. Winners are voted on by Pitch Kansas City readers and thousands participate every year.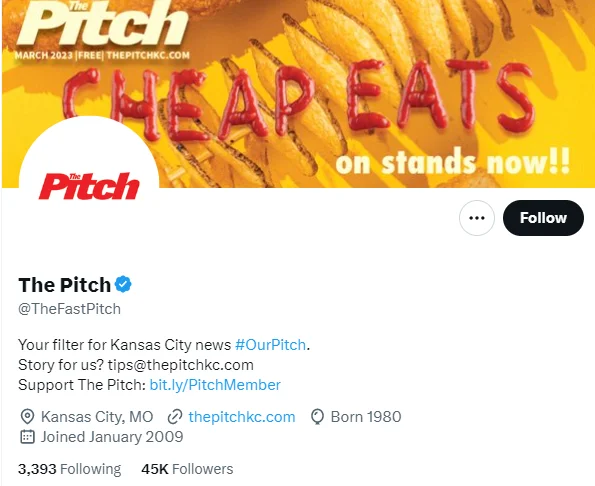 The Independent (@KCIndependent) The Independent is a weekly newspaper that covers local news and politics from an independent perspective.
This outlet covers a wide range of news and events related to the Kansas City social scene, and it hosts multiple networking events throughout the year. It places a particular emphasis on the arts and entertainment scene in Kansas City.
Topics covered by The Independent include:
City Culture
Arts
Entertainment
Business
Government and Politics
Community Events
This outlet has been in publication since 1899, and is the go-to source for Kansas City culture and social scene news.
The publication also hosts a range of awards from a "Women in Business" award to "Civic Service." It's considered a great honor to be featured in this Kansas City magazine.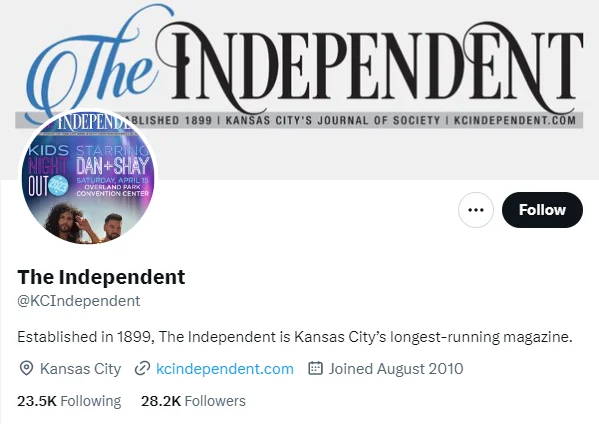 The Kansas City Star (@KCStar) Kansas City is home to The Kansas City Star, the premier daily news outlet for both Missouri and Kansas. This is one of the only Kansas City newspapers that we also chose for our Missouri newspapers list.
Founded in 1880, this is one of several Kansas City newspapers that covers a wide range of news and events from both Missouri and Kansas.
Topics covered by The Kansas City Star include:
Local News
Sports
Politics
Financing
Business
Events
Entertainment
Food and Drink
This is a well-respected news outlet that has won eight Pulitzer Prizes for its in-depth journalism, making this a trustworthy source of news for Missouri and Kansas.
The Kansas City Star has an estimated circulation of about 77,000 and the Sunday edition has a circulation of about 118,000 readers.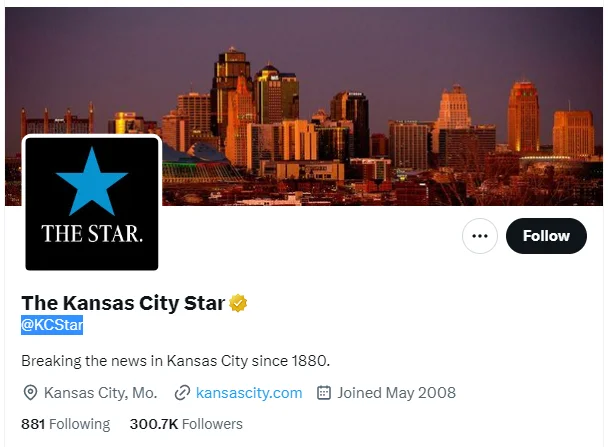 KMBC 9 News (@kmbc) This outlet is an ABC-affiliated television station based in Kansas City, Missouri. This is the most-watched broadcast news program in the Kansas City area.
Topics covered by KMBC 9 News include:
Politics
Weather
Sports
Crime
Traffic
Education
Health and Wellness
KMBC 9 News' website features a range of multimedia that rounds out their reporting, including clips, photography, and contests. All of which keeps dedicated viewers engaged with the digital platform.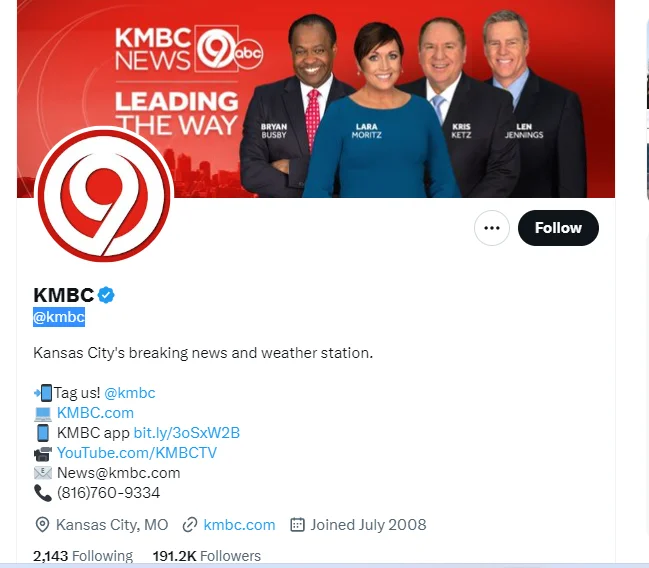 KSHB (@KSHB41) KSHB is a local TV news station providing up-to-the-minute coverage of news and weather in Kansas City. It's the fastest-growing Kansas City news outlet.
Topics covered by KSHB include:
Weather
Local News
Education
Sports
Entertainment
Events
KSHB first began broadcasting in 1970. Today, it's Kansas City's only independent station.
KSHB is known for its number of technological "firsts" in broadcast journalism, including being the first on the market to air commercials and promotions in high definition.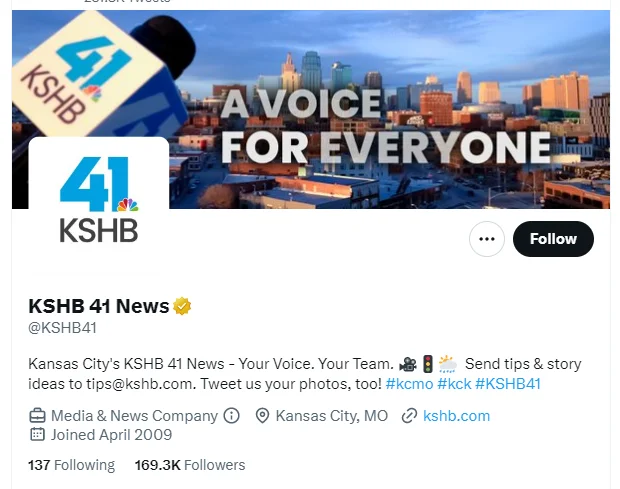 CityScene KC (@cityscenekc) This outlet is a lifestyle magazine in Kansas City, covering local food, events, and entertainment, as well as profiles of local businesses and people.
This is the go-to source for news on what's happening in and around Kansas City for residents and visitors alike.
Topics covered by City Scene KC include:
Food and Drink
Art and Entertainment
Lifestyle
Real Estate
Events
This outlet was founded in 2002 by a development writer for The Kansas City Star, Kevin Collison. He launched the publication by writing a landmark series on how the city should revitalize downtown Kansas City.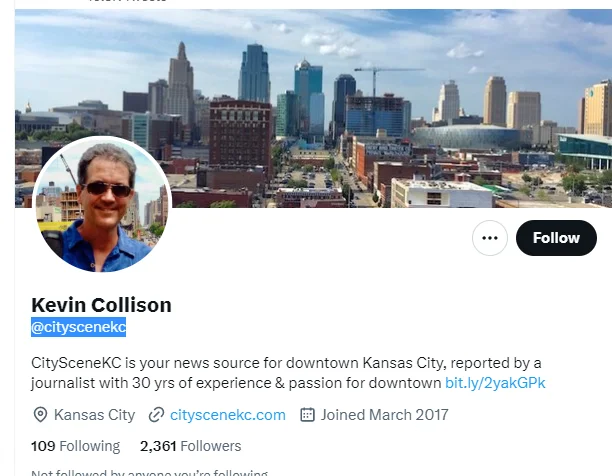 Kansas City Business Journal (@KCBizJournal) This is the go-to source for business news and analysis in the Kansas City area.
The is one of the only Kansas City newspapers that provides information on local companies, economic development, and government policies. It hosts annual events and awards that help Kansas and Missouri business leaders network and connect.
Topics covered by Kansas City Business Journal include:
Business
Real Estate
Banking
Technology
Healthcare
Food and Lifestyle
In addition to hosting events and producing daily content, this outlet also hosts top awards and creates lists of businesses, industry leaders, and CEOs for the area.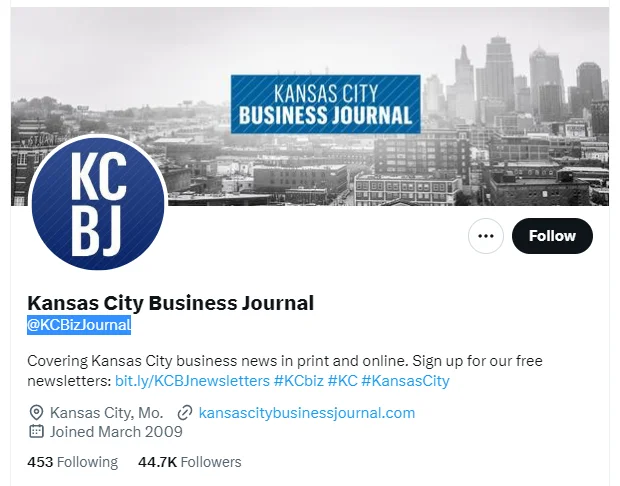 Fox 4 News (@fox4kc) Fox 4 Local is a local TV news station that covers the latest news in Kansas City and the surrounding areas, including the St. Joseph area.
This outlet is a FOX affiliated television station and is owned by Nexstar Media group.
Topics covered by Fox 4 News include:
Local News
Weather
Sports
Events
Politics
Business
Education
In addition to producing a live news show, Fox 4 News also has active social media accounts and a website that are updated 24/7 with breaking news and updates.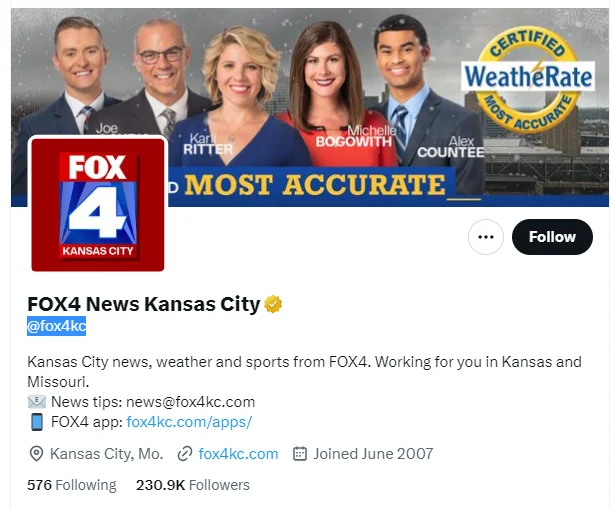 Final Thoughts
Our list of Kansas City newspapers features publications that range in size, scope, and audience. That way you're sure to find something that fits your next PR campaign.
Whether your target audience is focused on sports, food, or the arts, these Kansas City news outlets should provide you with the connections and news you need. For more information on creating a successful PR strategy, visit Intelligent Relations' DIY PR Platform.