13 Top Pittsburgh Newspapers and Outlets List [2023 Edition]
It's no secret that the Steel City is a hotspot for manufacturing and infrastructure. With over 30 skyscrapers and a whopping 446 bridges within the borders of Pittsburgh, this city should be on everyone's PR radar in the manufacturing industry.
But Pittsburgh has so much more to offer than impressive infrastructure.
The city of about 300,000 residents is home to a vibrant hospitality and nightlife scene in addition to the three professional sports teams that residents proudly support.
So, look no further for a comprehensive list to get PR exposure in the Steel City!
Our roundup of the top Pittsburgh newspapers covers all areas of the community and touches audiences in every industry.
We've made sure to include top news outlets and lifestyle publications so that whatever industry your next PR campaign wants to hit, we've got you covered.
Supercharge Your PR Efforts with Artificial Intelligence
Amplify your news and elevate your brand with AI-powered pitching. Access our entire publication database + easy-to-use tools – free for 14 days when you sign up now.
Our Curated List of Pittsburgh Newspapers and Publications
Pittsburgh Business Times (@PghBizTimes) Pittsburgh Business Times is a well-respected publication that focuses on business news and economic trends. The publication has multiple forms of content including a print magazine, an up-to-date website, and industry-specific newsletters.
Topics covered by Pittsburgh Business Times include:
Banking
Technology
Real Estate
Health Care
The Pittsburgh Business Times is a leading source of information for the local business community, it provides in-depth analysis of the local economy and the companies that drive it.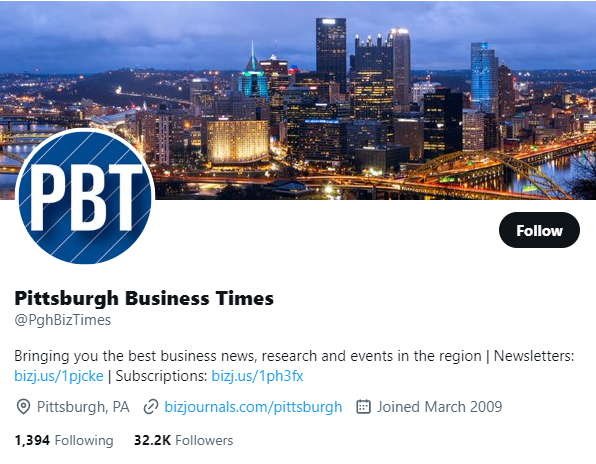 Pittsburgh Tribune-Review (@TribLIVE) Pittsburgh Tribune-Review is a daily newspaper that covers a wide range of topics in the Pittsburgh community. It has a conservative editorial stance and is known for its coverage of local politics.
Topics covered by Pittsburgh Tribune-Review include:
Local News
Sports
Lifestyle
Politics
Education
Entertainment
The Tribune-Review's website features content of all mediums from print articles to video clips of news stories and interviews.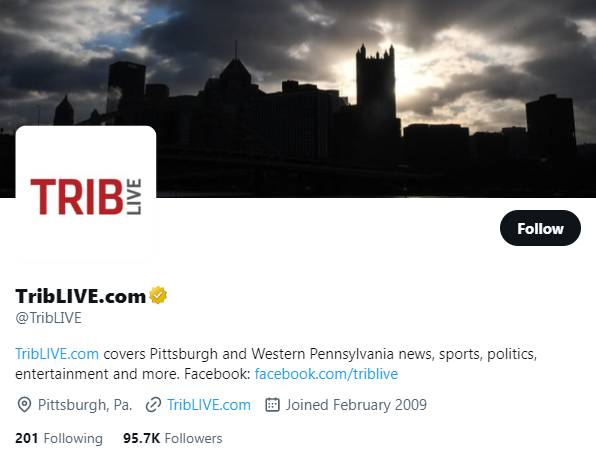 Pittsburgh Magazine (@PittsburghMag) Founded in 1969, Pittsburgh Magazine is a culture and lifestyle publication. It features articles on food, fashion, and the arts, and is a great resource for those looking to experience the best of Pittsburgh.
Topics covered by Pittsburg Magazine include:
Lifestyle
Eat and Drink
Events
Home and Design
Weddings
This award-winning city magazine highlights leaders and influencers of western Pennsylvania and is a great resource for state-wide PR exposure.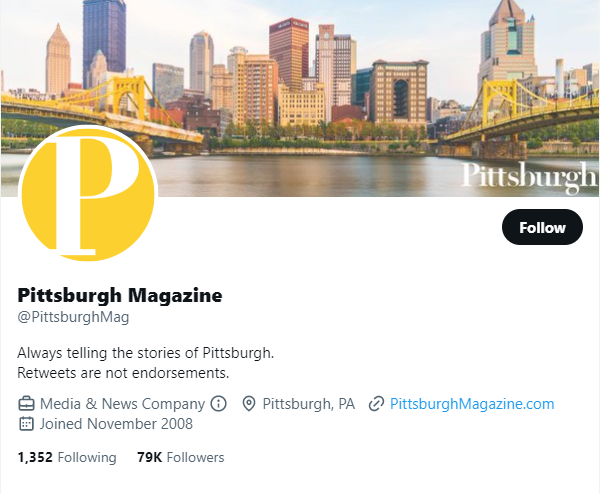 Pittsburgh Quarterly (@PQuarterly) Pittsburgh Quarterly is a glossy, high-end magazine that covers the city's arts, culture, and lifestyle. The magazine features in-depth profiles of local leaders and interesting personalities, and is a must-read for those looking to stay on top of the latest in Pittsburgh.
Topics covered by Pittsburgh Quarterly include:
Money
Nonprofits
Local Leaders
Home and Lifestyle
Health
Sports and Outdoors
This award-winning magazine has been in publication since 2006 and has gained national recognition for its premier regional magazine reporting, attracting some of the best lifestyle journalists in the country.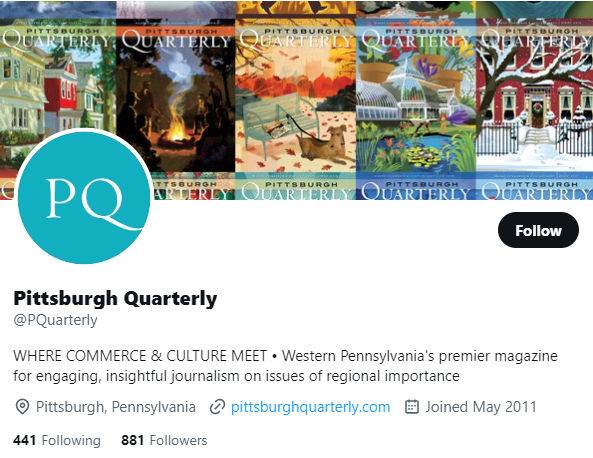 Pittsburgh Sports Now (@PghSportsNow) Pittsburgh Sports Now is a digital publication that covers local sports news and analysis. It's a go-to source for fans of the Pittsburgh Penguins, Pirates, and Steelers, and is known for its breaking news and in-depth analysis of the city's sports scene.
Topics covered by Pittsburgh Sports Now include:
Sports
Events
College Recruiting
Its online platform features content of every medium. In addition to feature-length articles, the publication produces podcasts, videos, and carefully curated social media channels.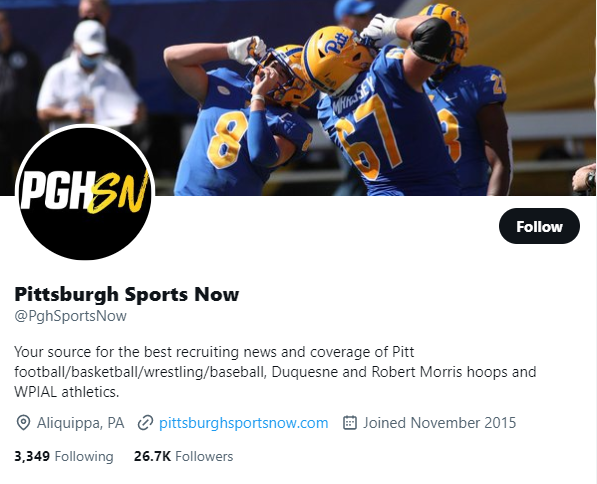 PublicSource (@PublicSourcePA) PublicSource is a non-profit news organization that covers public interest topics in Pittsburgh and the surrounding region.
Topics covered by Public Source include:
Health
Local Government
Environment
Economy
Education
Gender and Identity
PublicSource is known for its investigative journalism and commitment to social justice for the Pittsburgh community. It's a must-read for those looking to stay informed about issues that matter most to the city.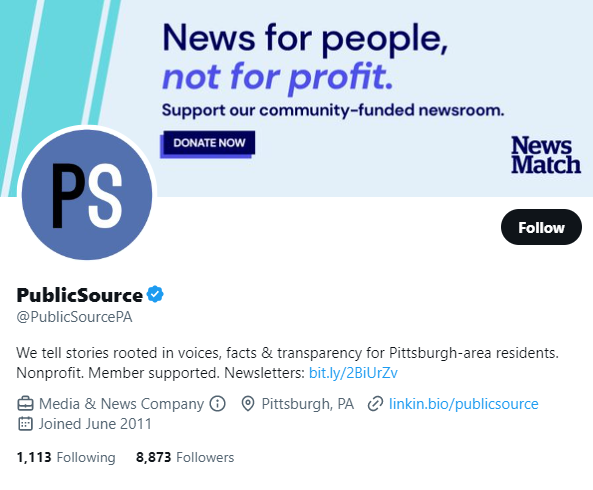 Next Pittsburgh (@NEXTpittsburgh) This digital publication covers innovation, entrepreneurship, and creative developments in Pittsburgh. Its website includes in-depth reporting and analysis on the latest trends and news in the city.
Topics covered by Next Pittsburgh include:
Events
Local News
Food and Drink
Arts and Entertainment
Business
The publication also features profiles of local startups and tech companies, as well as interviews with thought leaders and influencers in the city.
Next Pittsburgh produces a podcast and releases several videos on its website. Plus, this is a great contact to have for anyone in the food and beverage industry looking to gain some exposure in Pittsburgh.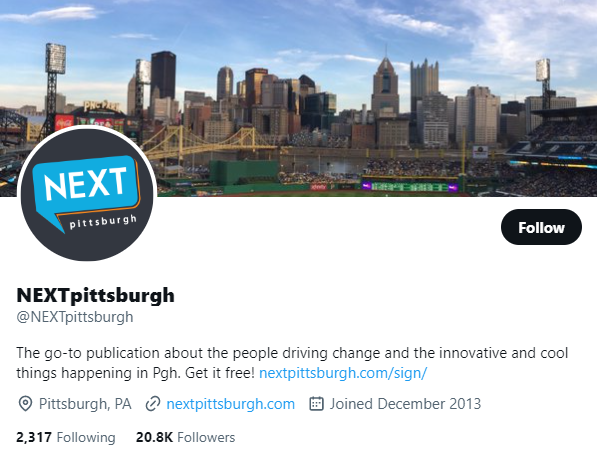 Pittsburgh City Paper (@PGHCityPaper) The Pittsburgh City Paper is an alternative weekly publication that covers a wide range of culture topics in the city. It's known for its investigative journalism and aims to amplify the voices in the Pittsburgh community through its arts and entertainment coverage.
Topics covered by Pittsburgh City Paper include:
Local News
Arts and Entertainment
Food and Drink
Since its first publication in 1991, the outlet has developed its online platform offering round-the-clock updates and additional content to its subscribers including videos, photos, and audio content.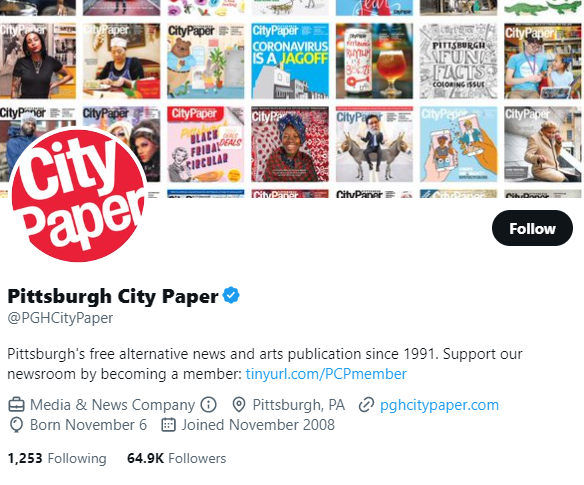 The Incline (@theinclinepgh) A digital publication that provides daily news and features on the Pittsburgh community. It covers everything from city politics to local food and drink, and its website is a one-stop-shop for all things Pittsburgh.
Topics covered by The Incline include:
National Trending News
Politics
Environment
Business
Entertainment
Food and Beverage
The Incline newsletter is emailed out to subscribers daily at 6 A.M. The subscription is free but the content is exclusive to subscribers, giving you a more selective audience.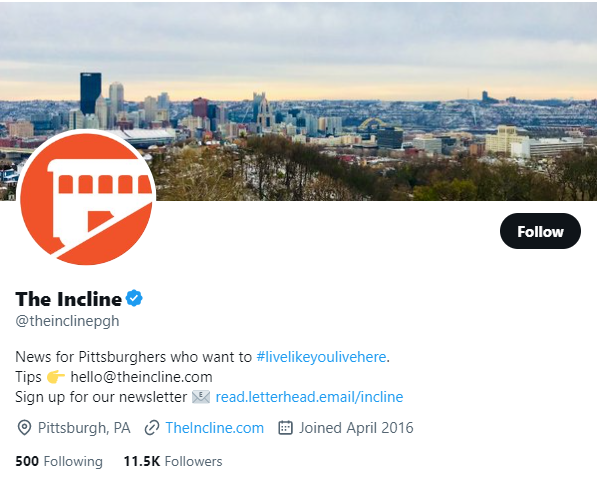 Pittsburgh Tech Council (@pghtech) The official publication of the Pittsburgh Technology Council, a staple for any business leader in the tech space looking to gain exposure in Pittsburgh.
Topics covered by Pittsburgh Tech Council include:
Business
Technology
Entrepreneurship
Health Care
This digital publication features interviews, profiles, and analysis of the latest trends and innovations in Pittsburgh's thriving tech industry. The council also host-s events to connect business leaders and the community.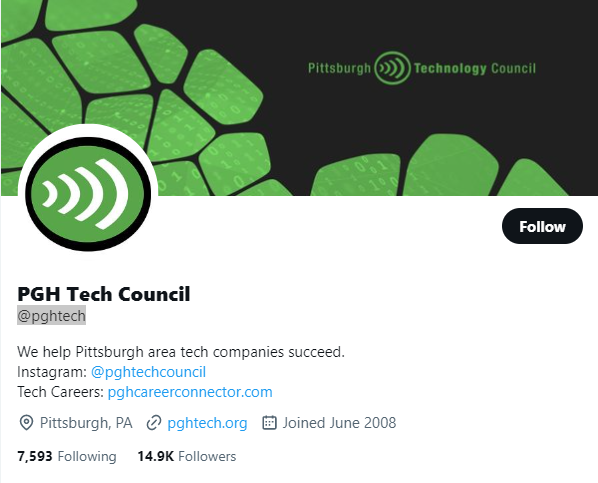 Pittsburgh Post-Gazette (@PittsburghPG) The city's major daily newspaper, the Pittsburgh Post-Gazette covers local, national, and international news and offers a comprehensive look at life in the Steel City.
Topics covered by Pittsburgh Post-Gazette include:
Local News
National News
Business
Lifestyle
Sports
Education
Politics
Founded in 1786, the Pittsburgh Post-Gazette is one of the oldest and largest news organizations serving the Pittsburgh area. It is an award-winning publication and has a combined print and digital circulation of about 100,000.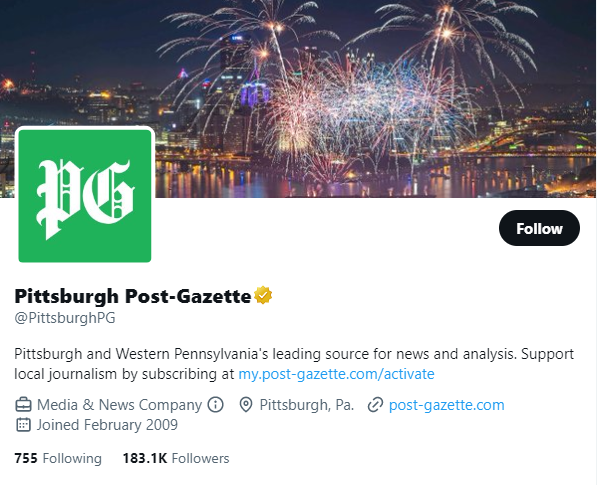 Pittsburgh Sports Report (@PghSportsReport) This digital publication is a staple of Pittsburgh's sports scene including in-depth coverage on the Steelers, Pirates, Penguins, and local college teams.
Topics covered by Pittsburgh Sports Report include:
Professional Sports
College Sports
Highschool Sports
Its website provides in-depth analysis, breaking news, and expert commentary on the city's sports culture.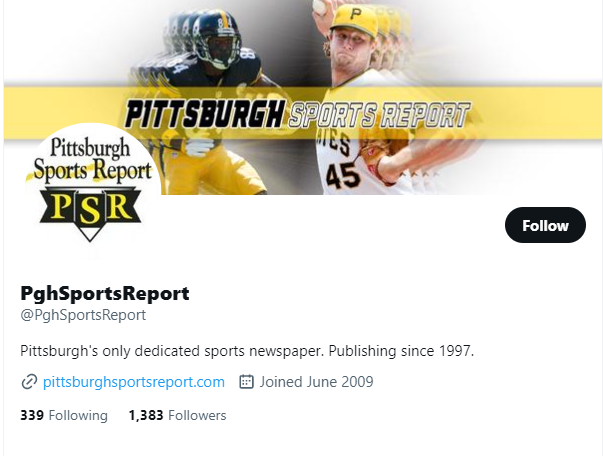 90.5 WESA (@905WESA) This public radio station provides in-depth coverage of Pittsburgh's news, arts, culture, and public affairs. The station is an NPR affiliate and is the only independent public radio news and information station in southwestern Pennsylvania.
Topics covered by 90.5 WESA include:
Politics
Health and Science
Economy and Business
Courts
Art and Culture
Sports
This outlet is known for local and national news programs, as well as coverage of live concerts and events.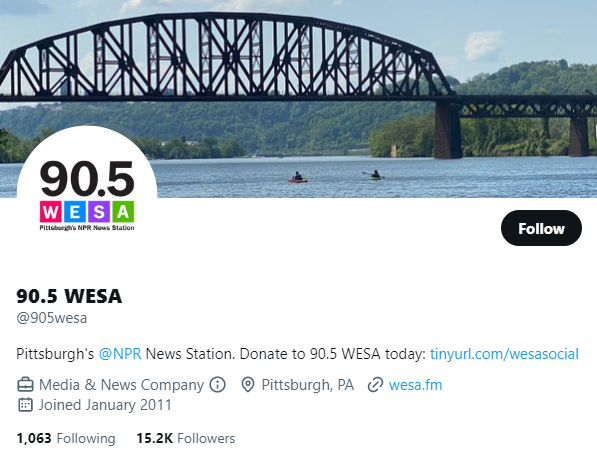 Final Thoughts
This list provides news organizations that range in size, scope, and audience to be sure you get the coverage you're looking for in your next PR campaign.
Whether you're in sports, technology, or lifestyle, these Pittsburgh newspapers and outlets can give your PR campaign the exposure it needs. Use our list to reach out to your Pittsburgh target audience today.
For more information on how to enhance your PR strategy, visit Intelligent Relations' DIY PR Platform.