12 Top Cincinnati Newspapers and Publications [2023 Edition]
Located right on the Ohio River, the Queen City is home to about 308,000 residents and three professional sports teams.
Plus, Cincinnati is home to an endless assortment of activities, with several award-winning museums and countless bars and restaurants. Cincinnati is also known as the "Beer Capital of the World" with over 50 breweries within the city's borders.
If you're looking to get PR in this dynamic Ohio city, look no further. Our comprehensive list of Cincinnati newspapers and publications covers all areas of the city and its surrounding vibrant neighborhoods.
From lifestyle to politics, you can be sure this list includes publications spanning every industry making itself at home in the city.
Supercharge Your PR Efforts with Artificial Intelligence
Amplify your news and elevate your brand with AI-powered pitching. Access our entire publication database + easy-to-use tools – free for 14 days when you sign up now.
Cincinnati Newspapers and Publications – Our Curated List
Cincinnati Enquirer (@Enquirer) Founded in 1841, the Cincinnati Enquirer is the oldest newspaper in Ohio and covers a wide range of news stories. It's known to produce in-depth investigative journalism pieces.
Topics covered by Cincinnati Enquirer include:
Local News
Sports
Politics
Crime
Education
The Cincinnati Enquirer is also a USA Today affiliate, giving you PR exposure and connections spanning much further than just the Cincinnati area.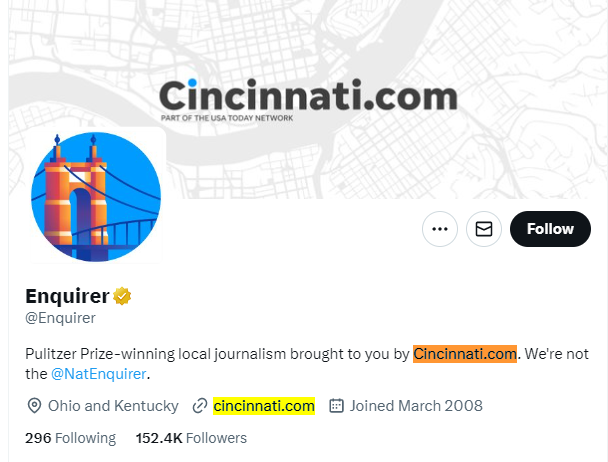 Cincinnati Magazine (@CincinnatiMag) This monthly magazine is a go-to for tourists and residents alike. Look no further for all the information you would need on the hottest spots around the city.
Topics covered by Cincinnati Magazine include:
City News
Culture
Home and Lifestyle
Events
Dining
The Cincinnati Magazine is a well-respected culture and hospitality magazine, making it a great outlet for PR exposure for lifestyle brands. In addition to its monthly magazine and up-to-date website, Cincinnati Magazine releases rankings of hot spots around the city each year for restaurants, music venues, hotels and more.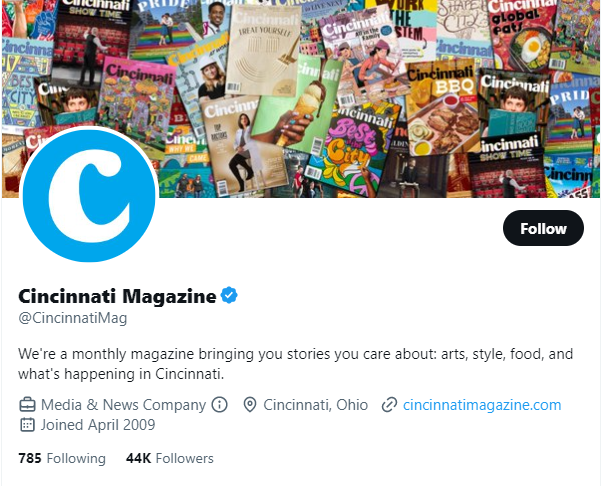 WCPO 9 (@WCPO) A well-respected local television news station that covers breaking news with a community-focused lens.
Topics covered by WCPO 9 include:
Sports
Traffic
Weather
Local News
Business
This local news station covers a wide variety of topics and touches on major national headlines as well as local news. The news station is an ABC affiliate and has 24/7 updated information on major stories on its website and social media channels.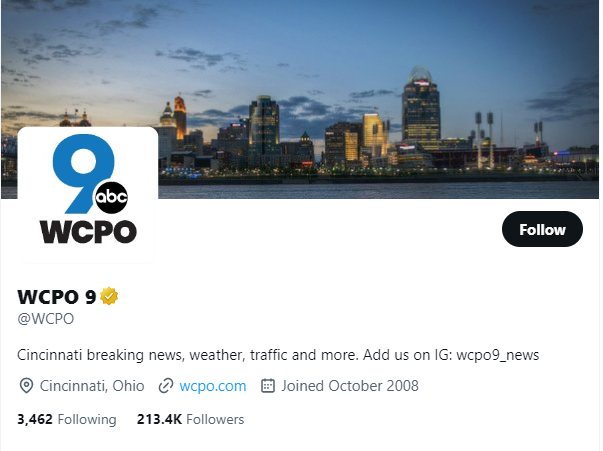 Cincinnati CityBeat (@CityBeatCincy) One of the best alternative, weekly Cincinnati newspapers, Cincinnati CityBeat covers local news and culture in Cincinnati.
Topics covered by Cincinnati CityBeat include:
Local News
Arts and Culture
Food and Drink
Music
In addition to its reporting and daily news, Cincinnati CityBeat hosts events each year to bring together business leaders and the community. The publication also announces the "Best of" lists each year which rank the best people, places, businesses, and arts in town.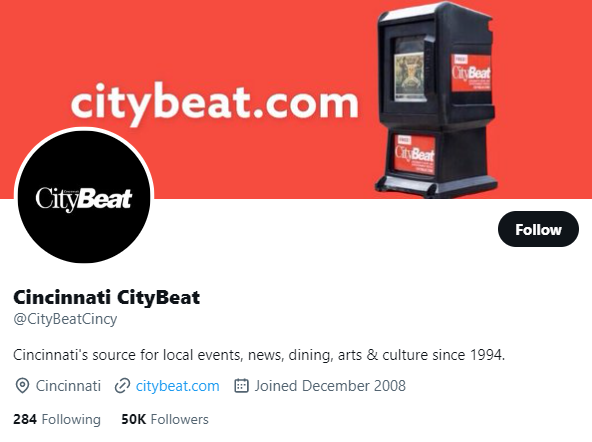 Soapbox Cincinnati (@SoapboxCincy) Founded in 2008, Soapbox is a wide-reaching publication that prides itself on solution-based journalism and narrative storytelling to highlight the Cincinnati community.
Topics covered by Soapbox Cincinnati include:
Architecture and Design
Arts
Diversity
Education
The Environment
Entrepreneurship
Health and Wellness
Research and Innovation
In addition to its newsletter and online publication, Soapbox also hosts a wide variety of educational series and events that aim to connect people to the city of Cincinnati.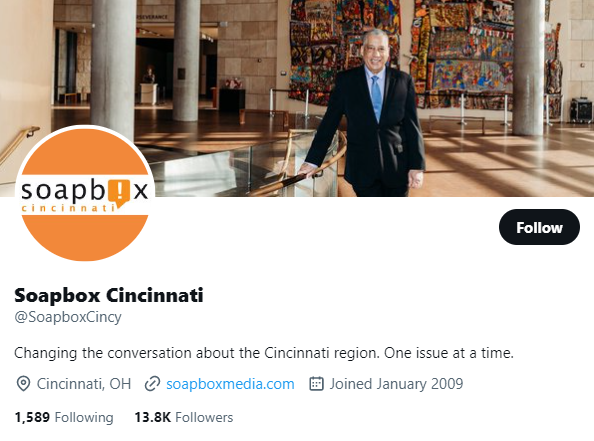 Cincinnati Family Magazine (@cincyfam) This twenty-year-old publication is the region's number one local parenting publication. The magazine covers a wide-range of topics that focus on children and families. Plus, it's regarded as a valuable resource for parents in the Cincinnati area and beyond.
Topics covered by Cincinnati Family Magazine include:
Events
Family
Education
Lifestyle
In addition to the monthly-printed magazine, Cincinnati Family Magazine provides content through multiple distribution platforms including print, social media, and events.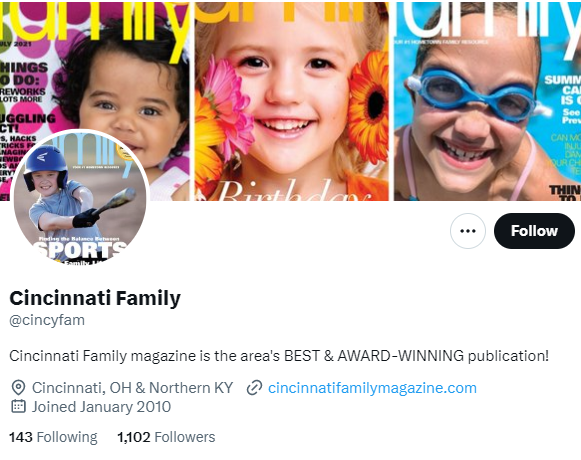 Cincinnati Refined (@CincyRefined) Cincinnati Refined is the go-to publication for lifestyle and wellness for the Cincinnati community. Its website features articles on local arts and culture as well as profiles of local businesses and personalities.
Topics covered by Cincinnati Refined include:
Food and Drink
Art and Design
Lifestyle
Travel
Health and Fitness
This is an ideal publication for PR exposure in the lifestyle industry and provides a local and specialized audience.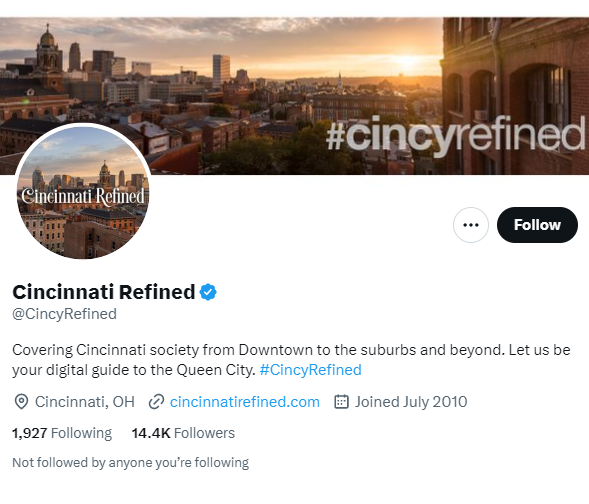 Cincinnati Parent Magazine (@CincyParent) A monthly publication that provides information on family events, activities, and resources in the Cincinnati area.
Cincinnati Parent Magazine offers articles on parenting, education, and health. Plus, this publication is regarded as the number one parenting resource magazine and website in the greater Cincinnati area.
Topics covered by Cincinnati Parent Magazine include:
Events
Education
Camps
Parenting
Special Needs Education
The Cincinnati Parent Magazine provides a comprehensive list of places and things to do for parents in Southwest Ohio. The print magazine is available at nearly 500 locations and has a 98% pick-up rate.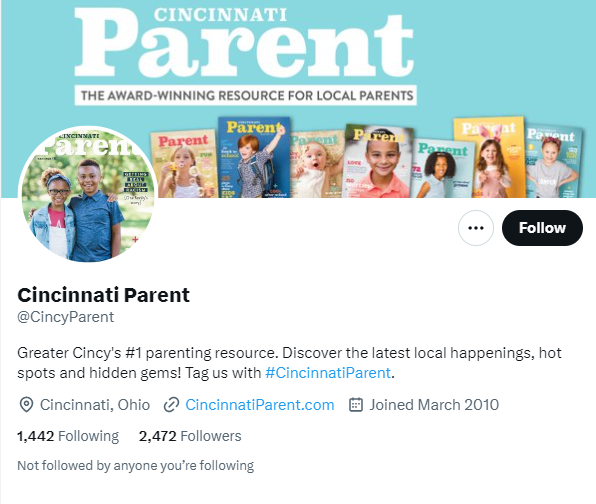 Cincinnati Music Festival (@CincyMusicFest) This is the official site and publication for the annual Cincinnati Music Festival that features local and national musicians, with a focus on R&B, hip-hop, and jazz.
Topics covered by Cincinnati Music Festival include:
Music
Events
Industry-specific News
This outlet provides detailed information on the music festival as well as music events happening around the city. The newsroom section of the website serves as a springboard for local artists and musicians to get exposure.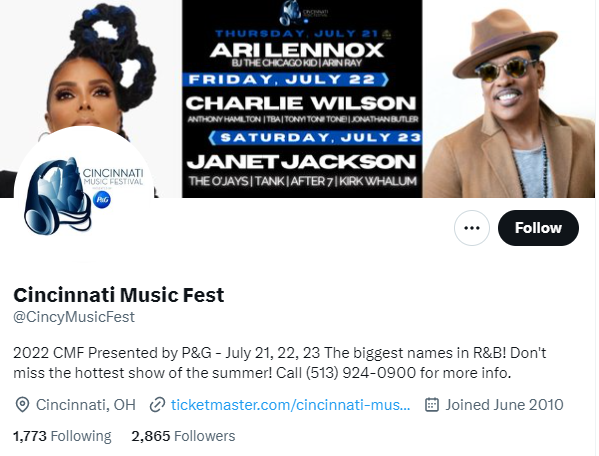 The Cincinnati Herald (@CinciHerald) The Cincinnati Herald is a weekly newspaper that covers news and events in the African American community in Cincinnati, Ohio.
Topics covered by The Cincinnati Herald include:
Local News
Sports
Entertainment
Politics
Apart from their print edition, The Cincinnati Herald offers a digital version of their paper for subscribers. Additionally, the website offers advertising opportunities for businesses interested in reaching the African American community in Cincinnati.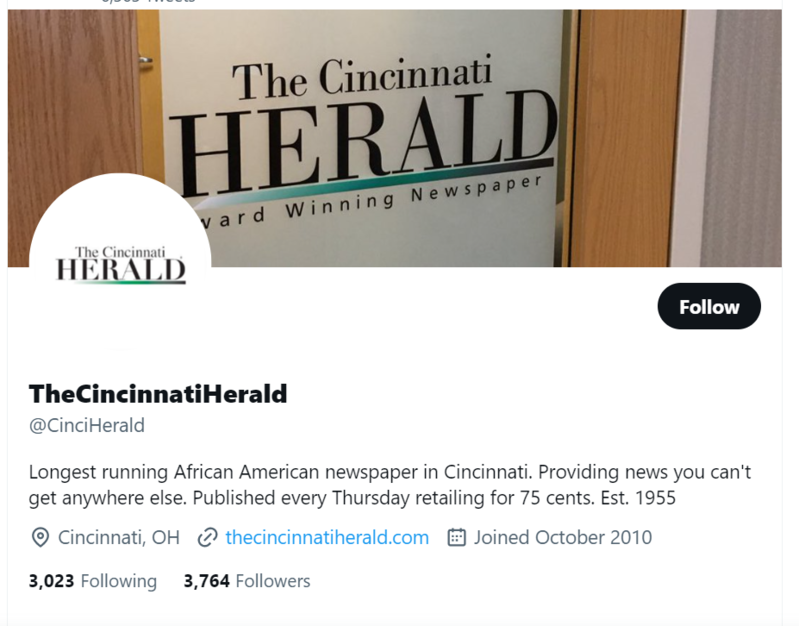 Cincy Magazine (@CincyMagazine) Cincy Magazine is a regional magazine that covers news and events in the greater Cincinnati area. In addition to the print publication, Cincy Magazine also maintains an active online presence, with articles, event listings, and social media updates.
Topics covered by Cincy Magazine include:
Local Business
Arts and Culture
Dining
Lifestyle
Cincy Magazine also publishes an annual "Best of the City" issue, which highlights the top businesses, restaurants, and attractions in the area as voted on by readers.
The magazine is widely read by residents of Cincinnati and the Tristate area. It's considered a valuable source of information and entertainment for people who live in or visit the area.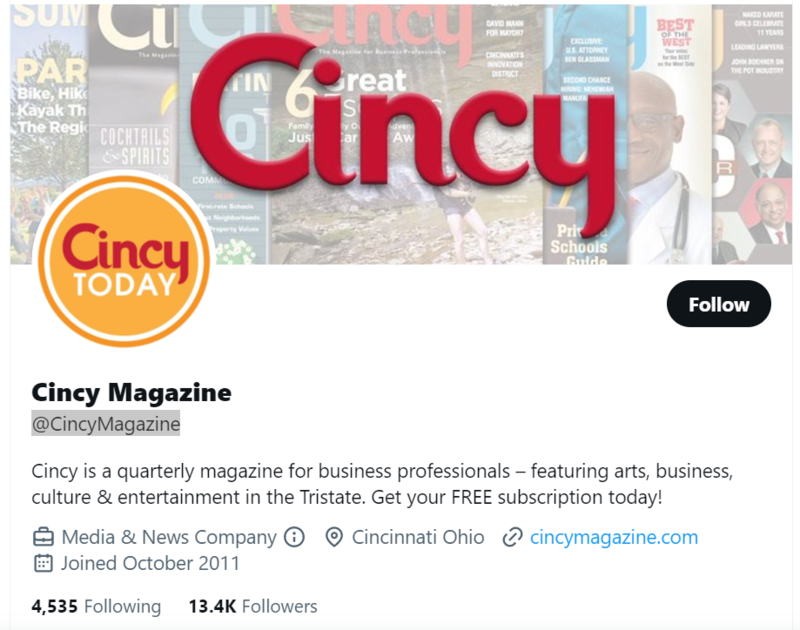 Cincinnati Business Courier (@BusinessCourier) The Cincinnati Business Courier is a weekly newspaper that covers business news in the Cincinnati area. This is one of the only Cincinnati newspapers with a total focus on in-depth coverage of the local business community.
Topics covered by Cincinnati Business Courier include:
Local Companies
Entrepreneurs
Economic Development Initiatives
Banking and Finance
Real Estate
Healthcare
Technology
Small Businesses
Cincinnati Business Courier also produces special reports and rankings, such as the annual "Book of Lists," which ranks the top companies in various industries based on revenue and other criteria.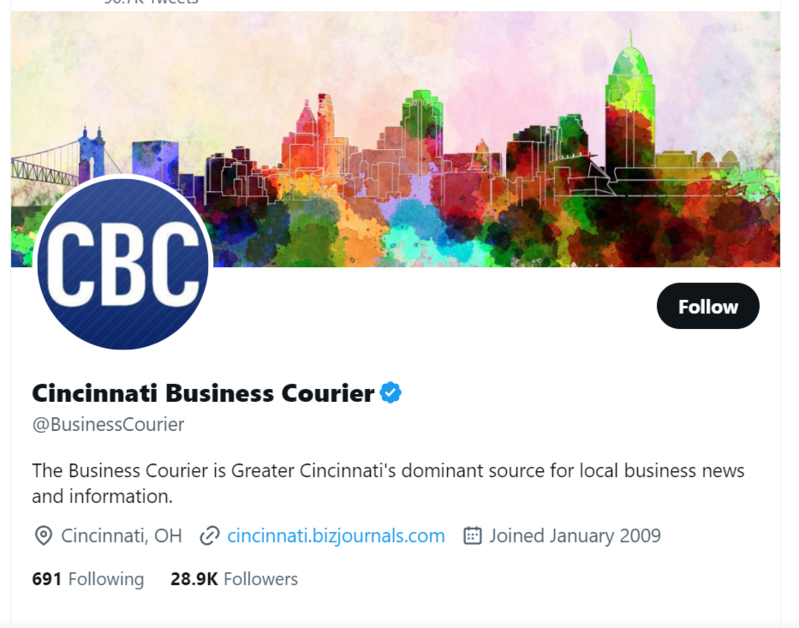 Final Thoughts
Whether you're opening a new restaurant or looking to partner with a parenting magazine, this comprehensive list of Cincinnati newspapers should do the trick.
And the trick is to match with a publication that has both the audience and scope you're looking to target with your PR campaign.
That's why our list includes everything from nationally accredited Cincinnati newspapers to niche industry publications. Use our list to reach out to your Cincinnati target audience today.
For more information on how to enhance your PR strategy, visit Intelligent Relations' DIY PR Platform.