12 Top Delaware Newspapers and Publications [2023 Edition]
Nestled between the major metroplexes of the East Coast sits one of the most important business markets in the country, Delaware.
Delaware is one of the few states in the U.S. that does not have corporate income tax, which is why over 68% of Fortune 500s are incorporated in Delaware, making this a market you don't want to miss for exposure in business news outlets.
But Delaware draws more than just corporations. The area is filled with historical landmarks, beautiful colonial towns, and a range of entertainment and activities for its residents to enjoy.
So, look no further for a comprehensive list of Delaware newspapers and publications! This list has something for everyone from nationally recognized business outlets to community lifestyle magazines.
We even included some industry-specific publications so that we have what you need if you have a special target audience you want to reach.
Supercharge Your PR Efforts with Artificial Intelligence
Amplify your news and elevate your brand with AI-powered pitching. Access our entire publication database + easy-to-use tools – free for 14 days when you sign up now.
12 Delaware Newspapers and Publications – Our Curated List
Cape Gazette(@CapeGazette) Cape Gazette is a news organization based in Lewes, Delaware, that provides local news, events, and information to residents of the Cape Region.
This publication is published in both print and digital formats and has a print circulation of about 22,000 each week. The news organization also has a dedicated local subscriber base about 8,000 strong.
Topics covered by Cape Gazette include:
Police and Crime
Arts and Entertainment
Business
Lifestyle
Sports
Real Estate
Events
The organization was founded in 1993, and has since become one of the most trusted Delaware newspapers for the residents in the Lewes area. It's published every Tuesday and Friday, and its website is updated daily.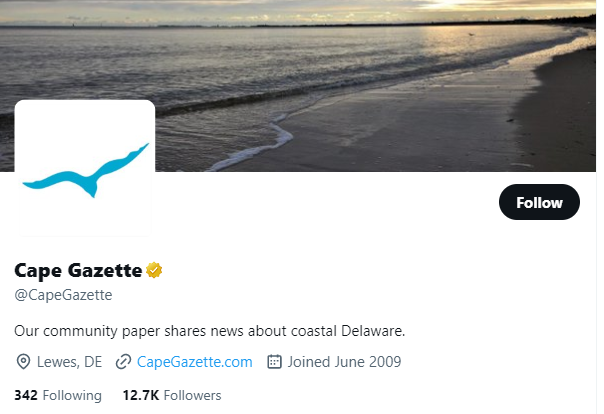 Delmarva Now (@MyDelmarvaNow) Delmarva Now is a digital news organization that covers the Delmarva Peninsula, which includes parts of Delaware, Maryland, and Virginia. This organization is a USA Today affiliated news outlet.
Its coverage includes breaking news, investigative journalism, and in-depth reporting on issues that affect the community.
Topics covered by Delmarva Now include:
Local News
Sports
Entertainment
Business
Politics
Real Estate
The organization was originally known as The Daily Times, which was founded in 1886, but it rebranded as Delmarva Now in 2018 to better reflect its digital focus.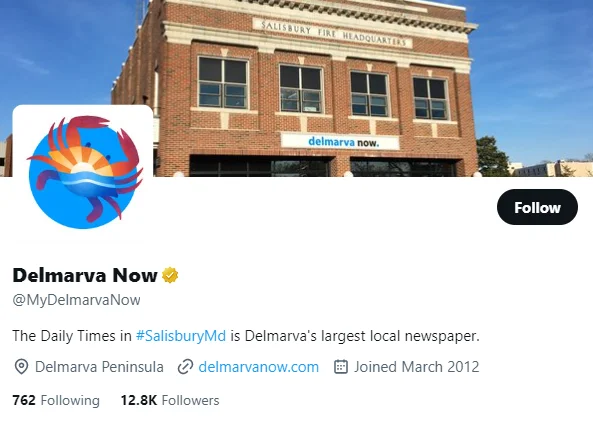 Morning Star Publications (@laurelstarnews) Morning Star Publications is a media company based in Seaford, Delaware, that owns and operates several Maryland and Delaware newspapers serving communities in both states.
One of its flagship publications is the Laurel Star, which covers news and events in the town of Laurel, Delaware, and has a circulation of about 5,000 copies.
Topics covered by Morning Star Publications newspapers include:
Real Estate
Sports
Business
Politics
Events
Morning Star Publications has a long history in the community, dating back to 1888 when it established its first publication, the Laurel Chronicle. Its Delaware newspapers cover a wide range of topics pertaining to regional communities.
Other publications produced by the Morning Star Publications include the Seaford Star, the Sussex Post, and the Dorchester Banner.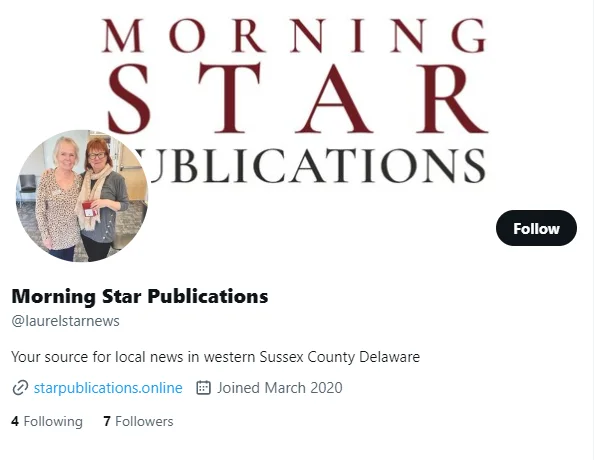 The News Journal (@delawareonline) The News Journal is the main newspaper for the state of Delaware, covering a wide range of topics from local news to national headlines.
It's part of the Gannett media group, and is one of the largest Delaware newspapers. Its weekday edition has a circulation of about 26,000 copies and its Sunday edition has a circulation of about 39,000.
Topics covered by The News Journal include:
Local News
Sports
Lifestyle
Entertainment
Business
Politics
Weather
Education
This outlet has been a trusted source of state news since it first started printing in 1866. Today, its website provides daily updates and breaking news, as well as a range of multimedia content to round out its reporting, including topic-specific newsletters.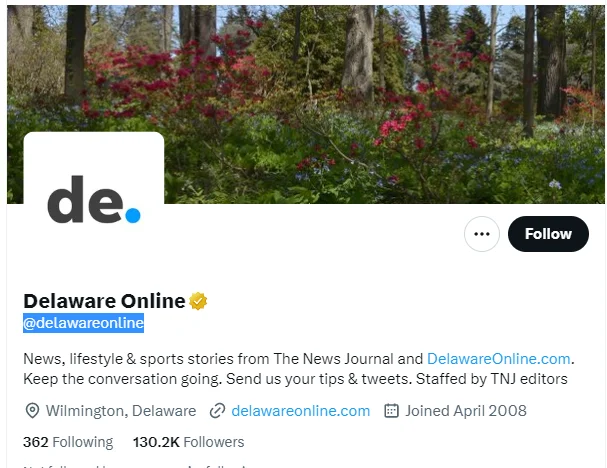 The Delaware State News (@TheStateNews) The Delaware State News is a daily news outlet based out of Dover, Delaware, and primarily covers Kent and Sussex Counties.
This organization runs multiple Delaware newspapers, and has a state-wide readership. Other publications include the Milford Chronicle, Smyrna Extra, Sussex Post, Sailsbury Independent, and the Dorchester Banner.
Topics covered by The Delaware State News include:
Local News
Real Estate
Business
Local Government
Courts and Crime
Schools
Sports
This outlet has a daily circulation of about 10,000 copies and its Sunday edition is distributed to 14,000 locations state-wide. Though it covers a wide range of topics, its reporting has a community focus and it mostly covers local stories relevant to the region.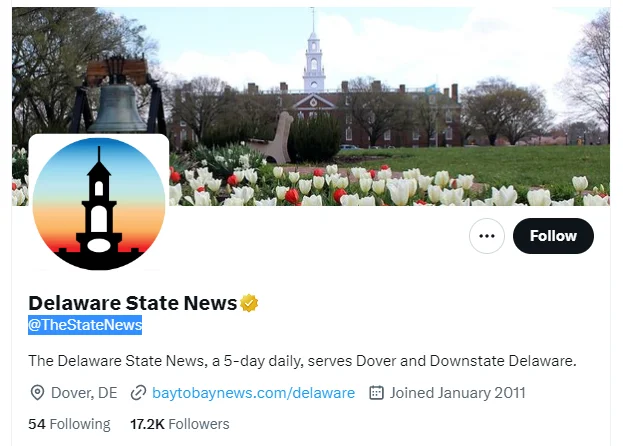 Delaware Today Magazine (@delawaretoday) Delaware Today is a monthly magazine covering lifestyle and culture throughout the state. This is the go-to lifestyle publication for Delaware, and it provides residents with crucial information on events and happenings in the area.
This is one of the only Delaware publications on our list that draws readership in the wedding industry. It even produces a special edition twice a year called Weddings Today that reports on the bridal industry.
Topics covered by Delaware Today Magazine include:
Food and Drink
Lifestyle
Fashion
Local Activities
Wedding
Events
Business
This award-winning lifestyle publication also hosts events and awards to connect businesses and influencers in the area, fostering a united network of Delawarians.
Delaware Today Magazine also features articles on local events, dining, and attractions, as well as profiles of notable people from Delaware.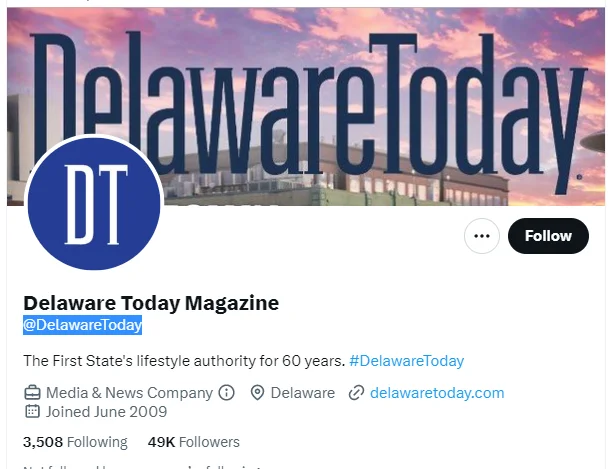 Delaware Public Media (@DelawarePublic) Delaware Public Media is a nonprofit public media organization based out of Wilmington. Its specialty is multimedia reporting and it's first and foremost a radio show.
Delaware Public Media is an NPR member station and draws an impressive digital audience. Its website received over a million views last year, and it also garnered over 1.3 million social media impressions.
Topics covered by Delaware Public Media include:
Schools
Government
Food and Dining
Lifestyle
Entertainment
Business
Delaware Public Media reports on a wide variety of issues across the state, and is a trusted source of information for residents and visitors alike. It produces original content for radio and television, including news, culture, and public affairs programs.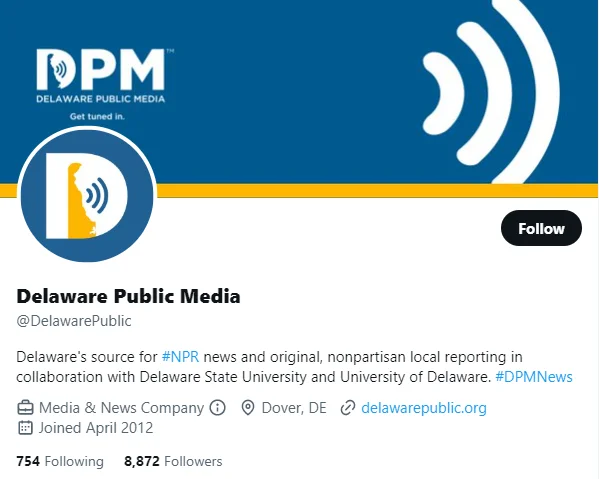 Delaware Business Times (@DeBusinessTimes) Delaware Business Times is a weekly newspaper focused on business and finance in the state of Delaware.
It features a wide range of content that delivers news, analysis, and commentary on the state's economy and business community
Topics covered by Delaware Business Times include:
Business
Real Estate
Technology
Healthcare
Events
Banking
This outlet is one of the go-to Delaware newspapers for business news and information for the state. It's also a nationally recognized publication as Delaware is home to almost 2 million corporations.
It also hosts events and awards throughout the year to highlight notable Delaware leaders and businesses.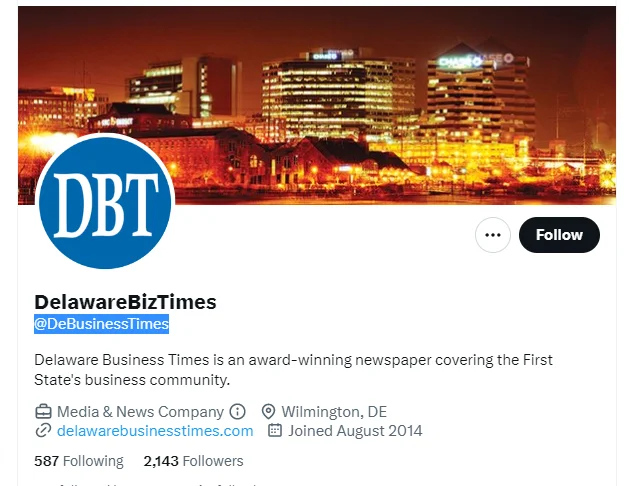 The Milford Chronicle (@ChronicleNews37) The Milford Chronicle is a weekly newspaper serving the town of Milford and the surrounding area.
This is a publication owned by Delaware Public Media, another contact on our list. Thanks to that, The Milford Chronicle is one of the top Delaware newspapers with a state-wide network of readers and media contacts.
Topics covered by The Milford Chronicle include:
Local News
Business
Schools
Sports
Lifestyle
Events
Though it covers a wide range of news topics, The Milford Chronicle has a community centered approach to its reporting. Its estimated print circulation is around 9,000 copies.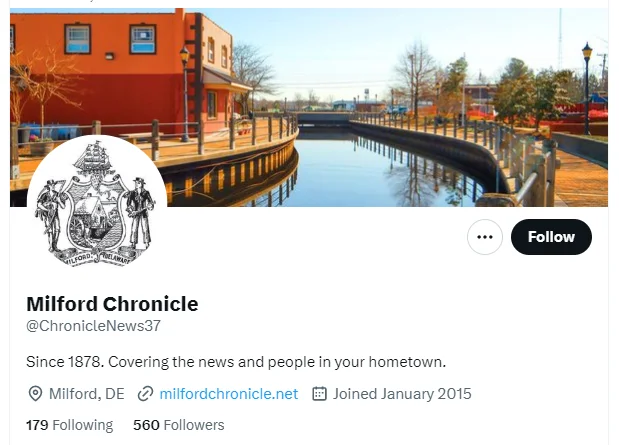 The Newark Post (@nwkpost) The Newark Post is a weekly newspaper that's based in Newark, Delaware, and covers news for the city and surrounding areas.
The newspaper is published every Friday and distributed throughout New Castle County. It's been one of the leading Delaware newspapers for the area since it was first published in 1910.
Topics covered by The Newark Post include:
Sports
Business
Schools
Politics
Entertainment
Events
The Newark Post's website is updated daily and provides Newark residents with a variety of engaging resources, including a calendar of events, a marketplace, and contests.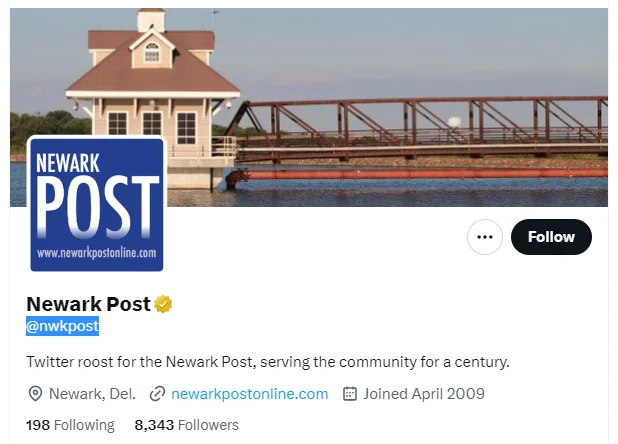 Coastal Point (@coastalpoint) The Coastal Point is a weekly newspaper serving the Bethany Beach area including South Bethany, Fenwick Island, Ocean View, Millville, Dagsboro, Frankford, Long Neck, and Georgetown.
This is a community-centered Delaware news outlet that publishes a print edition every Friday and updates its website daily with new content.
Topics covered by Coastal Point include:
Lifestyle
Sports
The Environment
Local News
Events
This outlet is also known for its coverage of the bridal industry. Bethany Beach is a popular spot for beach weddings on the East Coast, so Coastal Point produces a bridal magazine to cover the bridal industry for the area called Delaware Seaside Bride.
Coastal Point is the primary source of news for the Bethany Beach community and has been reporting on the area since it was founded in 2003.
First State Update (@FirstStateUp1) First State Update is a news and information website that covers general statewide news. It also features news, analysis, and commentary on the state's political landscape.
Its focus areas are New Castle County, Kent County, and Sussex County.
Topics covered by First State Update include:
Politics and Policy
Sports
Events
Weather
Food and Drink
Crime
Lifestyle
This outlet is known for its fast and accurate reporting. It's one of the go-to Delaware newspapers for breaking news, traffic, and weather updates.
It primarily publishes news on its website, which is updated daily, but it also pays special attention to its social media accounts, which are updated 24/7 with breaking news and updates.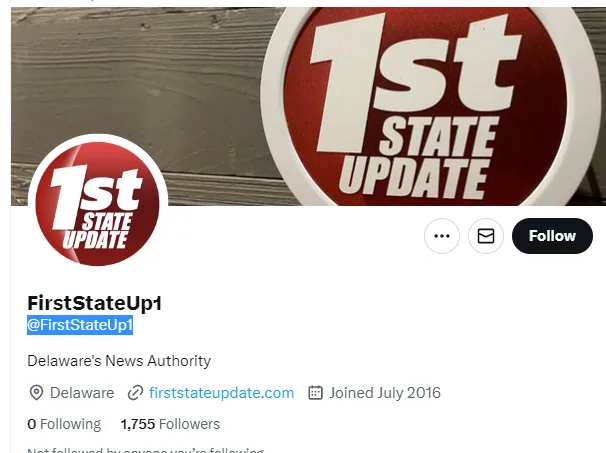 Wrapping Up
Whether you're in the business or entertainment industries, or just trying to connect with a local audience, these Delaware newspapers and outlets can give your next PR campaign the exposure it needs.
We made sure to include outlets that cover all areas of the state, from the coastal towns to major cities. Use our list to reach out to your Delaware audience today!
For more information on creating a successful PR strategy, visit Intelligent Relations' DIY PR Platform.