20 Top Film Journalists Roundup [2023 Edition]
Last year, global box office revenue estimates reached $25.9 billion for the film industry.
Despite pandemic slumps and the phenomenon of streaming platforms, people still love having the opportunity to go to the movies. 
But what's really going on in the film industry in 2023?
Film Industry Trends to Track in 2023
The global home and mobile entertainment industry hit $78.5 billion, up 14% from 2020. Plus, global ICT exports are anticipated to increase 3.9% on average from $784.3 billion in 2021 to $955.19 billion in 2030. The future is at-home video streaming.
Despite the ability to stream films at home, people still go to the theater. That's especially true for Americans over the age of 45, who's theater attendance increased 5% (more than any group) from pre-pandemic levels.
To address empty seats, movie theaters are thinking about what more they can offer their audiences.That's led to the rise of immersive movie-going experiences. Going to the movies is becoming more of an event with special chairs, 4D showings, and bar and food features.
Independent filmmaking continues to produce more films than the studios. And with the abundance of streaming options, filmmakers have more ways to present their projects to the public. Not to mention access to social media, digital editing tools, and other tech.
With all that in mind, our list covers the leading film journalists and publications. That way, you can stay on top of trends and reach out to influencers in all areas of the film industry.
Supercharge Your PR Efforts with Artificial Intelligence
Amplify your news and elevate your brand with AI-powered pitching. Access our entire journalist database + easy-to-use tools – free for 14 days when you sign up now!
Our Curated List of Top Film Journalists for 2023
A.O. Scott (@aoscott) — A.O. Scott is a film critic for The New York Times. He writes reviews and features on films and the film industry. He is a member of the New York Film Critics Circle and also won the Pulitzer Prize for Criticism.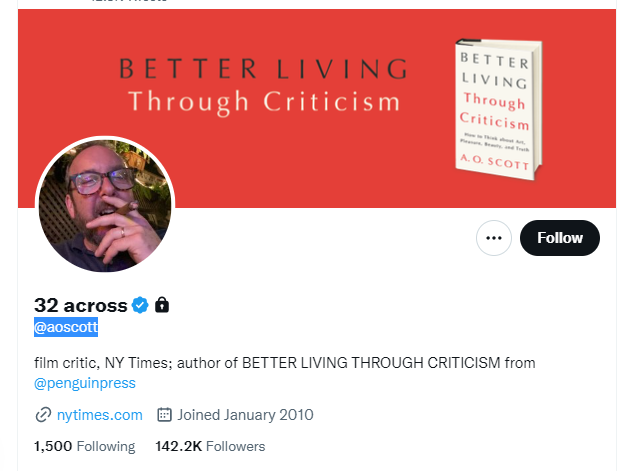 Harry Knowles (@Headgeek1138) — Harry Knowles is a film journalist and founder of the popular film website Ain't It Cool News. He is known for his insider access to the film industry and his ability to break news on upcoming films.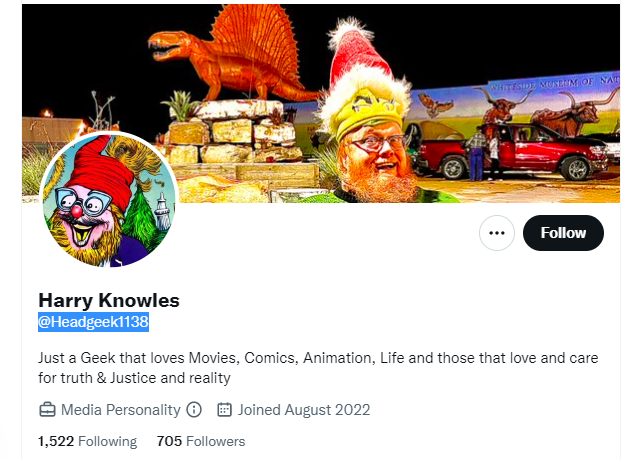 Kevin Smith (@ThatKevinSmith) — Kevin Smith is a filmmaker, podcast host, and actor. You know him as the genius behind Clerks but he also writes about film, entertainment, and pop culture.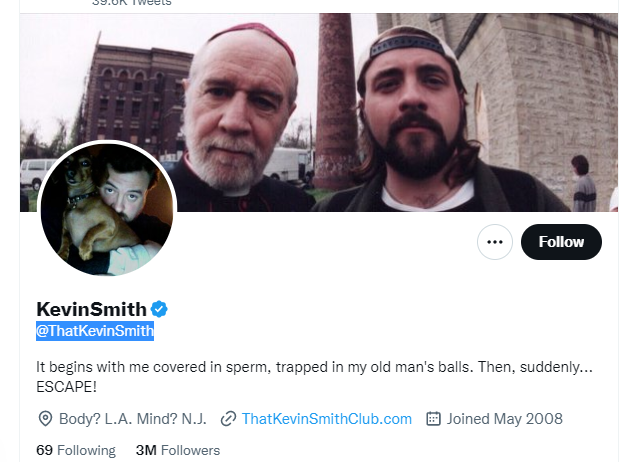 James Rolfe (@cinemassacre) — James Rolfe is a film critic, filmmaker, and Internet personality. He's best known for his character, the "Angry Video Game Nerd," a comedic review series about bad video games. You can find more of his work on Cinemassacre, a site dedicated to reviews and comedy shows about video games and movies.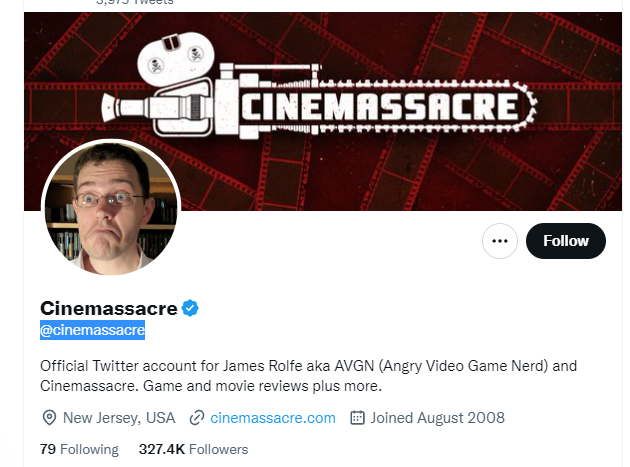 Chris Stuckmann (@Chris_Stuckmann) — Chris Stuckmann is a film critic, YouTuber, and podcaster. He has a large following on YouTube and gives reviews and analyses of various films.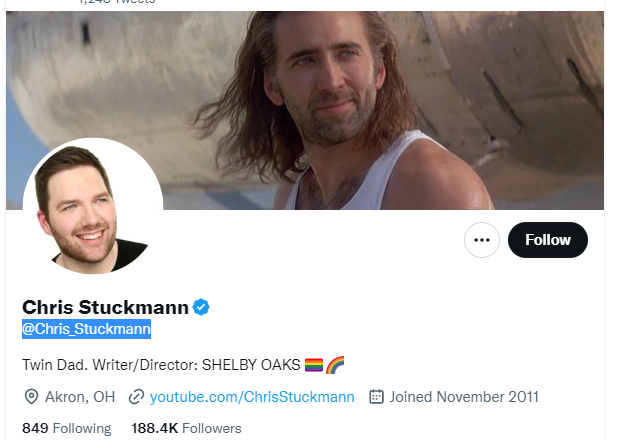 Scott Tobias (@scott_tobias) — Scott is a former editor of The Dissolve, a film website owned by Pitchfork Media. He is a film and TV writer and co-host of The Next Picture Show podcast. He is also author of The Reveal, where he writes about film with Keith Phipps.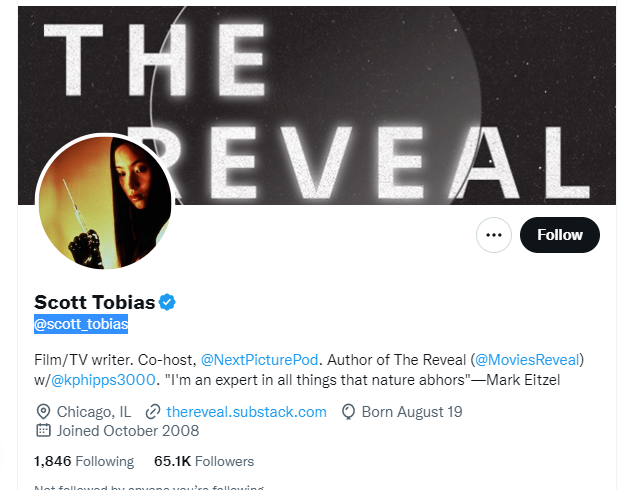 Bilge Ebiri (@bilgeebiri) — Bilge writes regularly on film for New York Magazine and Vulture. He has also written for the Village Voice, the Los Angeles Times, and other publications. He now works for the New York Times.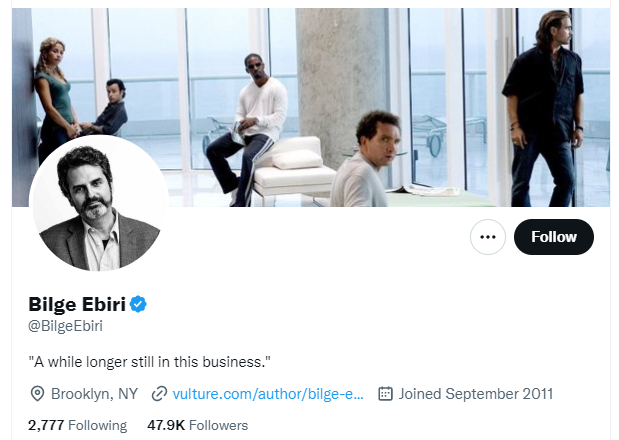 Alissa Wilkinson (@alissamarie) — Alyssa is a film critic, journalist, and essayist. She is the critic at large for Vox and an Associate Professor of English and Humanities at The King's College. She has written for The New York Times, The Atlantic, The Guardian, and other publications. She now works at Vox.com as Senior Culture Reporter and Critic. You can find her personal website at Alissa Wilkinson.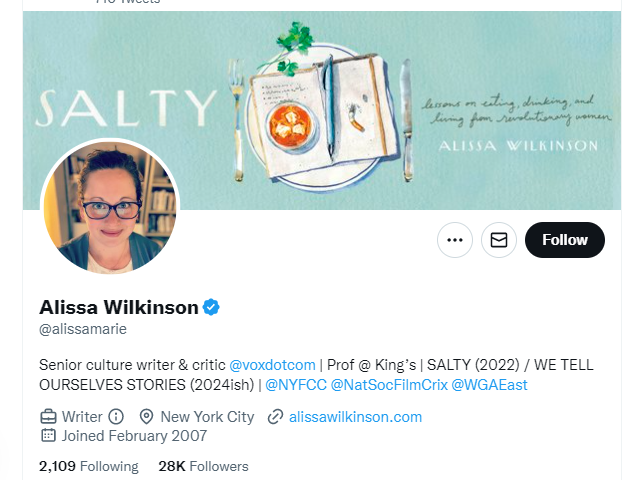 Karina Longworth (@karinalongworth) — Karina is a film historian, critic, and author. She writes, hosts, and produces the You Must Remember This podcast about the secret history of 20th century Hollywood. She's written for LA Weekly, The Village Voice, The New Yorker, and other publications. She is currently a producer and host at vidiocy.com.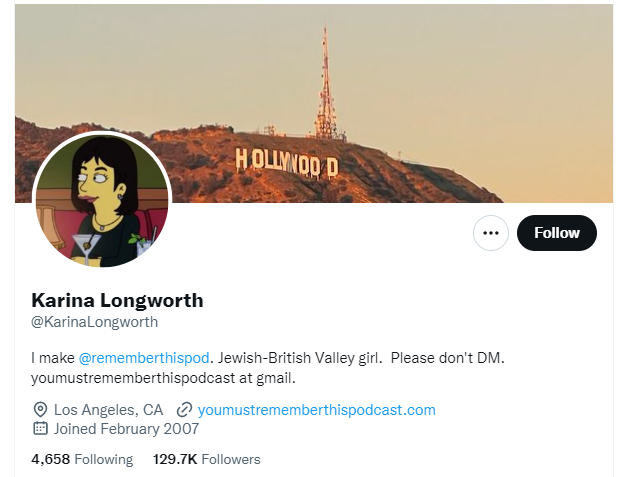 David Ehrlich (@davidehrlich) — David is a film critic and video essayist. He is currently the chief film critic at IndieWire and has written for Rolling Stone, The New York Times, and The New Yorker, among other publications.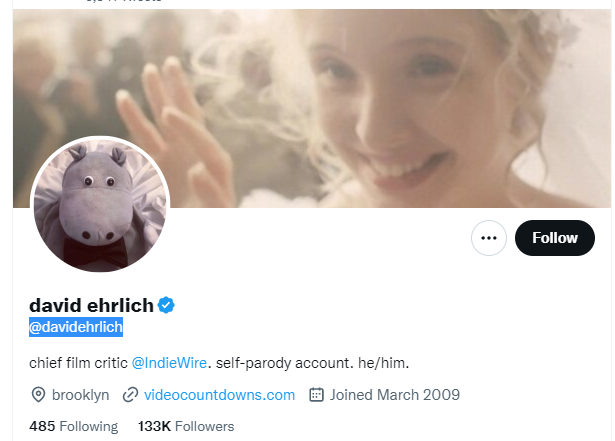 Tim Grierson (@TimGrierson) —Tim is a film critic, journalist, and editor. He's the Senior U.S. Critic for Screen International and the chief film critic for Paste Magazine. His writing has appeared in Rolling Stone, The New York Times, Esquire, and other publications.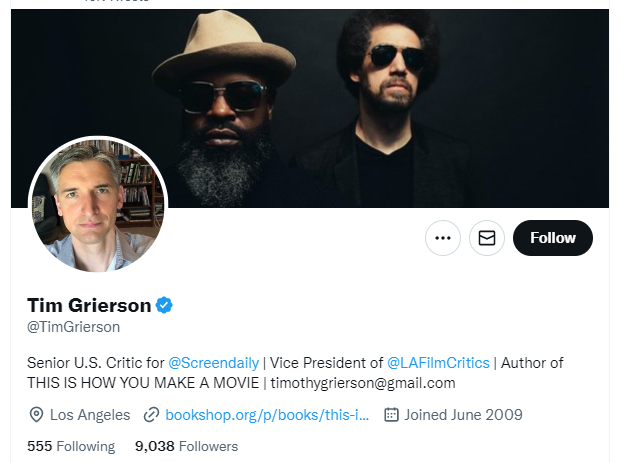 Kyle Buchanan (@kylebuchanan) — Kyle is The Projectionist for The New York Times, writing the newspaper's film award seasons coverage. He is also a pop culture reporter who writes about film and tv. He was formerly a senior correspondent for Vulture.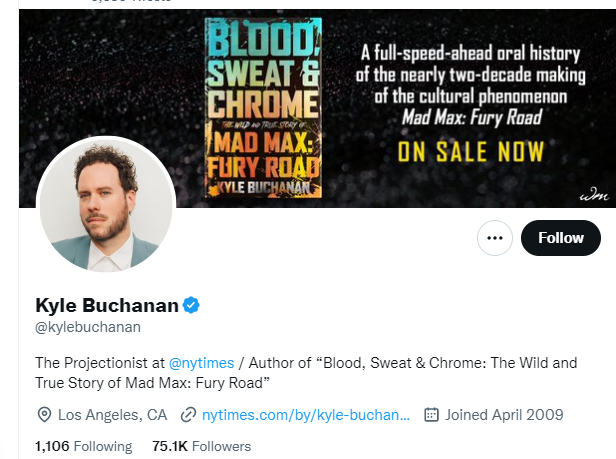 Richard Roeper (@RichardERoeper) — Richard is a film critic for the Chicago Sun-Times who also appears regularly on the nationally syndicated show "At the Movies." He is known for his straight-forward and sometimes contrarian reviews.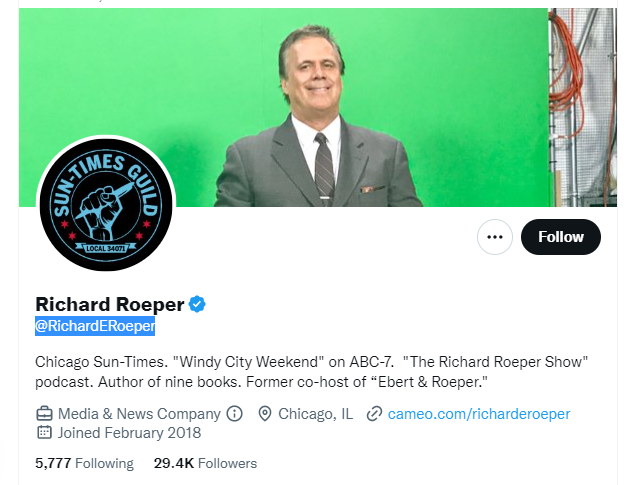 Mark Kermode (@KermodeMovie) — Mark is a film critic, presenter, and writer based in the UK. He is known for his BBC Radio 5 Live show, Kermode & Mayo's Film Review, and is a co-host of the film podcast Kermode & Mayo's Take. He is the chief film critic writing a weekly column in The Observer, a sister paper of The Guardian. He is also a regular contributor to the Sight & Sound magazine, a monthly film magazine published by the British Film Institute.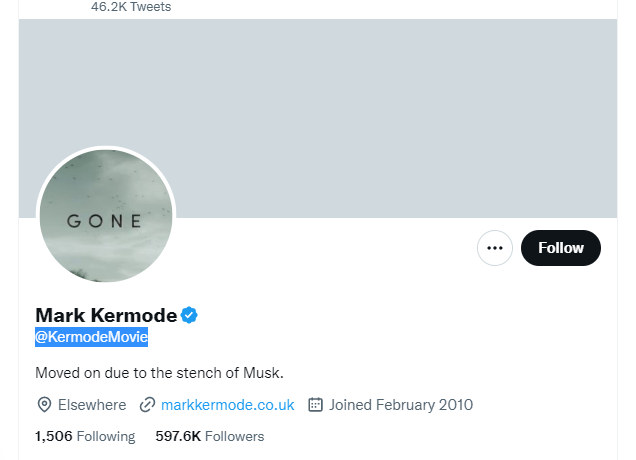 Manohla Dargis (@manohladargis) — Manohla is a film critic for The New York Times, known for her deeply insightful and thought-provoking reviews. She also serves as a member of the National Society of Film Critics and the New York Film Critics Circle.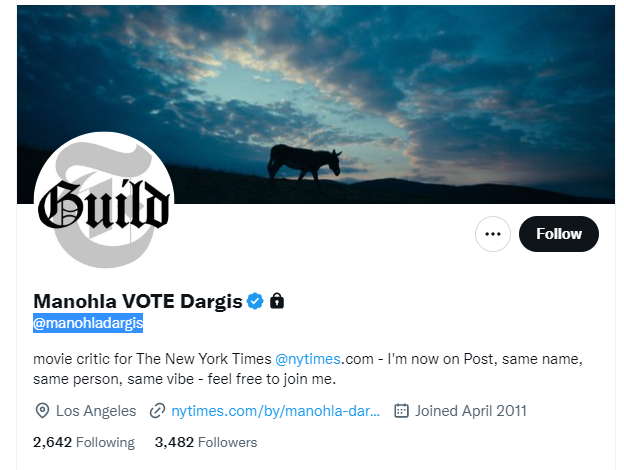 Peter Travers (@petertravers) — Peter is currently the film critic and reviewer for ABC News and the host of their film interview tv show Popcorn with Peter Travers. He was previously a film critic for Rolling Stone Magazine for over 30 years. He also writes for The Wrap, and is famous for his honest and passionate reviews.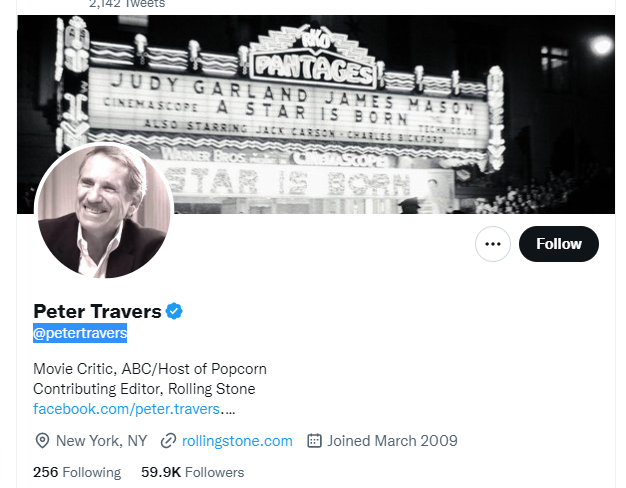 Leonard Maltin (@leonardmaltin) — Film historian, critic and journalist, Leonard is one of the most recognizable and respected film critics in the industry. He is the author of Leonard Maltin's Movie Guide, the host of the TV show "Secret's Out," and has been a member of the Motion Picture Academy of Arts and Sciences. He currently hosts the podcast Maltin on Movies with his daughter.
Nell Minow (@nminow) — Nell is an American film critic and governance expert who has been writing about film and politics for more than 25 years. Known as the Movie Mom, she reviews movies online and on radio stations across the U.S. She also serves as Vice Chair of ValueEdge Advisors, and the Contributing Editor at RogerEbert.com, where she reviews movies every week.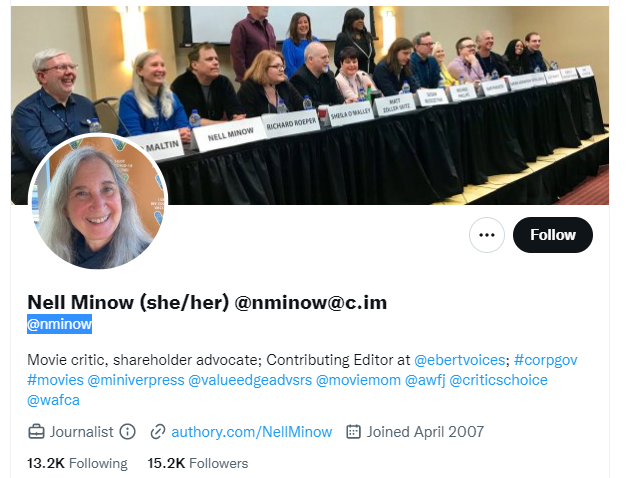 Peter Bradshaw (@PeterBradshaw1) — Peter is a leading film critic for The Guardian and The Observer newspapers in London. He is also a contributing editor at Esquire, and a regular presenter and critic on BBC Radio 5 Live. He has a love for independent and foreign films.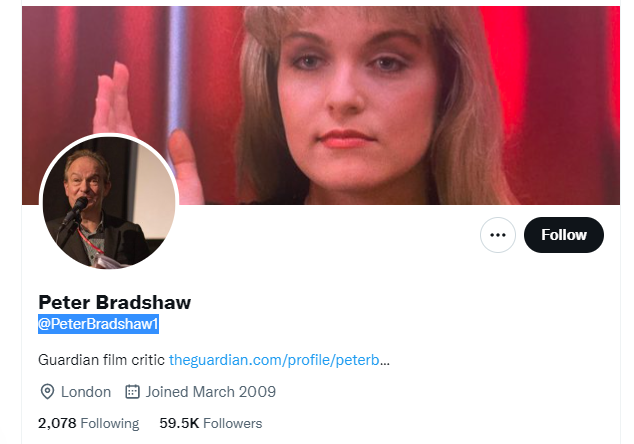 Rotten Tomatoes (@RottenTomatoes) — Rotten Tomatoes is a review aggregation website for film and television. It's a trusted measurement of critical recommendations for millions of fans. It's one of the most widely-consulted review sources in the film industry.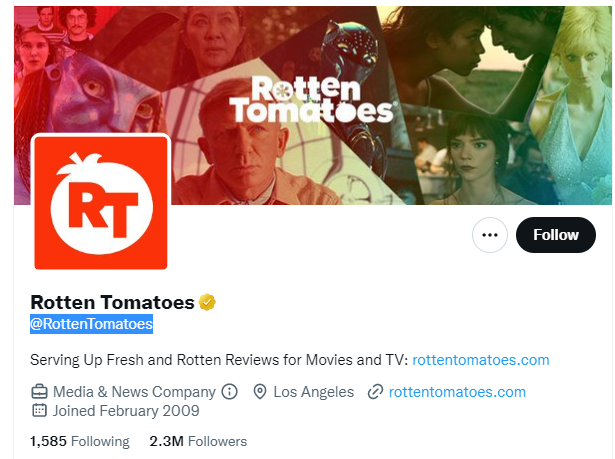 In Summary: Film Journalists for 2023 PR Outreach
As a film journalist or publication, staying on top of trends is crucial.
Our list covers all aspects of the industry, including award shows, interviews, reviews, and analyses.
Whether you're looking for a snarky commentator or writers who stand up for ethics in the industry, this list has it all. 
If you need a connection for your PR strategy, look no further. For more information on developing a robust and successful PR campaign, visit Intelligent Relations' DIY PR Platform.