Top HR Publications and HR Blogs Roundup [2023 Edition]
At the center of any successful business is a strong human resources department.
Responsible for hiring, employee retention, and maintaining a range of worker regulations, HR serves as the beating heart of the workforce.
But HR's job is so much more than managing payroll and employee benefits.
The department drives social and economic change throughout the global workforce.
Which is why exposure in an HR publication can dramatically affect your company's reputation. Promoting a positive company image can do wonders for recruitment and retention, as well as establish a positive external reputation.
So, look no further for a comprehensive list of HR blogs and publications!
This list contains the best HR publications from around the world, allowing you to gain international exposure from your next PR campaign.
We've also included a variety of publications. From globally recognized HR management sites like Workforce to up-and-coming HR blogs, we've got you covered.
Supercharge Your PR Efforts with Artificial Intelligence
Amplify your news and elevate your brand with AI-powered pitching. Access our entire publication database + easy-to-use tools – free for 14 days when you sign up now.
3 Top Human Resources Trends and Topics for 2023
Gaining an audience in the HR industry requires thorough knowledge of industry trends and topics. Below is a brief list of HR industry trending topics for this year.
HR Automation
With the recent developments in AI, new management and automation tools are constantly entering the market.
HR deals with massive amounts of administrative paperwork that's complicated and time consuming, which is where automation tools can come in handy.
In fact, 56% of businesses want to automate HR tasks with AI solutions. Those businesses that are already using AI see the benefit of applying it to repetitive HR tasks.
So, automation will continue to be a central point of conversation in the HR world. Not just in how it will impact HR jobs, but how AI will impact the entire workforce.
Diversity, Equity, and Inclusion (DEI)
Over the last few years, you may have noticed a massive shift in corporate values to diversity in the workplace. Now, diversity and inclusivity are a main criteria for hiring new talent and wooing new customers.
But having a DEI strategy can also help a company's bottom line.
Studies show that increased diversity leads to increased profitability.
For example, the most diverse companies are 36% more profitable than the least diverse. And when it comes to gender diversity, companies with more women are 48% more likely to outperform less gender-diverse companies.
Between hiring, training, and fostering a healthy workplace culture, HR holds a lot of the responsibility for your workplace's diversity.
And since 60% of companies have a DEI strategy in place, implementing effective strategies is a key trending topic for HR professionals.
Work Flexibility
The pandemic caused a massive shift in the way people work.
Companies had to adapt quickly to work-from-home models while also shifting their hiring tactics to handle the Great Resignation that came on the heels of the pandemic.
Studies show that people are changing jobs much more frequently than before the pandemic, raising alarm for HR professionals trying to improve employee retention.
Now, hiring tactics are changing, benefits and pay have to be reassessed, and many workers prefer having the flexibility that remote work offers.
HR professionals are trying to keep up and to do so, they – and the companies they represent – have to be more flexible. From hiring procedures to company structure, flexibility is key to adapting to the post-pandemic workforce.
18 Top HR Publications and HR Blogs – Our Curated List
Human Resource Executive (@HRExecMag) Since 1987, Human Resource Executive has been considered one of the premier HR publications in the U.S. This publication has over 100,000 subscribers that receive its daily publication and newsletters.
This publication's content is targeted toward its dedicated readership of HR professionals and senior managers.
Topics covered by Human Resource Executive include:
Conferences
Diversity, Equity, and Inclusion
Employee Benefits
HR Technology
Leadership
Talent Management
Because this is such a prestigious outlet for the HR industry, they receive hundreds of submissions per day regarding HR topics and content. However, the outlet still welcomes submissions especially regarding analyses, insights, strategies, and industry reports.
Human Resource Executive also hosts an annual conference for HR professionals and leaders, making them a driving force of information and change in the HR industry.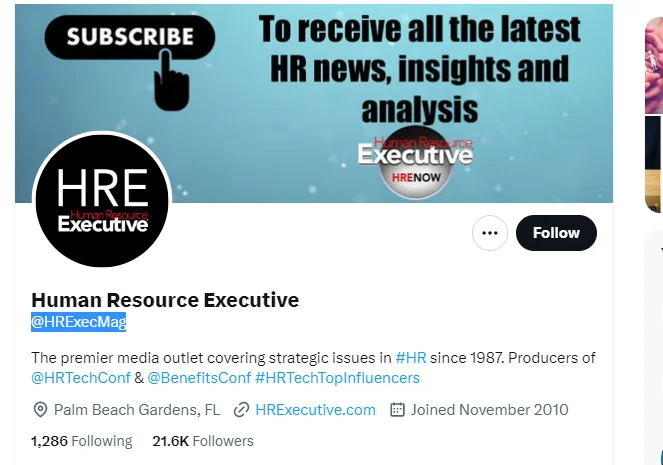 SHRM (@SHRM) This is the official publication for the Society for Human Resource Management. The organization has been a leader in workplace trends and HR management for over 75 years.
Its wide-reaching audience of over 300,000 HR and business executive members spans across 165 countries and collectively impacts over 115 million workers worldwide.
Topics covered by SHRM include:
Workplace News
Market Trends
Events
Management
Education
SHRM delivers its content through its digital platform and through daily newsletters that are sent out to its members.
The organization also hosts events, certification programs, educational classes, and provides a wide range of resources for HR professionals.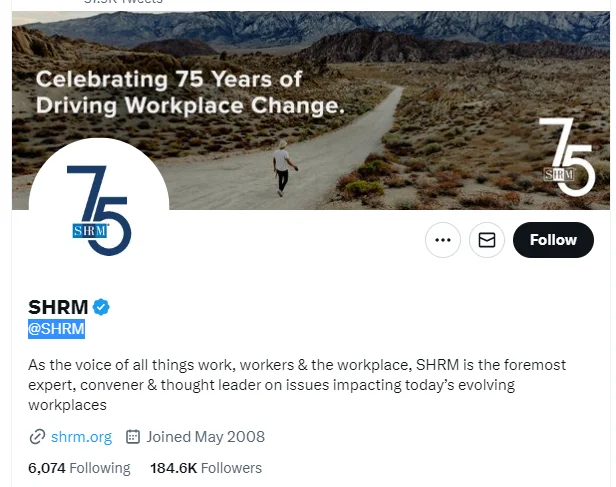 HR Dive (@hrdive) Based in Washington D.C., this is one of the best HR blogs providing daily news and analysis on HR and workplace issues, while focusing on legal and compliance matters.
HR Dive's staff includes esteemed business journalists that cover impactful news and trends shaping the field of human resources. Its content reaches over 14 million readers spanning many different industries.
Topics covered by HR Dive include:
Compliance
Talent
Learning
Compensation and Benefits
Diversity, Equity, and Inclusion
HR Management
Tech and Analytics
Like many other HR publications on the list, HR Dive is a digital publication that delivers its news via its website, social media channels, and daily newsletters.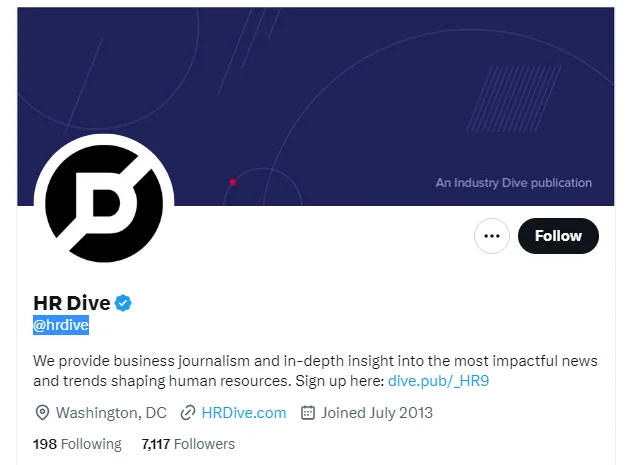 HR Morning (@HRMorning) HR Morning is a free daily newsletter and HR blog that offers articles and analysis on the latest HR news and trends, paying special attention to labor law.
This HR publication's content is targeted more towards small and mid-size companies.
Topics covered by HR Morning include:
Employment Law
Benefits
Recruiting
Talent Management
Performance Management
HR Technology
HR Morning's staff uses data-driven journalism to reflect on HR industry trends and changes. This is one of our HR blogs that's open to receiving guest pieces, pitches, or advertisements.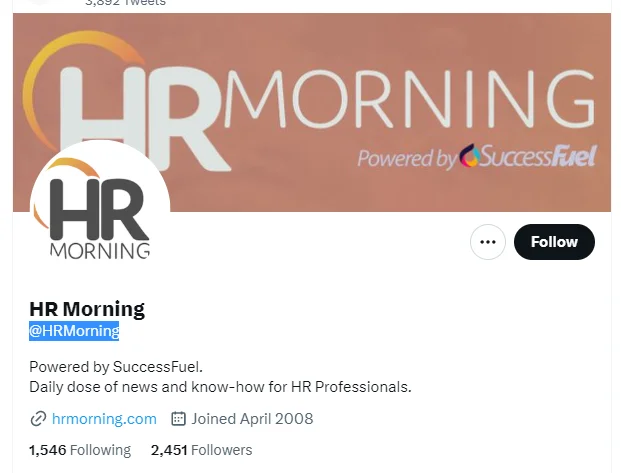 Workforce (@workforcedotcom) As one of the global leaders in HR management software, Workforce is a go-to source for any HR industry professional looking to stay in the loop.
Workforce's website is filled with reports, articles, and insights into the glocal HR industry. Its content is often a springboard for many other outlets reporting on industry trends.
Topics covered by Workforce include:
Healthcare
Staffing
Elder Care
Security
Technology
Labor Forecasting
Benefits
Workforce constantly updates its content, social media channels, and newsletters. It also produces several industry-specific ebooks and reports that are read by its global audience.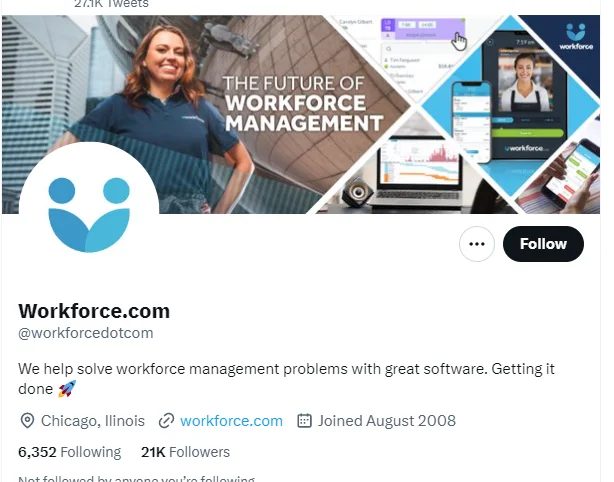 Talent Management (@TalentMgnt) Originally launched in 2005, Talent Management is an HR blog dedicated to providing in-depth information for senior-level talent and HR professionals who specialize in managing talent management programs.
Its slick website features a range of resources for industry professionals from a library of HR research and a bookstore, to a calendar of networking events.
Topics covered by Talent Management include:
Workplace Trends
Talent Management
Events
Education
Hiring Tips
Talent Management delivers its content through daily updates to its website and social media accounts, as well as newsletters, events, and webinars.
For 2023, they are also launching an awards program called "The Talent Trailblazers" aimed at honoring emerging leaders in the field of HR and talent management.
Pro Tip: Talent Management offers a variety of content contribution opportunities for businesses. They publish feature articles on HR topics, guest editorials (opinion-based), profiles, and case studies. They are looking for original thought leadership from HR pros.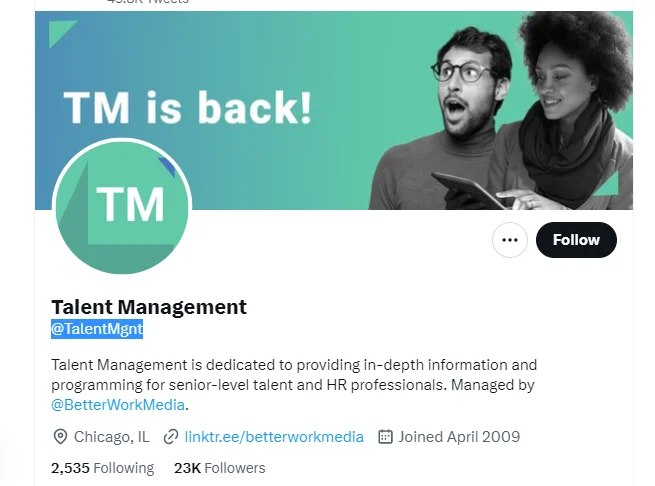 Human Resources Today (@hrposts) Human Resources Today is one of the best HR publications creating top content for HR professionals from the widest variety of industry thought leaders.
Its online resources include HR blogs, webinars, newsletters, and exclusive content for downloading. Human Resources Today has over 336,000 readers comprising industry leaders and HR professionals.
Topics covered by Human Resources Today include:
Employee Benefits
Change Management
Metrics
Payroll
Staffing
Diversity
Applicant Tracking
Human Resources Today covers all topics relating to HR management and uses data-driven journalism to support their content and provide added value.
Human Resources Today also hosts an annual awards competition that highlights MVPs in the HR industry.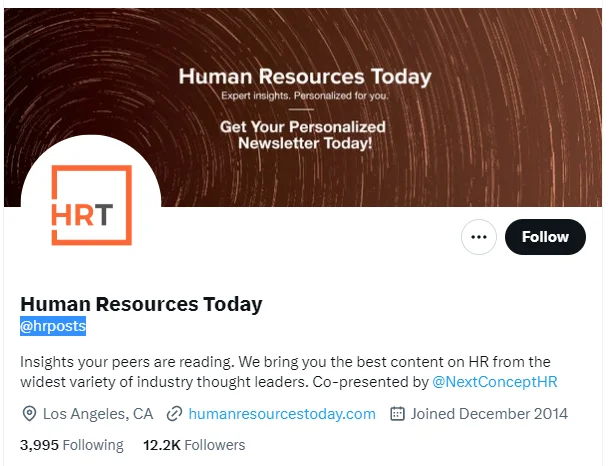 People Management (@PeopleMgt) People Management is the official HR magazine for CIPD, the professional body for HR and people development.
The UK-based publication covers news and information on employment law, as well as opinion pieces and feature articles on all things HR.
Topics covered by People Management include:
Employment Law
Industry Trends
Budgeting
Employee Benefits
The magazine is published monthly and distributed to CIPD's 132,000 members around the world. It's an award-winning HR magazine that's considered to be one of the leading HR publications covering management, especially for the UK market.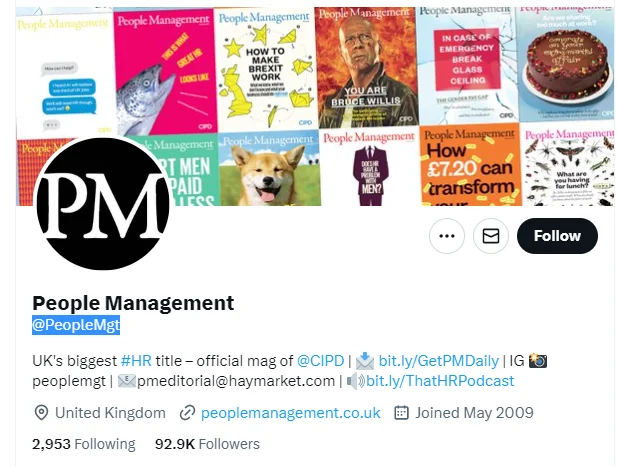 HR Bartender (@hrbartender) This popular HR blog, written by Sharlyn Lauby, covers a wide range of HR topics while offering a blend of practical advice and personal anecdotes.
This is one of the HR publications that really stands out from others on the list thanks to its multimedia content and trendy website design. HR Bartender is much more than an HR blog, it also produces podcasts, books, and free resources for its readers.
Topics covered by HR Bartender include:
Industry Trends
Recruitment
Hiring
Employee Retention
Employee Engagement
Employee Benefits
Management
Leadership Development
This HR blog's personal tone makes it a relatable and engaging read for both HR professionals and business leaders. Sharlyn is also the author of several books on HR and leadership topics.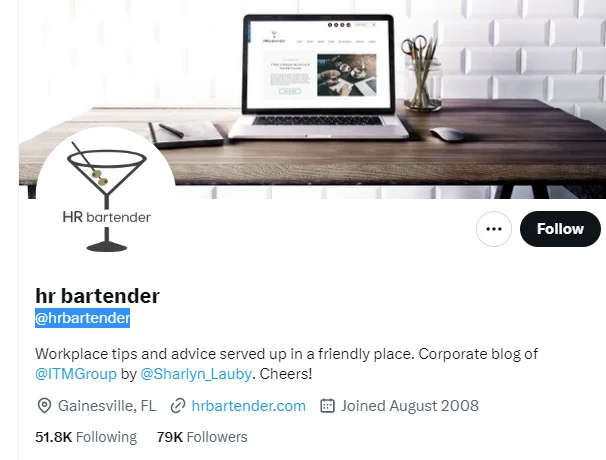 HR Capitalist (@kris_dunn) HR Capitalist is one of the best HR blogs offering a unique perspective on HR and talent management and focusing on the intersection of business strategy and people management.
HR Capitalists' content is available for free on its website. Readers who subscribe to the daily newsletter get summaries of recent posts and highlights of trending topics.
Topics covered by HR Capitalist include:
Industry Trends
Communication
Employee Benefits
Workplace Health and Wellness
The website is run by Kris Dunn who is an industry expert and a regular speaker at industry events and conferences.
Kris is also known for his "Chaos Theory of Careers" and "Talent Brand" concepts which have shaped HR management trends and styles.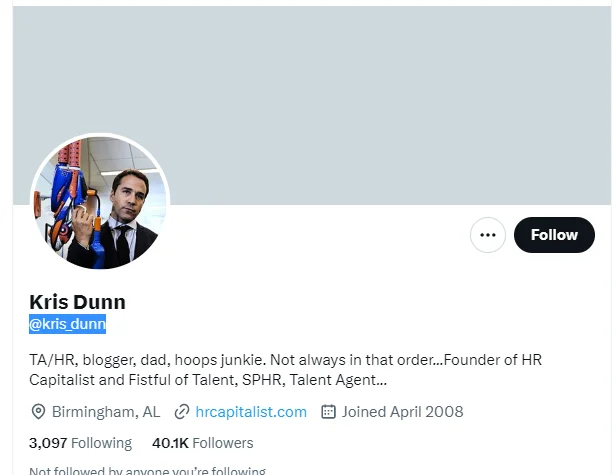 HR Trend Institute (@HRTrendInst) The HR Trend Institute is a research-based organization that provides insight into the latest trends and developments in human resources. They are based in Scotland.
The organization offers a variety of resources, including HR blog posts, whitepapers, and webinars, all designed to help HR professionals stay ahead of the curve and in the know.
Topics covered by HR Trend Institute include:
Employee Experience
Communications
Recruitment
Talent
Performance Management
The Institute itself is a trendsetter in the HR world. Its research and analysis is used to drive productive change in HR management.
Its content can be found online on its website and social media channels.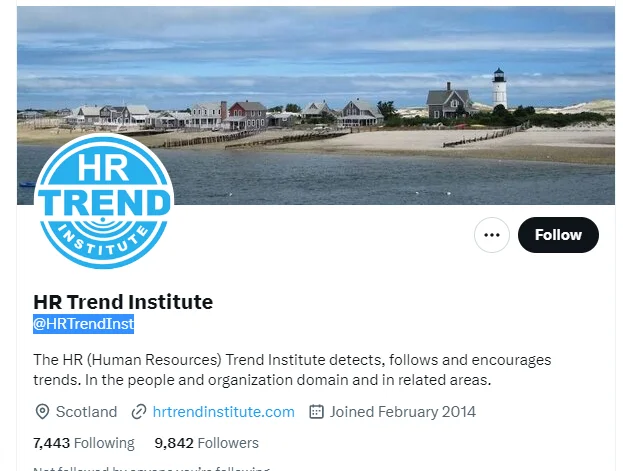 HRZone (@HRZone) HRZone is one of the best HR blogs offering a mix of news, opinion, and practical advice for HR professionals.
This outlet covers a wide range of topics relating to HR management, from recruitment to wellness. Its content is delivered digitally through feature length articles, industry reports, and blog posts.
Topics covered by HRZone include:
Talent Acquisition
Employee Management
Culture
Industry Trends
Diversity, Equity, and Inclusion
In addition to producing daily content, HRZone hosts its annual "Culture Pioneer Awards" event that recognizes companies going above and beyond when it comes to employee wellbeing, inclusion, learning, and brand development.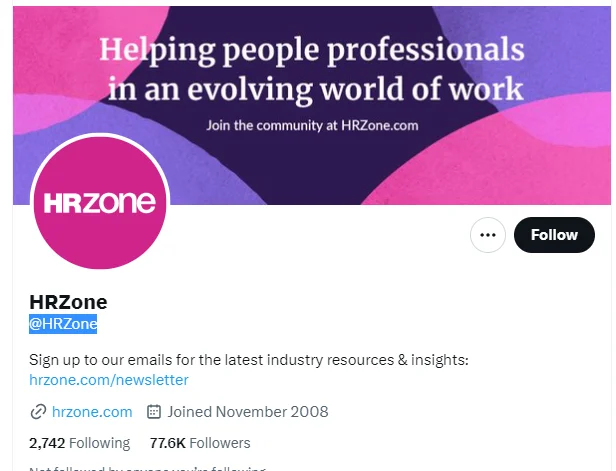 HR Magazine (@hrmagazine) This prestigious UK-based HR magazine is a leader in HR management news. With a print circulation of over 300,000 copies, HR Magazine is one of the most widely read HR magazines in the world.
HR Magazine is actively seeking submissions for editorials, articles, and advertisements.
Topics covered by HR Magazine include:
Employee Engagement
HR Software
Culture
Employment Law
Diversity, Equity, and Inclusion
Employee Benefits
HR Magazine is available both in print and online editions, and its website provides a range of resources for industry professionals.
The publication also hosts the annual "HR Excellence Awards" event that highlights notable businesses and leaders in the UK HR industry.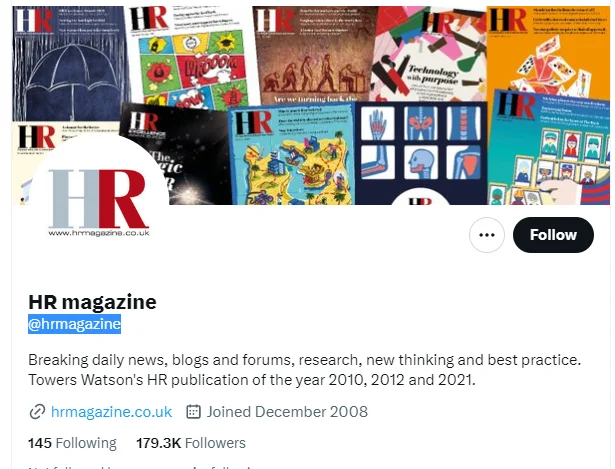 HR Gazette (@TheHRGazette) The HR Gazette provides opinions, analysis, news, and reviews from the brightest minds in HR and Management — all focused on the most relevant issues facing those involved in the world of work.
Since 2014, HR Gazette has been providing news and insights on a range of topics relevant to the HR industry.
Topics covered by HR Gazette include:
Diversity, Equity, and Inclusion
Ethics
Employee Benefits
Technology
Recruitment
Hiring
This HR blog produces an impressive digital publication, but it's most known for its podcast, HRChat, that draws over 10,000 listeners. The podcast hosts guests from around the world that have influenced the HR industry.
HR Gazette accepts article submissions and is also open to guest pitches for its podcast.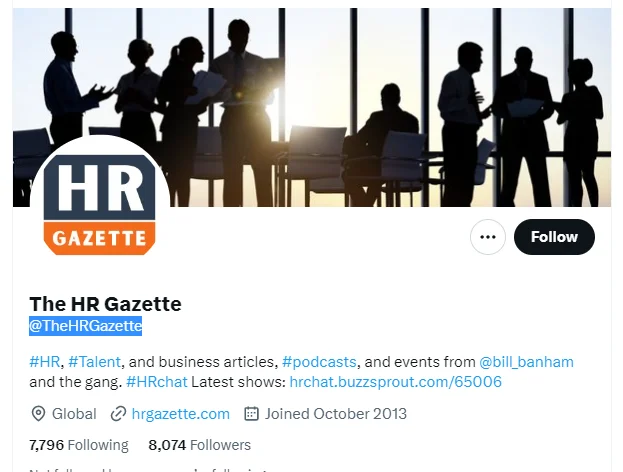 Employee Benefit News (@EBNbenefitnews) Employee Benefit News (EBN) is the primary media resource for decision-makers in the worlds of employee benefits, human resources, and workplace culture.
The is one of the top HR publications, providing in-depth analysis and insights on how to use benefits to attract and retain top talent.
Topics covered by Employee Benefit News include:
Advising
Employee Benefits
Financial Wellness
Talent and Culture
HR Technology
EBN constantly updates its website with new content, but its main publication is EBN Magazine, which has a circulation of 300,000 copies. The magazine is available in both print and digital formats.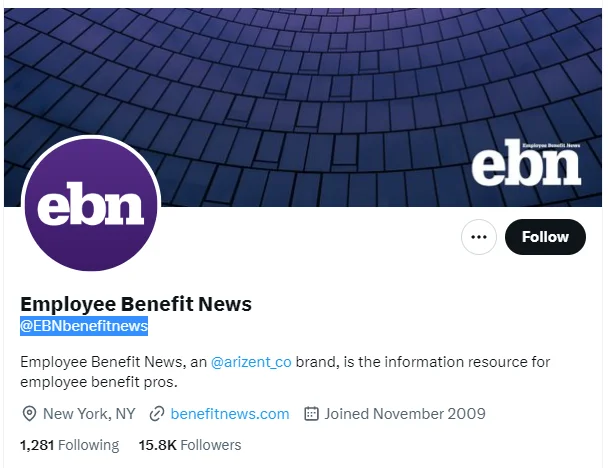 HRNews (@HRNewsdesk) HR News is an online HR magazine covering HR and business news. This is another one of our UK-based HR publications highlighting news, events, and developments in the HR industry.
Topics covered by HR News include:
HR Industry News
Working Conditions
Productivity Management
Benefits
Recruiting
Events
In addition to producing an HR magazine and updated website, HR News also hosts a variety of networking events around the UK. You can find a list on their website. It also produces a well-respected newsletter that's available for free to subscribers.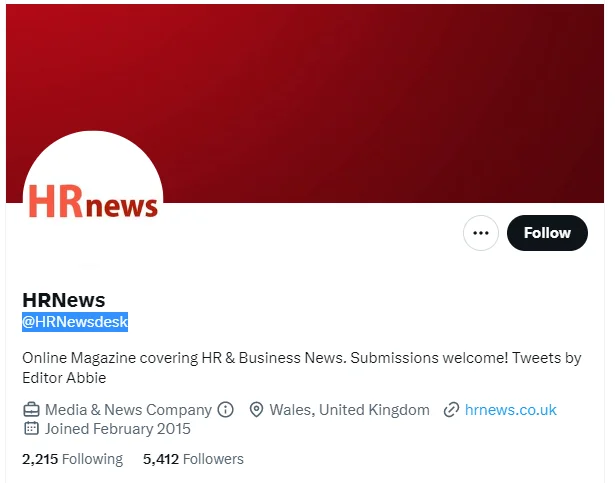 HR Review (@hrreview) HR Review is a UK-based HR blog that provides webinars and courses, white papers, and the latest news on a wide variety of HR topics.
This is one of the leading, independent HR blogs that directs its content toward small and midsize companies.
Topics covered by HR Review include:
Employment Law
HR Management
Learning
Diversity
Recruitment
Employee Wellbeing
This outlet produces multiple newsletters that are industry and topic specific to help readers digest the massive amount of information HR Review produces each day. The publication also hosts a podcast called HR In Review that's available to listeners for free.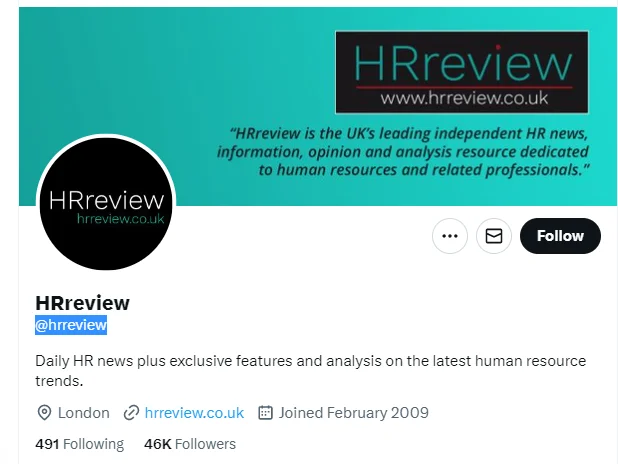 The HR Digest (@TheHRDigest) The HR Digest is an international HR magazine based in the United States. This is one of the top HR publications with a global reputation for being an accessible source of inspiration for HR professionals.
The HR magazine also strives to create a place where the HR community can exchange and discuss ideas.
Topics covered by The HR Digest include:
HR Strategy
Leadership
Recruitment
Training and Development
Employee Benefits
Outsourcing
Workplace Culture
Compensation
HR Technology
The magazine also offers online users video content, success stories, and the ability to subscribe to the print version of The HR Digest.
For those of you looking for PR or advertising opportunities, The HR Digest has a lot to offer in that department as well. Whether you're looking for ad spots, email marketing, sponsored posts and magazine features, or co-op white paper download campaigns, they have a lot of choices for cooperation.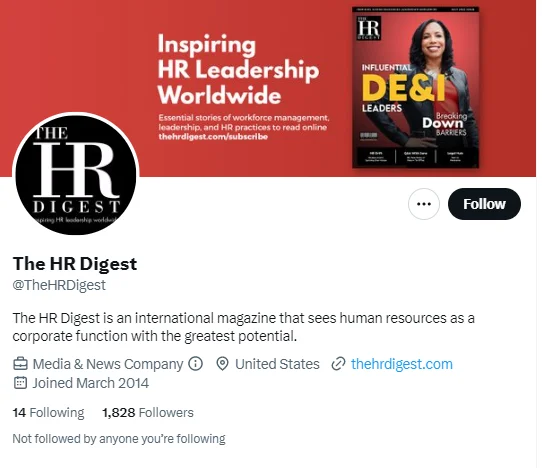 Key Takeaways
Our list of top HR publications and HR blogs covers a wide range of topics across the industry, including benefits, talent acquisition, and employment law.
We also made sure to provide a range of mediums. From podcasts and blogs to corporate HR magazines, we have it all!
So, if your PR strategy requires placement and connections with HR professionals, use this list to connect with your HR audience today.
For help with your PR strategy and information on boosting your campaigns, visit Intelligent Relations' DIY PR Platform.