Social Media PR – 6 Easy Ways to Connect with Your Target Audience
You want to develop a sound public relations (PR) strategy for social media.
Yet, you don't know where to start with your social media PR campaign. Is it even the same as social media marketing?
Don't worry if you find the process time-consuming and frustrating, especially when your efforts don't generate the desired results.
Yes, it takes time and effort to stay on top of trends and respond to comments. But, fortunately, there is a way to manage all of the above and start seeing results.
Social media's impact on our daily lives is so far and wide, its impact on PR can't be ignored.
It offers unique opportunities for brands and organizations to connect with their target audience. Plus, it offers a chance to engage with followers and build relationships with stakeholders.
From crafting compelling narratives to managing crises, social media PR has become a powerful tool for shaping public perception.
Read on to learn about the various aspects of social media and how to leverage it for PR. That includes using various content types and tips for building an effective social media PR strategy.
Not sure what a social media PR strategy should look like?
Let us help. Book a free consultation with one of our PR experts. We'll take a look at what you have or help you get started.
How Social Media Impacts PR
Social media has revolutionized PR by impacting the way you can communicate with your audience. Here are some key ways in which social media has influenced PR.
Instant and Direct Communication
Social media platforms provide a direct line of communication between brands and their audience. This allows for real-time interactions and immediate feedback.
You can engage with your target audience, address concerns, and share news or updates instantly. As a result, you foster a stronger and more transparent relationship.
Amplified Reach and Brand Exposure
Social media enables PR efforts to reach a wider audience than ever before.
With the ability to share content quickly and easily, brands can extend their reach beyond traditional PR channels.
Social media PR campaigns can gain significant exposure and generate buzz. You can accomplish this by leveraging social media influencers, viral content, and advertising.
Enhanced Brand Reputation Management
Social media acts as a powerful tool for brand reputation management. For example, you can:
Monitor and respond to online conversations.
Address customer inquiries or complaints.
Manage potential crises.
Social media platforms also provide an opportunity to showcase positive brand stories, testimonials, and endorsements.
Facilitated Media Relations
Social media has also transformed the way you can interact with journalists and media outlets.
For example, X (formerly known as Twitter) allows for direct communication. This enables you to pitch stories, share press releases, and establish relationships with journalists.
Data Analysis and Insights
Social media platforms provide valuable data and analytics that you can leverage to measure the impact of your efforts. You can refine your strategies by analyzing engagement metrics, follower demographics, and sentiment analysis.
Plus, you can identify target audiences and tailor your social media PR messaging for maximum effectiveness.
Want to learn more about the PR metrics that will help you track your success? Check out our article: 10 Key PR Metrics You Must Measure to Gauge Success
7 Ways to Effectively Leverage Social Media PR
Here are some ways you can leverage social media PR.
1. Use Creative Brand Messaging
Crafting consistent and compelling brand messaging across social media platforms is crucial. This helps establish your brand's identity. Plus, it enables you to effectively communicate with your audience.
You can find examples of impactful brand messaging in slogans such as Nike's "Just Do It" or Apple's "Think Different." These concise and memorable phrases evoke the desired emotions associated with the respective brands.
2. Create Social Media PR Content Strategy
Developing a well-thought-out content strategy is essential for social media PR. This involves creating engaging and shareable content that aligns with your goals. It should also resonate with your target audience.
For instance, Red Bull has mastered the art of content strategy by consistently producing adrenaline-pumping videos and stories. These showcase extreme sports and adventure, effectively positioning themselves as an energy-driven, adventurous brand.
3. Be Sure to Amplify Your Reach
Social media allows you to reach a wider audience instantly. You can use social media PR to quickly disseminate information, news, and updates to a large number of people.
An excellent example of amplified reach is the collaboration between Starbucks and Spotify. Starbucks customers were offered exclusive playlists and rewards through the coffee chain's mobile app. This helped to extend the reach of both brands to a wide audience.
4. Participate in Direct Engagement
Social media facilitates direct and immediate engagement between you and your target audience. This enables you to establish a two-way communication channel. You can respond to feedback, address concerns, and build stronger relationships with stakeholders.
For example, Wendy's has gained attention through their witty and humorous responses on social media. This helped them engage directly with their customers and create a sense of community and loyalty.
5. Engage in Real-Time Crisis Management
You must be prepared to manage and respond to crises in real time. Social media platforms serve as a vital tool for monitoring conversations. This allows you to address issues promptly and control the narrative during challenging times.
For example, a company quickly responds to a major product recall with a press release or social media update to address concerns.
6. Consider Influencer Marketing
Are you looking for a way to take social media PR to a new level?
Social media has given rise to influencer marketing. You can collaborate with influencers who have large followings to promote products, services, or causes. This type of strategic partnership helps you reach your target audience more effectively.
For example, a fashion brand partners with a popular lifestyle influencer to showcase their latest clothing line. They use a series of Instagram posts, resulting in increased brand awareness, engagement, and sales.
7. Gather Important Data Analysis and Insights
Social media platforms provide extensive analytics and data insights. This allows you to measure the success of your campaigns accurately. This information can help you refine your PR strategies. Plus it can help you identify trends and make data-driven decisions.
For example, a digital marketing agency analyzes website traffic, click-through rates, and conversion rates. They identify the most effective marketing channels and optimize their client's advertising strategy accordingly.
Once you gather important data and insights for both social and PR, you need to analyze it. Not sure how to do that? Learn more here: 7 Step Guide to PR Analytics: Unveiling Insights for Strategy Enhancement
10 Steps for Building a Social Media PR Strategy
Building a strong social media PR strategy is crucial for managing and enhancing your brand's reputation. Here are key steps to follow:
1. Define Your Objectives
Determine what you want to achieve through your social media PR strategy. Whether it's improving brand awareness, managing crises, or engaging with your target audience, clear objectives will guide you.
2. Identify your Target Audience
Understand who your audience is, their demographics, preferences, and online behavior. This knowledge will help you tailor your messaging and choose the right social media platforms.
3. Choose the Right Platforms
Research and select social media platforms where your target audience is most active. For most social media PR campaigns, you'll want to at least consider Facebook, X (Twitter), Instagram, LinkedIn, TikTok, YouTube, and/or industry-specific networks.
4. Craft Your Brand Voice
Develop a consistent and authentic brand voice that aligns with your brand identity. This voice should resonate with your target audience and reflect your company's values and personality.
5. Create Valuable Content
Develop a social media PR content strategy that provides value to your audience. Share informative articles, engaging videos, industry insights, and user-generated content. Use storytelling techniques to connect emotionally with your audience.
6. Engage with Your Audience
Actively engage with your audience by responding to comments, messages, and mentions. Encourage discussions, ask questions, and seek feedback. Building a genuine connection will foster brand loyalty and positive sentiment.
7. Monitor and Manage Your Online Reputation
Regularly monitor mentions of your brand and relevant keywords using social listening tools. Address any negative feedback or criticism promptly and professionally. Showcase positive reviews and testimonials to maintain a positive image.
8. Collaborate with Influencers
Partnering with influencers or industry experts who align with your brand values does a lot for any social media PR strategy. Their endorsements and collaborations can help expand your reach and credibility.
9. Analyze and Optimize Social Media PR Campaigns
Regularly track and analyze your social media metrics, such as engagement rates, reach, and conversions. Use these insights to refine your strategy, optimize content, and make data-driven decisions.
10. Stay Updated with Social Media Trends
Social media is constantly evolving. Make sure to stay informed about emerging platforms, features, and trends. Adapt your strategy accordingly to stay ahead of the curve.
Pro Tip: Consider hiring a PR agency to help you build your PR social media strategy. They specialize in crafting and executing strategic campaigns that get results. Plus, they understand the landscape of different platforms, trends, and best practices.
Looking for PR and social media management tools that can help you with building and executing your strategies? Check out our article: 10 Best PR Tools That You Should Know About
6 Examples of Social Media PR Campaigns
Social media PR offers a variety of content options to engage and captivate your audience. Below, you'll find the most common types.
1. Posting Links to Press Releases
Press releases are an effective way to communicate important news, announcements, and updates. These releases act as a bridge between traditional media outlets and social media platforms. They ensure that the message reaches a diverse audience.
They also provide journalists and influencers with a reliable and trustworthy source of information. This makes it more likely for them to cover and share a story with their followers.
Plus, you can repurpose and share press releases on various social media channels. This helps you amplify your reach and visibility. It also adds credibility and legitimacy to your online presence.
Here is a press release example that you could share as a part of a social media PR campaign: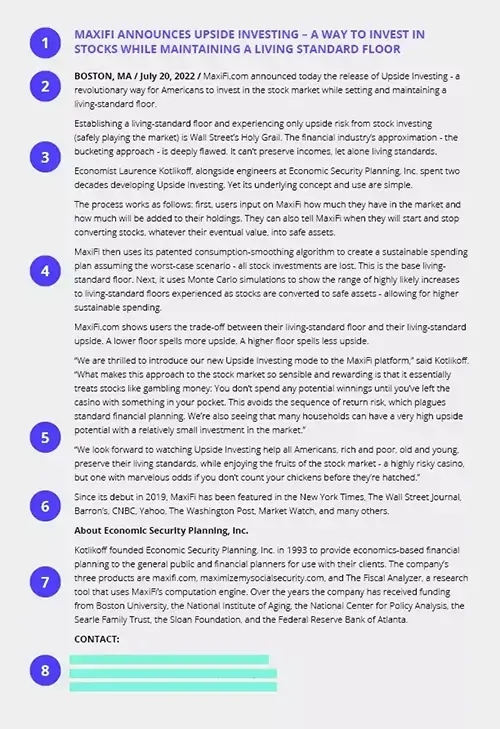 Pro Tip: You obviously aren't going to write an entire press release as a social media PR post. The best solution is to extract your best quote or the main point of your press release and share it along with the link to your press release. You'll want to tailor your post to every platform.
Not sure how to write a great press release in general? Then you'll want to check out our complete guide: How to Write a Press Release for Great Results [Examples + Tips]
2. Creating Event Announcements
Event announcements convey the benefits attendees will gain from participating. These can include product launches, grand openings, and charity fundraisers. Eye-catching visuals, such as images or videos, can enhance the announcement's appeal.
Engage with social media users by encouraging them to share the announcement. Social media users can also ask questions or tag friends who may be interested.
Here is an example of an event announcement:
TechGiant Presents: Tech Innovations Showcase

Join us for an exciting evening of technological marvels and innovation at TechGiant's Tech Innovations Showcase! Discover the latest cutting-edge advancements in the tech industry and get a sneak peek into the future of technology.

Date: January 1, 20XX

Time: 12:00 P.M.

Venue: The Tech Expo Center

At the Tech Innovations Showcase, you'll have the opportunity to:

Experience live demonstrations of our groundbreaking products and solutions.
Interact with our talented team of tech experts and ask questions.
Network with industry professionals, investors, and tech enthusiasts.
Explore the possibilities of integrating our tech solutions into your business.

Don't miss this chance to be at the forefront of technology and witness firsthand how TechGiant is shaping the future. RSVP now to secure your spot as space is limited!

To register for the event or for any inquiries, please visit our website at tech.giant or contact us at techgiant@email.com. We look forward to welcoming you to an evening of technological wonders!
Pro Tip: For certain events, you may just want to create an event on Facebook or LinkedIn as well as posting an announcement. If your event is extra important and comes with a press release, link to your release and consider a series of posts leading up to the event.
If you're preparing for a big company event, you'll want to consider an event press release. Here's how to write one: How to Write a Press Release for an Event [+Examples]
3. Announcing Company Milestones
Company milestones are cause for celebration on social media platforms. Great milestones for social media PR campaigns could include:
Reaching a certain number of followers.
Launching a new product or service.
Celebrating a significant anniversary.
Achieving a notable business accomplishment.
When sharing company milestones, make sure they are compelling and visually appealing. They should highlight the achievement and convey your excitement and gratitude. This can include photos, videos, infographics, or even live streams of events.
Here is an example of a company milestone:
Company Milestone: Celebrating 10 Years of Excellence and Innovation

We are thrilled to announce that our company has reached a significant milestone – 10 years of excellence and innovation in the industry. Over the past decade, we have grown from a small startup to a recognized leader in our field, thanks to the unwavering support of our loyal customers and the dedication of our talented team.

Throughout this journey, we have consistently strived to deliver exceptional products and services, pushing the boundaries of what is possible and setting new industry standards. Our commitment to innovation has allowed us to stay ahead of the curve, continuously adapting to the ever-changing market dynamics.

This 10-year milestone not only represents our achievements but also serves as a testament to the enduring partnerships we have formed with our clients and stakeholders. We take immense pride in the trust they have placed in us, and it motivates us to go above and beyond their expectations.

As we reflect on the past decade, we are filled with gratitude for the incredible opportunities and challenges that have shaped us into the company we are today. We are excited to embark on the next chapter of our journey, where we will continue to innovate, evolve, and create even greater value for our customers.

To express our gratitude to our valued clients, we will be launching a series of special promotions, exclusive offers, and events throughout this milestone year. We invite you to join us in celebrating this incredible achievement and being a part of our continued success.

Thank you for your unwavering support, trust, and partnership. Together, we will continue to build a brighter and more prosperous future.
Pro Tip: Start with long form content for social media PR campaigns even though it's not appropriate for most platforms. After, break your content down into smaller, platform-tailored pieces. Long-form pieces like the example can go on your website, in an email newsletter, or on a long-form LinkedIn post. Shorter versions are for Facebook, X (Twitter), and Instagram.
4. Launching an Influencer Collaboration
Connecting with influential personalities can boost visibility, credibility, and engagement. But before you decide to make it a part of your social media PR strategy, It's crucial to identify the right influencers who align with your values and target audience.
Authenticity is key!
You can collaborate with influencers through sponsored posts, product reviews, or hosting joint events. The key is to create compelling content that resonates with the influencer's audience.
Here is an example of what an influencer collaboration should look like:
Exciting Collaboration Announcement!

We are thrilled to announce a special collaboration with the amazing TechExpert!

TechExpert has captivated audiences worldwide with its expertise, creativity, and engaging content. Their dedication to inspiring and empowering their followers aligns perfectly with our brand values.

Together, we are embarking on a journey to bring you exclusive content, valuable insights, and exciting giveaways!

Stay tuned as we unveil our joint projects, including new videos that will provide you with expert tips. Get ready to discover new perspectives, gain practical tips, and elevate your tech game!

Keep an eye on TechExpert's channels and our social media platforms for all the updates, behind-the-scenes sneak peeks, and exclusive announcements.

Thank you for being part of this exciting journey with us! Together, we will make a positive impact, inspire change, and create something truly remarkable.

#InfluencerCollab #ExcitingAnnouncement #InspirationUnleashed
Pro Tip: Using hashtags well is just as important to social media PR as it is to any marketing or general social media campaign. Make sure you research the reach and relevance of the hashtags you plan to use and follow hashtag best practices for each platform.
Want to announce a new partnership with a press release? Not sure how to write one? Check out our dedicated article: How to Write Press Releases for New Partnerships
5. Engaging in Thought Leadership
Establishing yourself as a thought leader is crucial for gaining credibility and influence. Thought leaders are individuals who are recognized as experts in their fields. They possess deep knowledge, unique insights, and innovative ideas.
By positioning yourself as a thought leader, you can enhance your professional reputation and reach a wider audience. This also helps you build strong relationships with media outlets.
These sample expert insights on the tech industry are examples of brief, post-length thought leadership content for social media PR:
"Technology is constantly evolving, and it's crucial for businesses to adapt and embrace advancements to stay competitive in today's digital landscape." – John Smith, Technology Consultant.
"Cloud computing has transformed the way businesses operate, providing scalability, cost-effectiveness, and enhanced collaboration capabilities." – Mark Johnson, Cloud Solutions Architect.
"Blockchain technology has the potential to revolutionize various sectors, including finance, supply chain management, and healthcare, by providing secure and transparent transactions." – Emily Wilson, Blockchain Consultant.
Pro Tip: Thought leadership is more than just posting quotes from your larger campaigns. Publish the results of original research and expertise also counts. If you've done a new study, case study, or keynote speech, you can make bite sized content to post on social media.
Now that you know more about social media PR, you might want to take a look at SEO PR. Check out our guide: PR SEO: Synergy for Success [Tips, Tactics, and Best Practices]
Key Takeaways
Social media PR is a powerful tool for promoting your brand or organization. It's also an effective way to connect with your existing audience.
By posting relevant, interesting content on a regular basis with a consistent brand voice and messaging, you can create a strong online presence across various platforms. Just keep in mind that social media PR is all about building relationships with your audience.
Be sure to engage with your followers by responding to their comments and messages. Show a genuine interest in their opinions and feedback, and you'll cultivate strong relationships, establish loyalty and trust, and boost your reputation.
Still not sure how to get started with a social media PR strategy? Let us help! Simply book a free consultation with us to get expert insight into how to start or improve your social media PR.