How to Write a Book Launch Press Release
Publishing a book is a monumental achievement in and of itself. However, if you want the book to also be a success, you need to generate publicity. One of the most effective ways to get that publicity is by issuing a press release in anticipation of your book's release.
Although putting together a press release isn't complicated, it does take some preparation and know-how. To help, this guide will examine the entire process of creating a book launch press release from development to distribution, as well as provide examples and a template.
The World's First Affordable PR Agency Powered by AI
Pay less than the cost of 1 press release per month. Get full-stack, AI-powered PR – Our databases and AI pitching + a dedicated PR expert to manage your outreach campaigns.
Why you should write a press release for your book launch
Whether you're an established author or a new writer, any book launch can benefit from a press release. The goal is to inform the media and the public of the new book's release, or, if you're an unknown author, to explain who you are and why your book is important.
Promoting your book's publication ahead of time is useful for a few different reasons. For one, this is how you can boost your presales before the book actually hits the shelves. Moreover, generating buzz around your book in the media can help it reach a wider audience.
It's actually quite simple: if you want people to know about your book release, you need media coverage. And you can get that coverage from a book launch press release.
What to include
Contrary to popular belief, a book launch press release isn't just a summary of the book. Instead, it should give journalists key details about its publication to use as a basis for potential coverage.
What that means is, your press release should be catchy but informative, and easy for a journalist to digest in a single read. Ultimately, that's the overall goal of any press release, so it's no different with press releases in the case of a book launch.
Customarily, a press release should be a single page in length with an average word count of about 400 to 600. Anything longer risks losing a journalist's attention.
The bottom line is, to keep your press release short and to the point. To help you do that, there's a standard structure to adhere to and some common guidelines to follow:
How to format a book launch press release
A book launch press release should follow the industry-accepted format, which you'll find below: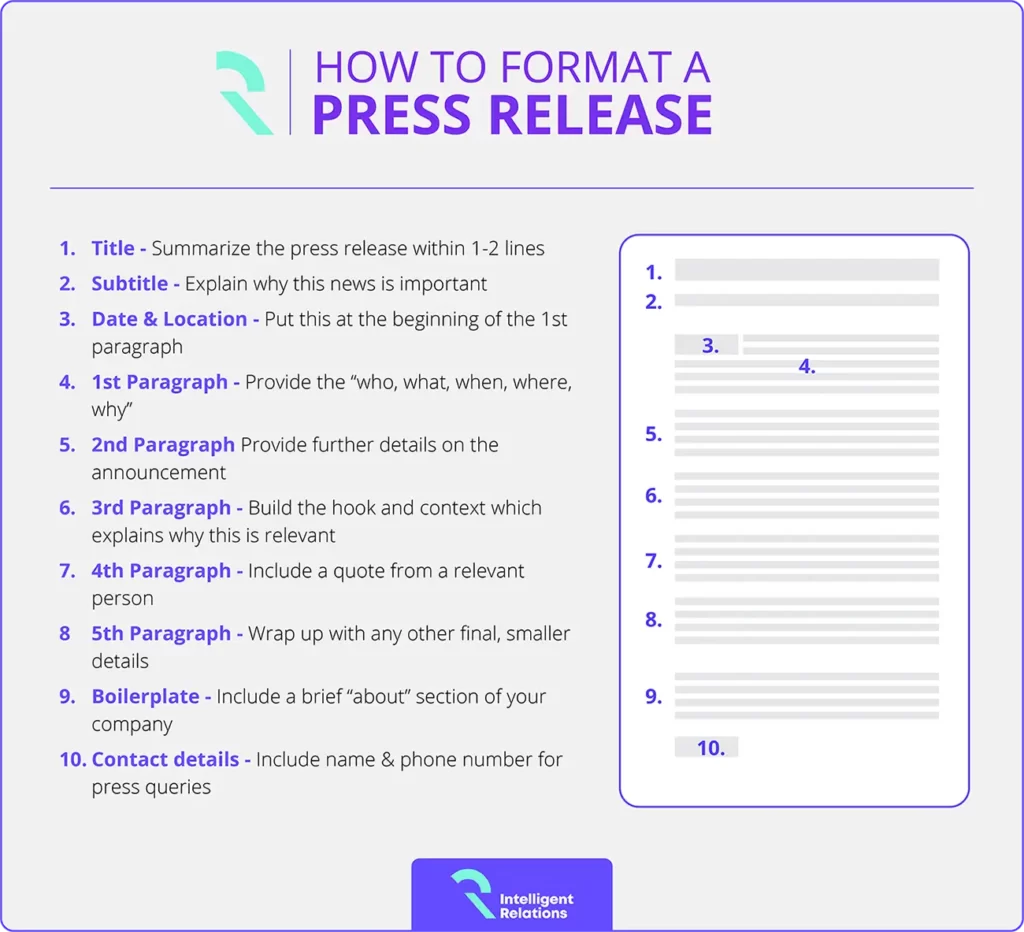 As you can see, it should be around five paragraphs total, with each section designated for specific information regarding the book launch announcement.
Book launch press release template
Below is a press release template for a book launch, which you can copy and paste and use as a starting point to write your own press release.
[Author Name] Publishes [New/Debut] [Book/Novel] About… [Provide Short Description]
The book is… [provide short description]
[City, Country – Date] – [author name] today announces the publication of a [new/debut] [book/novel] about [provide short description]. [Finish this paragraph with other high-level information regarding who, what, when, where, and why].
[book title] tells the story of [characters/figures & plot point/subject matter] and is sure to resonate with [the intended audience].
This book offers a new approach to [genre/subject] because [reason], setting itself apart from other titles. [Provide more information to explain why the book is different/relevant].
"This book is a masterpiece in [genre/subject] and excels at [literary device]," said [high-profile reviewer].
The book will be available on shelves at [establishment] starting [date].
About [author name]
[Provide the author's boilerplate here].
About [publisher name]
[Provide the publisher's boilerplate here].
Book launch press release examples
To help you get the ball rolling on your book launch press release, we've compiled examples of actual book launch press releases for you to draw inspiration from.
Fiction Book Launch Press Release
In this example, renowned children's author Cynthia Leonor Garza announces the publication of her latest book.
Nonfiction Book Launch Press Release
In this example, Chronicle Chroma announces a new book celebrating the career of world-renowned filmmaker Spike Lee.
Publication Rights Acquisition Press Release
In this example, Celadon Books announces the acquisition of a memoir by iconic American actor Henry Winkler.
How to send it out to the media
After finalizing and proofreading your book launch press release, the final step will be to send it to media outlets for consideration. For this, as with most press releases, you have two main options for distribution from which to choose: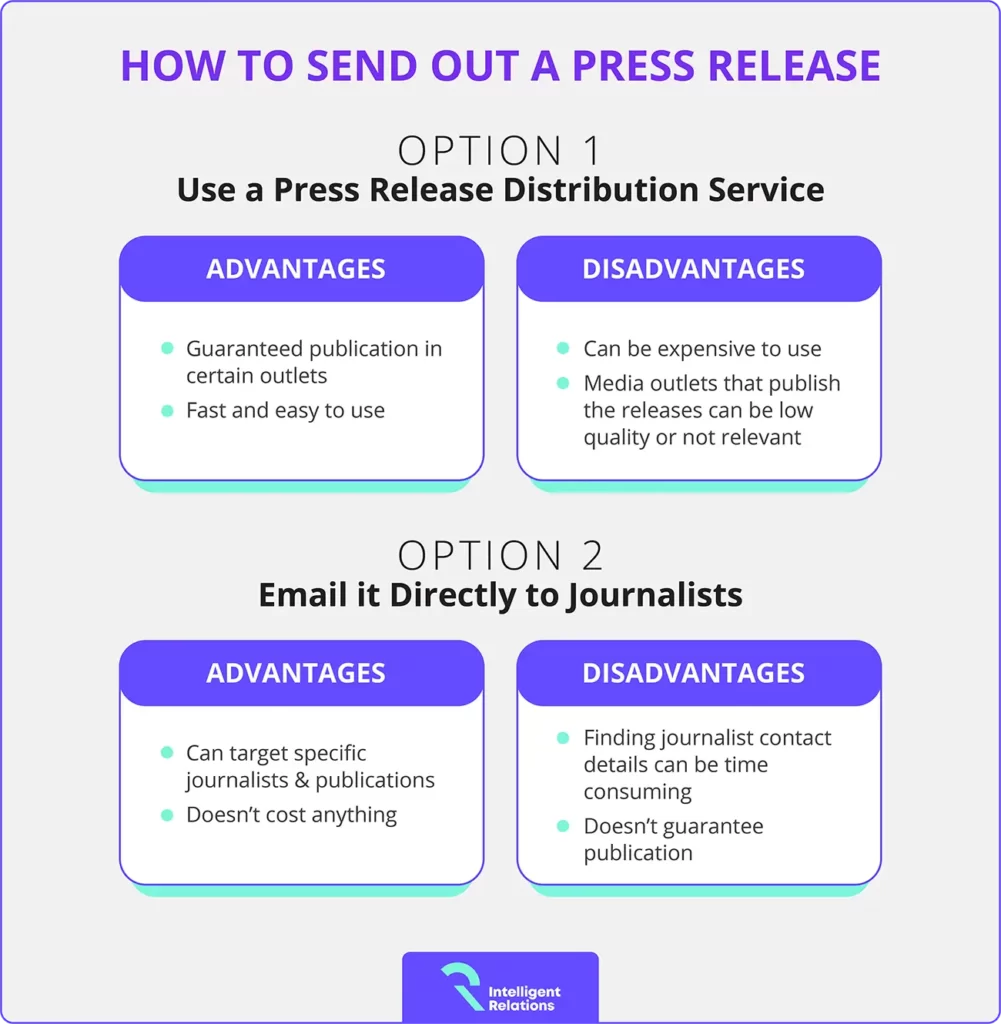 For those thinking about using an automated service, here's our list of the best press release distribution outlets.
Or for those planning to send it out by themselves, here's a guide to manually distributing a press release, which provides more details on how to do this successfully.
Wrapping up
A book launch press release can be an effective way to generate buzz for your book release, garner some media attention, and secure vital coverage that could help boost sales. That being said, it does require a bit of thought and effort to draft and distribute.
And finally, if you need a hand reaching the right journalists, you can try our DIY PR platform, which automatically matches your campaigns to the most relevant journalists, enabling you to email them with the click of a button.
.