How to Write a Press Release for a New Business
If you're launching a new business, you'll probably be looking to generate some media coverage.
One of the most efficient ways to announce this to the media is by writing and sending out a new business press release.
In this guide, we'll explain exactly how to do this and how to maximize your chances of getting media coverage. Here's what we'll cover:
The World's First Affordable PR Agency Powered by AI
Pay less than the cost of 1 press release per month. Get full-stack, AI-powered PR – Our databases and AI pitching + a dedicated PR expert to manage your outreach campaigns.
When should you write a business launch press release?
You should plan on writing and distributing a launch press release between two weeks and a month before your business officially opens.
All types of new businesses can benefit from a launch press release. This includes:
Small businesses based in a physical location. For example, a family restaurant, a salon, or an auto dealership. These are great to send to local media.
B2B businesses, such as agencies or software providers. For example, marketing agencies, staffing agencies, and cybersecurity software companies. Trade publications that report on these industries will often publish these.
Tech startups: For example, a new mobile app company or an e-commerce store. Startup and tech publications will often publish these press releases.
How do you write a press release for a new business?
Most press releases follow a standardized format, and most journalists expect them to be in this format.
They should be written like a news article, with the most important information placed at the beginning of the article, and the less important information placed lower down. The beginning of the press release should also answer the 5 Ws: who, what, when, where, and why
Here's a rundown of how to structure a business launch press release.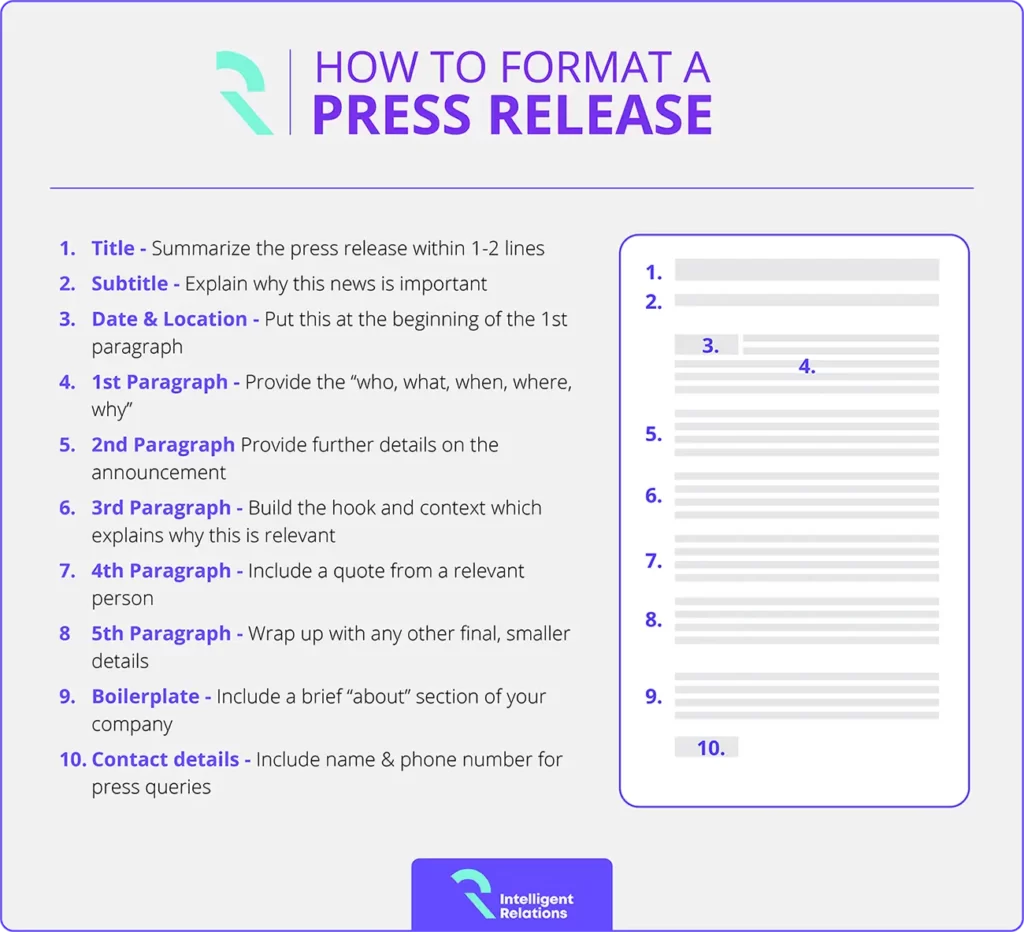 Writing basics checklist
In addition to using the correct layout, there are also some basic guidelines when writing the press release that you should follow, which include:
Write it like a news article. A press release should be approached in the same manner as a journalist writing an article—impartial and objective.
Write it in the third person. It should be written from the point-of-view of an independent observer, meaning no "I" or "me" pronouns.
Develop a "hook." The hook is integral to a press release's impact. This is the attention-grabber. Maybe it's topical, relating to a trending news cycle, or perhaps relates to a shocking statistic or language that will evoke an emotional reaction.
Keep it short. Aim for one page of copy—between 400 and 500 words.
Keep it hyperbole free. Avoid language that sounds like a sales pitch. Reporters will see through shallow terms like "disruptive," or "revolutionary."
Know the target audience. Are you trying to reach a business audience or the general public? Consider what your audience wants to know and write for them.
Consider media outlets. Familiarize yourself with topics that various publications you might submit to cover so you can be familiar with what to focus on.
New business press release template
Here's a successful new business press release example that we wrote and issued on behalf of a client. We've also included a breakdown of each section below, to help you when writing your own press release.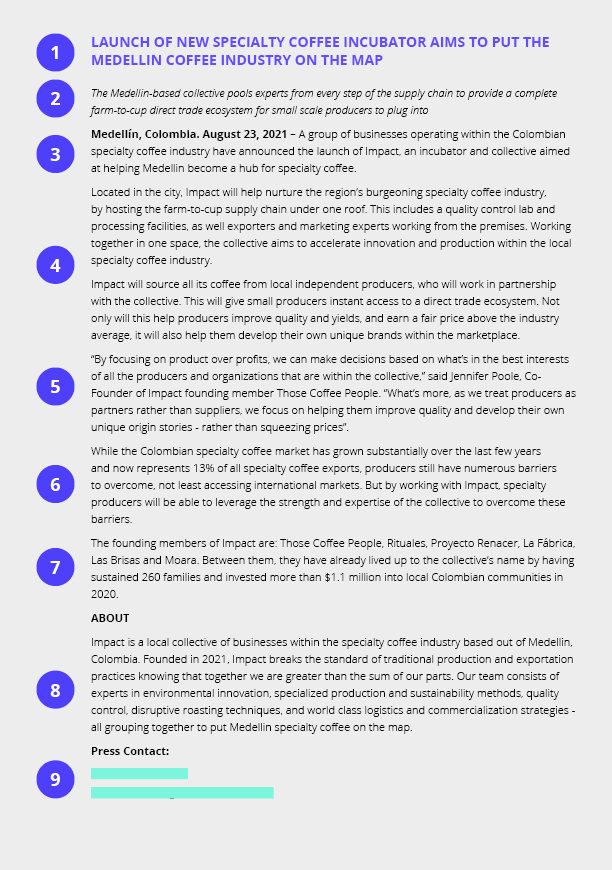 1. Title
Use the title to provide a succinct summary of the press release. In this example, we state what the new business is and what it's trying to achieve.
2. Subheading
A subheading can be used to provide further context and build interest. Here, we provide more of an explanation of how the new business will function.
3. First Paragraph
Here you address the 5 Ws of your announcement. Always start with the company location and date, then explain who the new company is, what the company does, and why the company has been launched
4. Second and Third Paragraphs
In this section, we provide more details about the new business and its mission, and how it will go about achieving this mission.
5. Fourth Paragraph
Now comes the quote, which should be from the founder. In this example, we use the quote to provide more context around the company's mission. Also, as the quote is written in first person, it allows you to use more subjective and emotional language than in the rest of the press release.
6. Fifth Paragraph
Use a final couple of paragraphs to include any supplemental information. Here, we provide some industry context and data that supports the company's mission.
6. Sixth Paragraph
In the final paragraph of the main body, we provide a summary of all the entities involved in the new business.
7. Boilerplate
All press releases are closed off with a boilerplate, which is a short "about us".
8. Contact Info
Lastly, provide the contact details of the person who will handle any media requests.
How can you get your press release published?
Once you've written your business launch press release, the final step is to send it out to the media. There are two main ways you can do this, with each having its own advantages and disadvantages.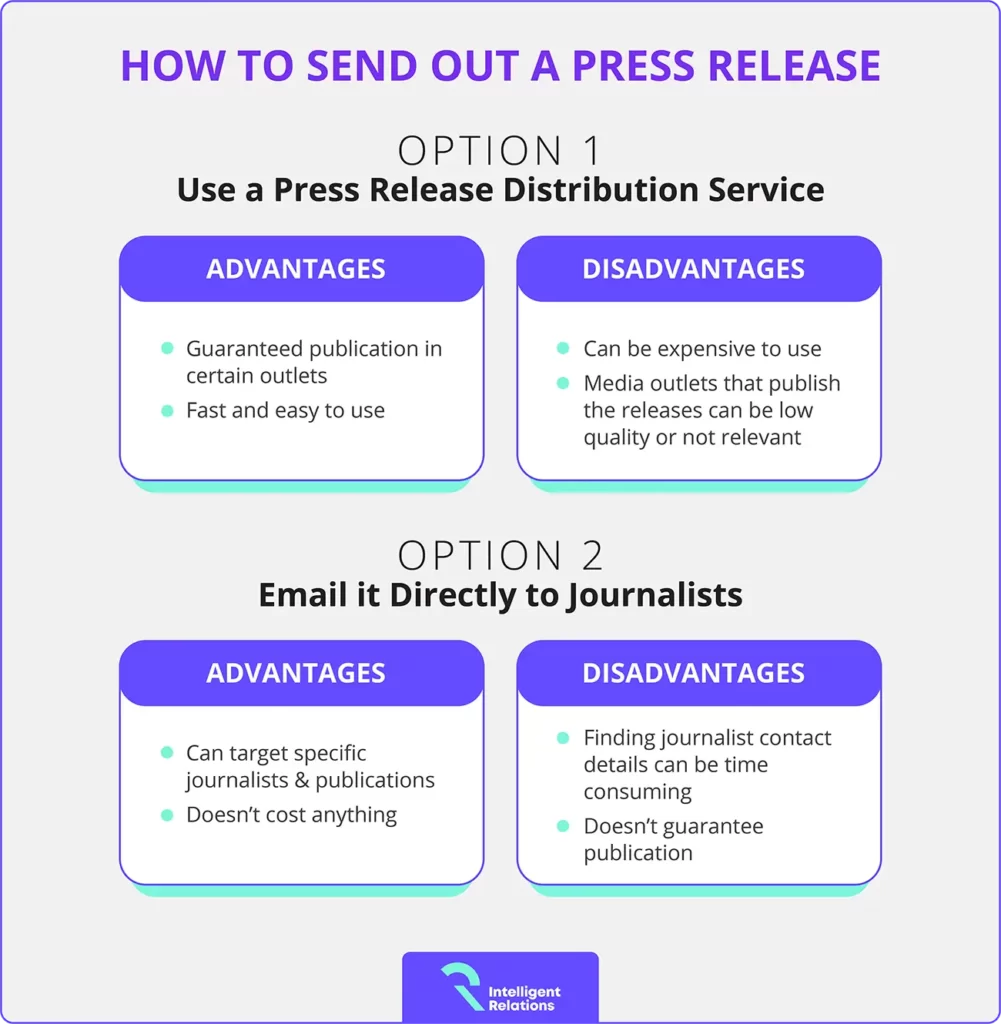 If you choose to use a third-party service, here's our guide to the best press release distribution services.
Or if you choose to send it directly to journalists, then follow these steps:
Build a list of target publications, such as all the main outlets that report on your industry.
Find the editorial contact email at each of these outlets.
Send each of them the press release in an email, with a short summary at the beginning of the email.
Wrapping up
When writing a new business press release, don't overthink it. Just focus on what your new business will be doing and what its mission is, which are things you're already an expert on.
Or if you need a hand reaching the right journalists, you can try our DIY PR platform, which automatically matches your campaigns to the most relevant journalists, and enables you to email them with the click of a button.