How to Write a Real Estate Press Release [+Example]
Writing a real estate press release is a great way for realtors to expand their client base and raise awareness of business operations. Designed to attract media attention, a good real estate press release can actually propel your company to new heights.
However, many realtors would rather focus on properties than PR—which is why this opportunity tends to get missed. Luckily, we've done the hard work for you and put together an extensive guide on how to write a real estate press release.
The World's First Affordable PR Agency Powered by AI
Pay less than the cost of 1 press release per month. Get full-stack, AI-powered PR – Our databases and AI pitching + a dedicated PR expert to manage your outreach campaigns.
When should you write a real estate press release?
Real estate press releases are brief articles that provide all the relevant information about an upcoming newsworthy topic. It may be shared with journalists, relevant publications, and bloggers.
Realtors looking to gain media coverage could consider writing a real estate press release for a number of reasons. Some of the main reasons could include:
Noteworthy property listings: This might be a property of historic significance or once owned by a prominent figure. Quirks that make a property stand out in the market are likely to be of interest to journalists.
Commercial real estate announcements: If a business is opening a new store or a corporation is adding real estate to its holdings, this might be a good opportunity to write a real estate press release. This is especially the case if the commercial announcement may bring new opportunities like jobs to an area.
Unique market trends: With the real estate market constantly in flux, industry experts are well-positioned to comment on market trends or respond to policy updates. The more focused these insights are, the better.
Industry Awards: While award announcements tend to be less impactful than other press releases, it's good to boost brand awareness by sharing your news in a press release and distributing it to local outlets.
What should I include in a real estate press release?
Writing a real estate press release doesn't have to be complicated. In less than 500 words, you need to provide journalists with all the relevant information. To do this, make sure you answer the "5 Ws"—who, what, when, where, and why— within your opening.
As for your press release format, think about the structure of a standard news article. Press releases include a catchy headline, a short subheading, and a main body that includes a few short paragraphs and a quote.
Given that your news might be related to properties, you might also consider including images and links within the body of your press release. Check out this template on how to format your press release: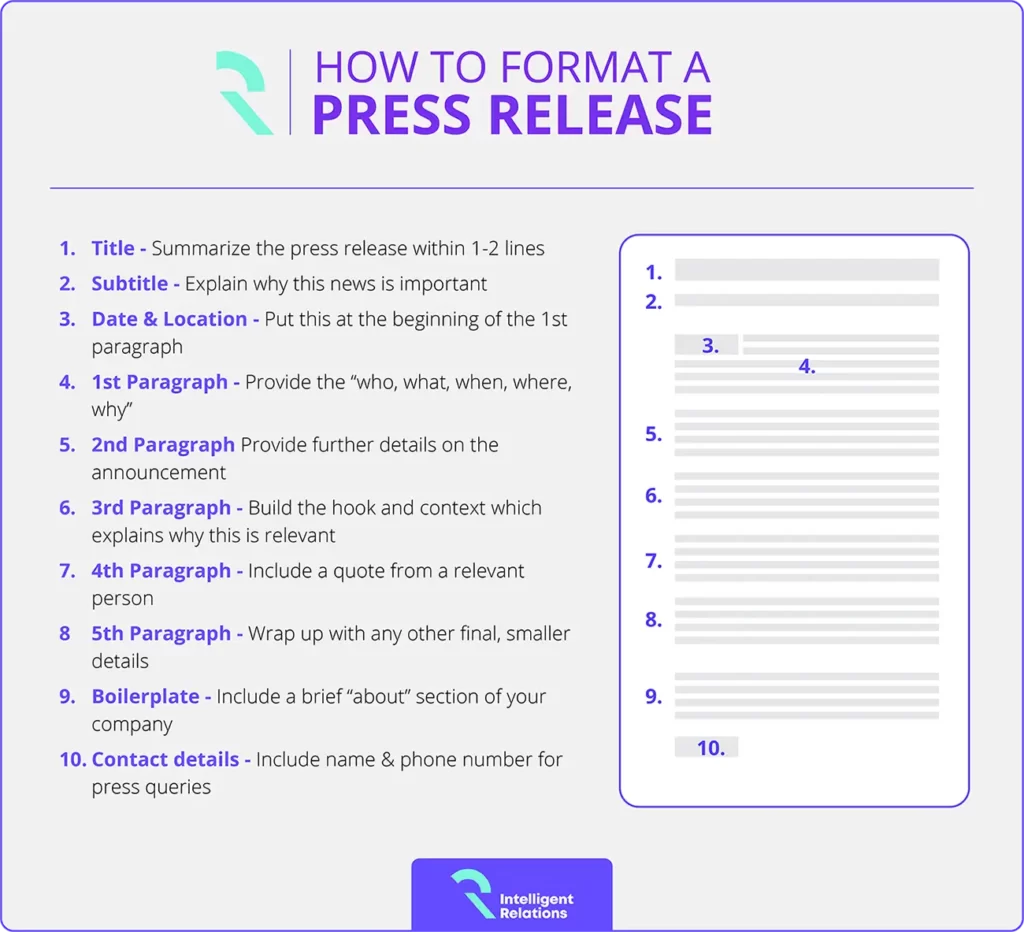 How do I make it stand out?
To make a real estate press release stand out, make sure you're delivering news that really matters. Don't write a press release just for the sake of it as you risk putting journalists off.
Simple techniques such as writing an intriguing headline (whilst avoiding clickbait) and offering a unique perspective can help your press release stand out in a reporter's inbox.
Finally, make the journalist's life easier by including all the information they might need. Include photographs, graphics, and videos that they can use within their article to save them from sourcing from other places.
Example real estate press releases
The best way to familiarize yourself with real estate press releases is to check out some real-life examples. Here we have three examples of real estate-related press releases.
30A Local Real Estate Announces Open House
This press release announces an open house and invites readers to attend a local event to celebrate. It includes all the important information as well as images and testimonials. Read it here.
Realtors®' CEO Meets with White House Officials to Discuss Housing Supply, Affordability.
This press release raises awareness of the National Association of Realtors CEO meeting with policymakers to discuss ongoing housing supply challenges. It's full of quotes that reporters can use within their articles. Read it here.
Beverly-Hanks Implements Virtual Open House Tours to Support Clients during COVID-19 Crisis
Published during the pandemic, this press release answers the 5 Ws within the opening paragraph as it announces a virtual open house tour. Read it here.
What are some common mistakes to avoid?
When you've familiarized yourself with the real estate press release format, writing press releases should feel easy.
Having said that, there are also some golden rules that can help ensure that your press releases are in good shape.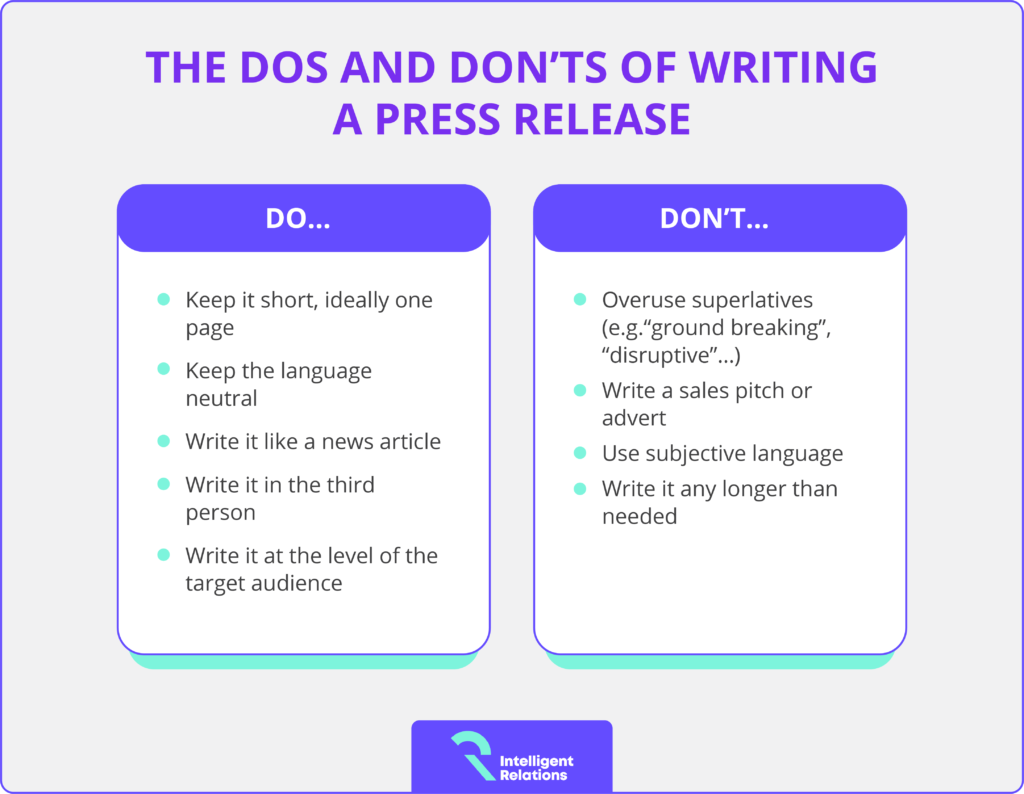 What are the alternatives to press releases?
While writing and submitting press releases is a great way to share your news with reporters, a competitive market means that sometimes it is hard to get noticed. Luckily, there are also other ways to gain media coverage that might be more beneficial for smaller businesses.
Pitch thought leadership: Rather than trying to promote business news, you could try and offer a guest article or provide expert commentary on some trending news. This requires some media outreach but can help you forge strong working relationships with reporters who know how you work.
Live stream: The majority of social media platforms now offer live stream services for their users. This means that you can make an announcement and encourage your followers to actively participate at the same time through comments. For example, you might do a live stream at an open house or conduct a Q&A with an important person in your field.
Host events: You could consider hosting an industry-specific event where you invite realtors to meet with others in the field. It could be an annual realtors dinner or a realtors forum where you discuss market trends. By inviting reporters to the event, you could secure media coverage.
Wrapping Up
Realtors are in an excellent position to tap into the benefits of press releases. The results could be improved business growth, better brand awareness, and more clients.
With this guide at your disposal, it's now time to start writing your first press release and landing those important media mentions.