21 Top Education Blogs and Publications Roundup [2023 Edition] 
Education is a dynamic and ever-evolving industry. However, the industry has faced major challenges in the last few years.
Between the challenges brought on by the pandemic, labor shortages, and rapidly advancing technology, education is a chaotic industry.
Thankfully, idea sharing and research helps both educators and students navigate these challenges. That's why PR placement in education publications isn't just good for business, it's a driver for meaningful conversations about the future of education.
So, whether you're looking to share research, promote an educational tool, or connect with a student-body audience, look no further for a comprehensive list of the best educational blogs and publications!
This list includes the best educational magazines, blogs, and media sites from around the world, allowing you to gain international exposure for your next PR campaign.
Supercharge Your PR Efforts with Artificial Intelligence
Access our entire publication database + our PR expertise. Book a consultation with a PR expert today and get matched with relevant education publications.
Top 3 Education Trends and PR Topics for 2023
As mentioned, education is an ever-changing industry. But for 2023, there are a set of trends and topics that will continue to remain evergreen throughout the year.
We've put together a list of the top 3 emerging trends so you've got an idea of what to talk about when pitching ideas or looking for trends.
Check them out:
Online Learning
The pandemic brought on a slew of challenges for students and educators alike.
And one of the hardest adjustments was the switch to online learning.
Abrupt school closures meant everyone had to teach and attend classes from home, relying on technology and new virtual learning programs to keep schools running.
Now that we're in a post-pandemic era, people are still hesitant to return to in-person learning. Remote learning has its challenges, but it's also birthed a new segment of the industry.
There're new products, technology, and organizations specifically dedicated to online education, making learning more accessible to people all over the world.
Online and remote learning will continue to be trending topics throughout 2023. There has already been a dramatic increase in virtual enrollment in the last two years, and the industry is going to continue exploring this new form of learning as a serious contributor to the field.
Artificial Intelligence
With the rapid advancements of AI technology, several serious questions have been raised on its impact on schools.
Will ChatGPT eradicate writing skills, reading comprehension, and research?
How can educators tell the difference between a student's work and an AI's?
Schools are already struggling with how to control the use of AI. Teachers now have tools to detect the use of AI in essays, but there are still many unanswered questions.
Others have embraced the advancement of AI technology.
If used correctly, it can be a powerful and useful tool for things like lesson planning, research, and explaining complex concepts in simple terms.
It's unclear what the future holds for AI and education, but one thing is clear – it will be a main topic of conversation for the foreseeable future.
Almost all of the education blogs on this list have multiple AI stories on their homepage. It's one of the most talked about topics in the field today.
Social Wellbeing
Another hot topic resulting from the pandemic is that of social wellbeing.
Teachers are experiencing burnout and resigning at record rates, and the school-age generation is facing a mental health crisis as a whole.
Children and teens are reporting the highest rates of depression, anxiety, and suicidal thoughts than ever before. What's more is that K-12 educators in the U.S. have the highest burnout rate of any other profession.
There are so many factors contributing to social wellbeing problems, but education is the one area that can dramatically affect the wellbeing of everyone involved.
Those in the field are looking at new methods of care and conversation every day, so that our educational bodies can get back to healthy learning.
Top Education Publications and Blogs – Our Curated List
Education Week (@educationweek) — Education Week is a leading source of news and analysis in the field of education.
For over 35 years, the publication has provided in-depth coverage of issues affecting K-12 schools and higher education, from policy and politics to classroom practice and student achievement.
This is one of the largest education blogs on the list, reaching over 1.6 million readers. It's a trusted source of local, national, and global education news.
Topics covered by Education Week include:
Leadership
Politics and Policy
Teaching and Learning
Technology
Jobs
Education Week publishes a daily news website, a weekly print newspaper, and a series of online professional development courses. It also hosts events and webinars.
Its team of journalists and analysts are dedicated to informing and engaging educators, administrators, policymakers, and education advocates. Their mission is to improve educational outcomes for all students.
Looking for a list of the top education journalists for 2023? We've got you covered! Check it out: A List of Top Education Reporters [2023 Edition]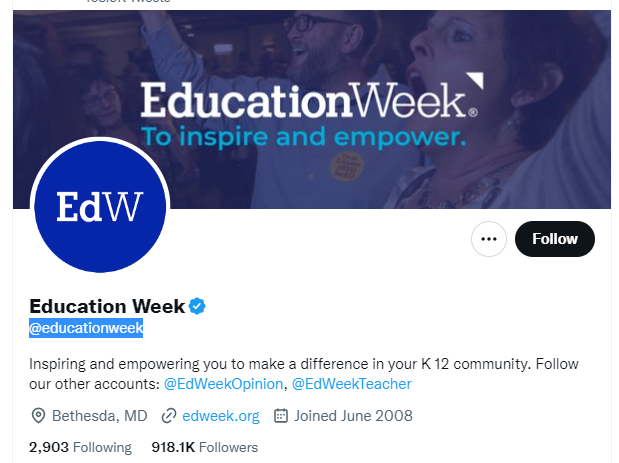 Education Dive (@HigherEdDive & @K12DiveNews) — Education Dive is a news organization that provides insightful and informative coverage of the latest news, trends, and innovations in the field of education.
The website is now split into two new education blogs, Higher Ed Dive and K-12 Dive.
Both education blogs publish free newsletters, accept op-ed pieces, and publish press releases. Higher Ed Dive's newsletter is read by 63,000 education decision makers. While 44,000 decision makers read K-12 Dive's weekly newsletter.
Whether you're a teacher, administrator, student, or education industry professional, both education blogs offer valuable information and insights to help you stay up on trends.
Topics covered by Higher Ed Dive include:
Online Learning
Policy
Legal
Leadership
Student Success
Finance
Enrollment
Topics covered by K-12 Dive include:
Technology
Curriculum
Leadership
School Models
Policy
Legal
Professional Development
With its comprehensive coverage, thoughtful analysis, and engaging content, Education Dive's education publications are a must-read for anyone who cares about the future of education.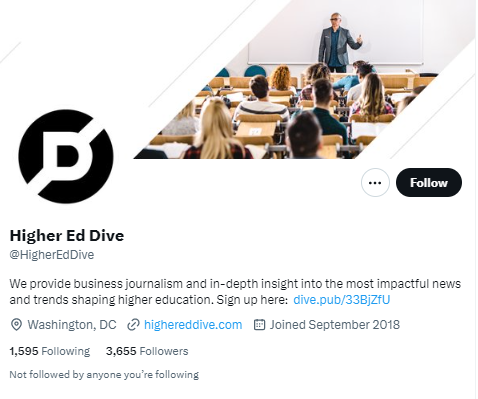 Mindshift (@MindShiftKQED) — MindShift is one of the more well-known education blogs on the list, and is complimented by a popular podcast of the same name.
What sets MindShift apart from other education publications is its focus on innovative and unconventional teaching methods, such as project-based learning, flipped classrooms, and blended learning.
Topics covered by Mindshift include:
Learning
Psychology
Lesson Planning
Technology
Innovation
Culture
The platform was created by KQED, a public media organization in San Francisco. The aim of Mindshift is to help educators stay up-to-date on trends and advancements in education.
The platform also covers topics like neuroscience and psychology, exploring how they can inform teaching practices.
Are you located in California? Want to get some local PR or stay up on state news and trends? Check out our article: Top California Newspapers and Publications Roundup [2023 Edition]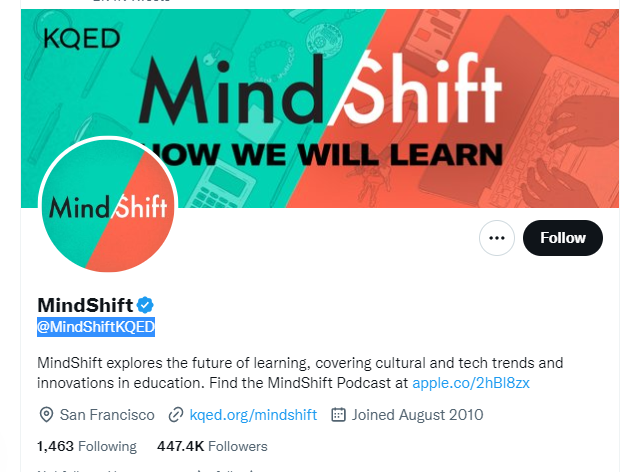 EdSurge (@EdSurge) — EdSurge is a digital education magazine that focuses on trending education topics, with an emphasis on edTech. The site is widely read by educators, administrators, and investors in the edTech space.
EdSurge has won numerous awards for its reporting and analysis. And with its focus on innovation and emerging technologies, this is one of the top online education magazines helping to shape the future of education and learning in the digital age.
Topics covered by EdSurge include:
News
Research
Events
Technology
Jobs
Diversity, Equity, and Inclusion
Its website provides daily coverage of news, trends, and insights in the education technology space, and also offers resources and tools for educators and edTech professionals.
Founded in 2011 by Elizabeth Corcoran and Betsy Corcoran, EdSurge has grown to become one of the top education blogs on the impact of technology on education.
Have an edTech product or service? Want a list of dedicated tech journalists for PR outreach? Check it out: 19 Top Tech Journalists in 2023 Full List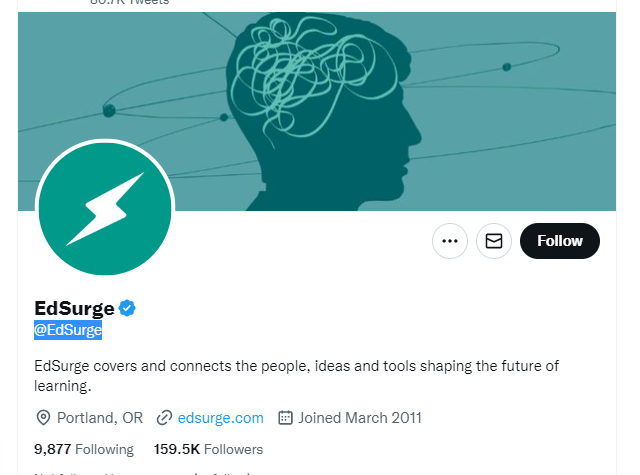 EdTech Magazine (@EdTech_HigherEd & @EdTech_K12) — EdTech Magazine is a popular publication that focuses on educational technology and its impact on classrooms of all grades.
EdTech Magazine is published in print quarterly, and also produces a weekly newsletter. It has two education publications, one focused on K-12 and the second focused on higher education.
Topics covered by EdTech Magazine's education publications include:
Classroom Trends
Technology
Online Learning
Digital Citizenship
Data Privacy
Data Analytics
Cybersecurity
Teaching Software
Whether you're a teacher looking for new tools, a school district seeking to upgrade infrastructure, or a parent curious about education technology, EdTech Magazine has it.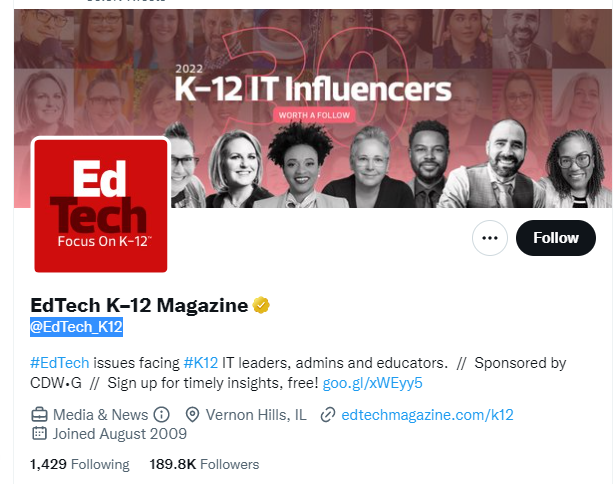 eSchoolNews (@eschoolnews) — eSchoolNews is an education blog that provides the latest news and resources for educators, administrators, and technology leaders in K-12 education.
This publication has a circulation of over 300,000 for its newspaper, and its website is visited by over 500,000 unique visitors each month in addition to its over 280,000 registered members.
eSchoolNews covers a wide range of topics, but has a particular focus on the intersection of technology and education.
Topics covered by eSchoolNews include:
IT Leadership
Innovative Teaching
Educational Leadership
STEM and STEAM
Wellbeing
Digital Learning
This is one of our award-winning education publications that produces multiple forms of content such as podcasts, feature-length articles, webinars, and in-depth teaching guides.
With its commitment to providing high-quality, timely content, eSchoolNews has become one of the essential education blogs for educators seeking to stay informed and inspired.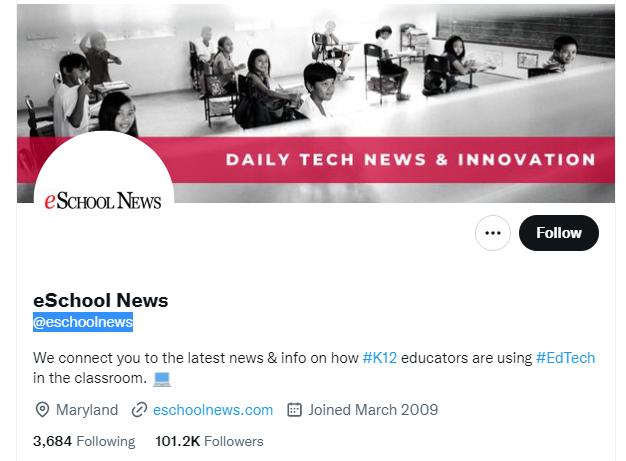 The 74 Million (@The74) — The 74 Million is a non-profit news organization dedicated to covering the important issues that impact America's education system.
Its coverage ranges from early childhood education to college and career readiness. They aim to provide in-depth reporting, analysis, and commentary on the state of education in America.
The 74 Million education blog is accompanied by a podcast, and includes a range of multimedia content to supplement its reporting including videos, opinion pieces, and expert analysis.
Topics covered by The 74 Million include:
High School Learning
Politics
Technology
STEM
Tutoring
Science of Reading
Launched in 2015, the organization's name refers to the approximately 74 million children in the United States who are under the age of 18.
The 74 Million is recognized for its commitment to high-quality journalism, winning awards for coverage of topics such as school segregation and the impact of COVID-19 on education.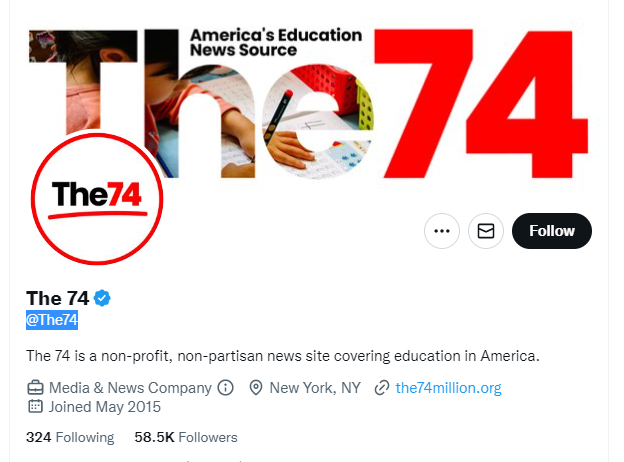 The Conversation (@ConversationUK) — The Conversation is an independent news organization that covers a wide range of education topics written by some of the best academics in the world.
It has published over 17,000 articles, written by scholars from over 900 colleges and universities. Because it only publishes articles written by academics and researchers, it's a great resource for keeping up on education trends.
The Conversation's articles are written in an accessible language, making complex ideas and research more understandable and engaging for a general audience.
Unlike many other news sources, it does not rely on advertising or paywalls. Instead it operates through funding from universities and philanthropic organizations.
Topics covered by The Conversation include:
Arts and Culture
The Economy
Politics
Technology
Environment and Energy
Ethics and Religion
Founded in 2011, The Conversation brings together experts from around the world to write articles and analysis on a wide range of topics.
The Conversation is a widely respected education publication that is cited by major media outlets and policymakers around the world.
The Harvard Graduate School of Education (@hgse) — The Harvard Graduate School of Education (HGSE) is one of the most prestigious graduate schools of education in the world. Its website and newsletter are read by some of the top educators and researchers in the world.
The faculty at HGSE is renowned for their expertise and includes scholars, practitioners, and policymakers who work at the forefront of education research and practice.
HGSE's commitment to excellence in education has earned it a reputation as a thought leader in the field and a top choice for aspiring educators around the world.
Topics covered by The Harvard Graduate School of Education include:
Professional Education
Faculty and Research
Degree Programs
HGSE offers a range of programs, including master's degrees, doctoral programs, and executive education courses, all aimed at preparing individuals as education leaders.
In addition to its academic programs, HGSE is home to numerous initiatives and research centers, which conduct groundbreaking research on topics ranging from early childhood education to international education policy.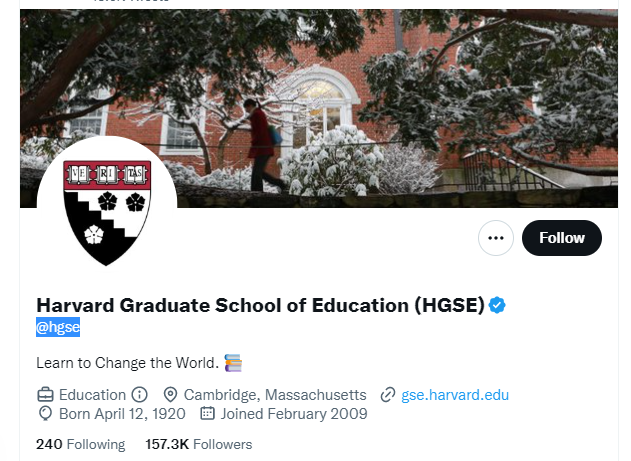 EdTech Review (@etr_in) — EdTech Review is one of our prominent education blogs that's located in India. It focuses on educational technology and innovation.
EdTech Review content covers a wide range of topics, but mainly focuses on the role of technology in classrooms and education. If you have an edTech product or service and are interested in markets in South East Asia or India, this is the publication for you.
It has a global audience that includes over 3 million educators and stakeholders from over 220 countries around the world. Plus, the EdTech Newsletter has over 120,000 subscribers.
Topics covered by EdTech Review include:
Industry News
eLearning
Research
Technology
The platform provides insights, news, and updates on the latest advancements in the field of education technology.
EdTech Review aims to bridge the gap between technology and education by providing a platform for educators, entrepreneurs, and investors to exchange ideas and insights.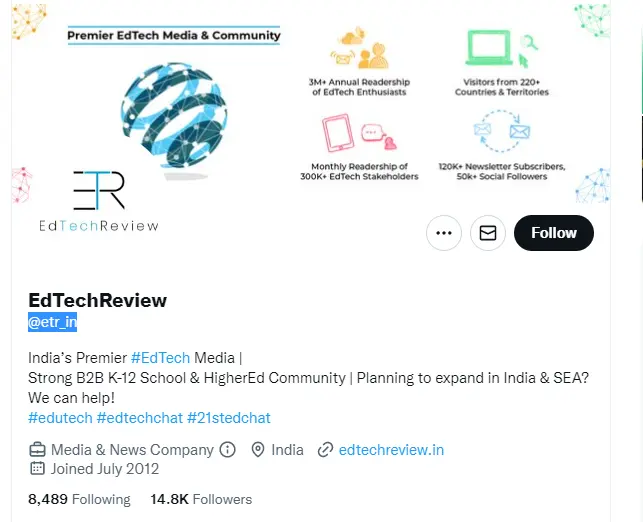 TeachThought (@TeachThought) — TeachThought is one of our top education blogs that provides resources, articles, and ideas for educators and administrators.
The site also features a podcast and a thriving community of educators who share their own ideas and insights. The platform also manages TeachThought University which provides online courses for teachers and educators.
Topics covered by TeachThought include:
Project Based Learning
Lesson Planning
Critical Thinking
Technology
With a focus on critical thinking, inquiry-based learning, and student-centered instruction, TeachThought offers a wealth of information for teachers.
Whether you're a new teacher or a seasoned veteran, TeachThought is a valuable resource for anyone looking to improve their practice and help their students succeed.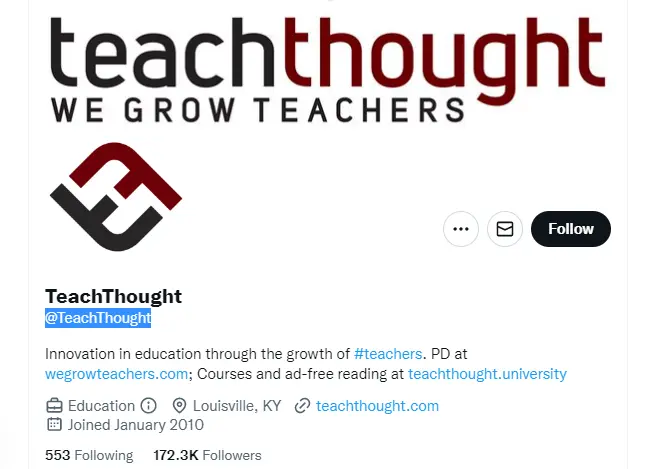 The Education Magazine (@TheEducationMag) — The Education Magazine is a magazine and website dedicated to exploring and highlighting the latest trends, challenges, and advancements in the field of education.
From early childhood education to higher education, this magazine covers a wide range of topics and provides in-depth analysis and insights into the education sector.
Topics covered by The Education Magazine include:
Education
Law
Arts
Technology
This is one of our must-read education publications for anyone passionate about education and its role in shaping the future.
The publication is open to ad placements in both the magazine and on the website.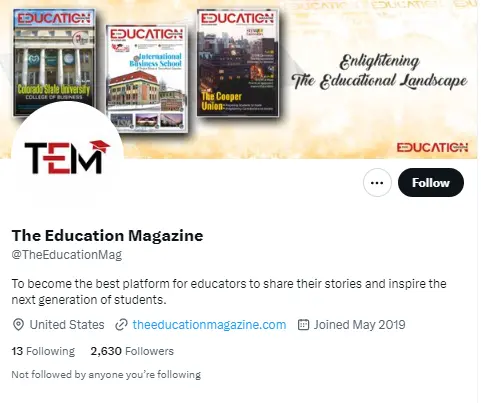 Language Magazine (@langmag) — Language Magazine is one of our leading education blogs dedicated specifically to language learning and education. It publishes a monthly magazine, and offers a variety of resources and digital content.
Topics covered by Language Magazine include:
Multilingual Learners
Linguistics
EdTech and Remote Learning
Culture
World Education
Methodology
With a global readership, Language Magazine is committed to promoting multilingualism and cultural understanding.
In addition to their print and online publications, Language Magazine also hosts conferences and events to bring together experts and enthusiasts in the field of language education.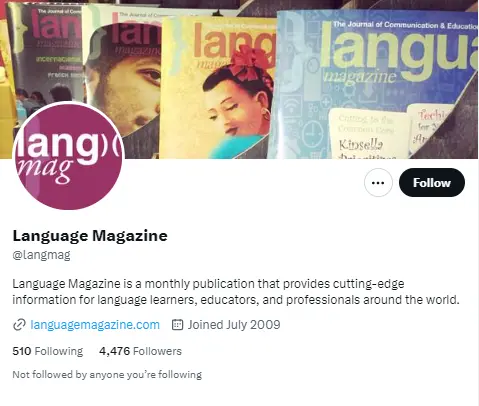 The Old Schoolhouse Magazine (@TOSMag) — The Old Schoolhouse Magazine, also known as TOSMag, is a publication that caters to the needs of homeschoolers worldwide.
This award-winning education magazine is published quarterly in print and sold throughout the U.S. in Walmart, Target, Barnes & Noble, Kroger, and more.
The magazine covers a wide range of topics related to homeschooling, including curriculum reviews, educational philosophies, and practical advice for homeschooling parents.
Topics covered by The Old Schoolhouse Magazine include:
Homeschooling
Lesson Planning
Activities
History
Educational Philosophy
Arts
In addition to its print magazine, TOSMag offers a digital version of its publication, as well as an online schoolhouse store where readers can purchase educational materials and resources. It also has a widely read, weekly newsletter.
Founded in 2001,TOSMag has been providing homeschooling families with valuable resources and information for over 20 years.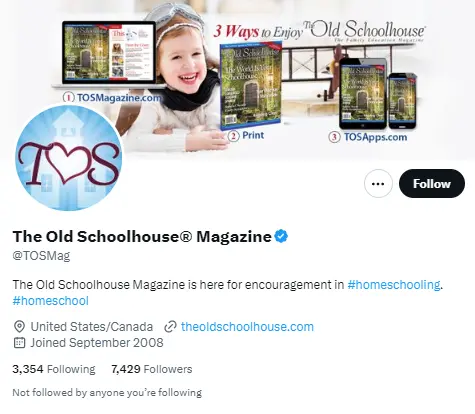 The Knowledge Review (@theknowledgerv) — The Knowledge Review is a recognized online education magazine that provides a platform for educators, students, and researchers to share their knowledge and insights.
Its widely-read magazine is a great resource for students and teachers around the world to stay in touch with educational news and research.
With a strong focus on cutting-edge educational practices, technological advancements, and innovative ideas, The Knowledge Review offers a unique perspective on the education sector.
Topics covered by The Knowledge Review include:
Educational Resources
Learning Technologies
Elearning
STEM
Leadership
The Knowledge Review aims to inspire readers to think critically and creatively about the future of education, and to stay up-to-date on the latest trends and developments in the field.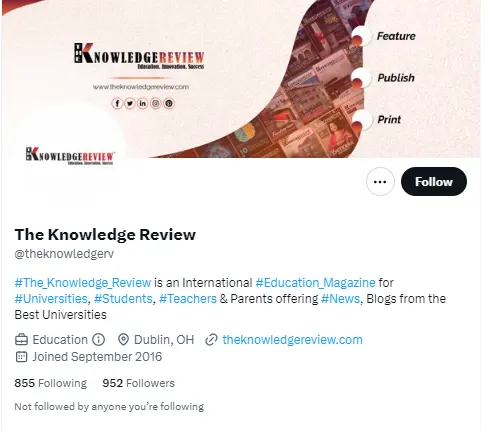 Tech & Learning (@techlearning) — Tech & Learning is a monthly magazine and education blog that covers a wide range of topics related to education technology.
This education publication has been covering tools and education since 1980. Today, it has a monthly readership of over 50,000 educational leaders. Its weekly newsletter reaches over 67,000 and last year, its website pulled over 1.8 million page views.
Topics covered by Tech & Learning include:
Classroom Tools
Higher Education
Technology
Events
PD Resources
This is another of our award-winning education publications that's also a leader in the education technology sector. Tech & Learning also hosts events, webinars, contests, and conferences to bring together leaders in the industry.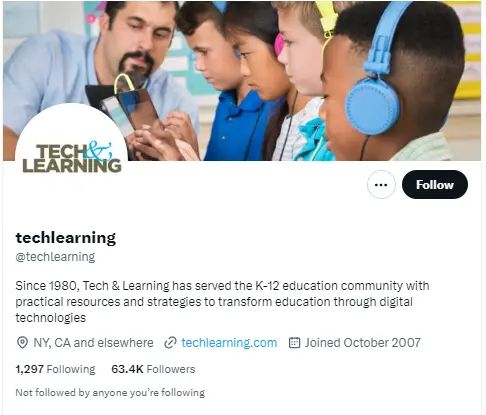 The Chronicle of Higher Education (@chronicle) — The Chronicle of Higher Education is a leading source of news, analysis, and commentary on the world of higher education.
The Chronicle produces a variety of specialized publications, including the Almanac of Higher Education, which provides comprehensive data on colleges and universities.
They also publish the Chronicle Review, a weekly magazine that features essays on topics ranging from science and technology to philosophy and literature.
Topics covered by The Chronicle of Higher Education include:
Diversity, Equity, and Inclusion
Technology
Data
Admissions and Advertising
Education News
This publication has over 30,600 paying subscribers that get exclusive access to The Chronicle's content. Its website draws over 1.7 million monthly visitors and its events draw over 106,000 attendees.
With its extensive coverage and insightful commentary, The Chronicle of Higher Education plays an essential role in shaping the conversation about higher education.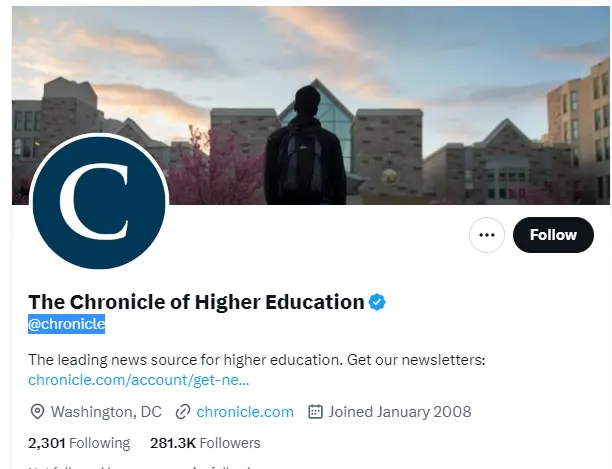 Inside Higher Ed (@insidehighered) — Inside Higher Ed is another of our education blogs dedicated to providing insightful and informative coverage on higher education.
With a focus on colleges and universities in the United States, Inside Higher Ed covers a wide range of topics. The publication is known for its in-depth reporting and analysis, and is widely respected among educators, policymakers, and industry leaders.
Topics covered by Inside Higher Ed include:
Diversity
Admissions
Governance
Tech and Innovation
AI
Inside Higher Ed has an impressive reach. The website has over 2 million unique monthly visitors. Plus, the newsletter enjoys a circulation of over 375,000 and Daily News Update has 250,000 subscribers.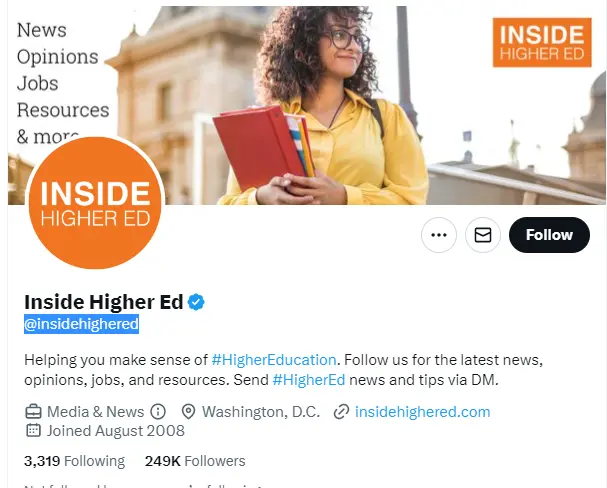 The College Fix (@CollegeFix) — The College Fix is a higher education news outlet run by the Student Free Press Association.
It was founded in 2011, and has since become a go-to source for news, analysis, and commentary on a range of topics related to college campuses.
The website features articles written by college students, as well as contributions from professional journalists and academics.
Topics covered by The College Fix include:
Activism
Curriculum
Free Speech
Campus Culture
Academic Freedom
Higher Ed
Legal
Politics
Technology
The College Fix aims to provide an alternative perspective to mainstream media outlets on college campuses, which some critics argue are dominated by progressive and liberal viewpoints. As a result, The College Fix has gained a significant following among conservative students and others who are concerned about what they see as a lack of ideological diversity in higher education.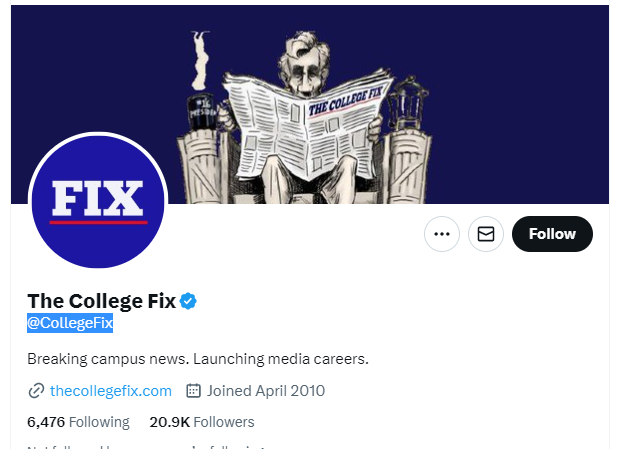 U.S. News & World Report Education (@USNewsEducation) — U.S. News & World Report Education is one of the most well-known educational news outlets in the U.S.
With over 30 years of experience, the publication is well-known for its annual ranking of the best colleges and universities in the country. The ranking is based on a variety of factors, including academic reputation, student retention, faculty resources, and student selectivity.
Beyond college rankings, the education publication covers a range of other topics including online education, graduate programs, and education news.
Topics covered by U.S. News & World Report Education include:
Colleges
Grad Schools
Online Learning
Skill Building
Rankings
This is one of the most widely-read education publications in the country. Its website draws about 42 million unique visitors each month.
U.S. News & World Report Education also provides valuable resources and tools for students and parents, such as college search and scholarship information.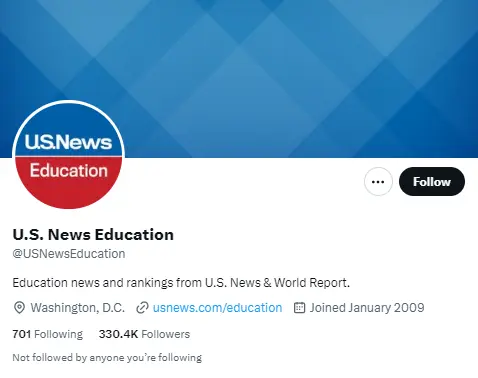 eCampus News (@ecampusnews) — eCampus News is a leading source of information and insights for higher education professionals looking to stay up-to-date on the latest trends, innovations, and challenges in the world of edTech.
With a focus on practical, actionable advice and analysis, eCampus News has become one of the most trusted education blogs for thousands of educators across the United States.
Topics covered by eCampus News include:
Campus Leadership
IT Leadership
Digital Innovation
Cybersecurity
Founded in 1998, the publication offers a wide range of resources, including news articles, opinion pieces, research reports, and webinars, to help educators navigate the rapidly evolving landscape of digital learning.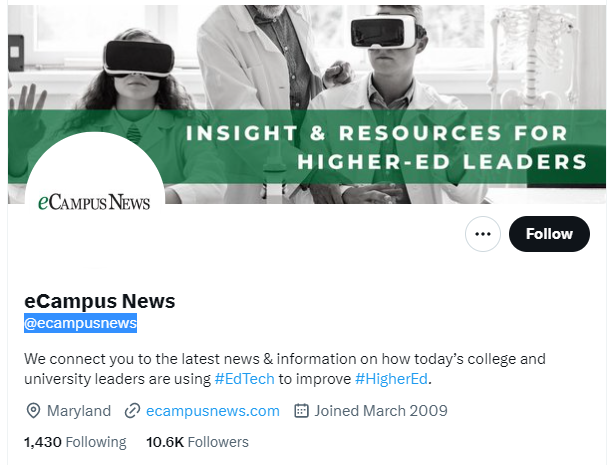 4 General Publications with Dedicated Education Sections
The following publications are not specific to education, but are some of the most widely-read news publications in the world. All of them have a specific section dedicated to education.
So, if you're looking for some higher-tier education publications, you'll want to start here.
The Atlantic (@TheAtlantic) — The Atlantic is a well-known media outlet that's covered a wide range of topics for over 160 years. One of its focus topics is education.
The Atlantic's coverage of education has been extensive and diverse, spanning topics such as the impact of the pandemic on schooling, the challenges faced by teachers and students, and the future of education in a rapidly changing world.
It publishes articles, essays, and opinion pieces from a variety of voices, including educators, policymakers, and students themselves.
The Atlantic's coverage of education is widely acclaimed for its depth and breadth, and for its ability to shed light on important issues that are often overlooked by other media outlets.
The Atlantic is a great place to turn for insightful, thought-provoking coverage.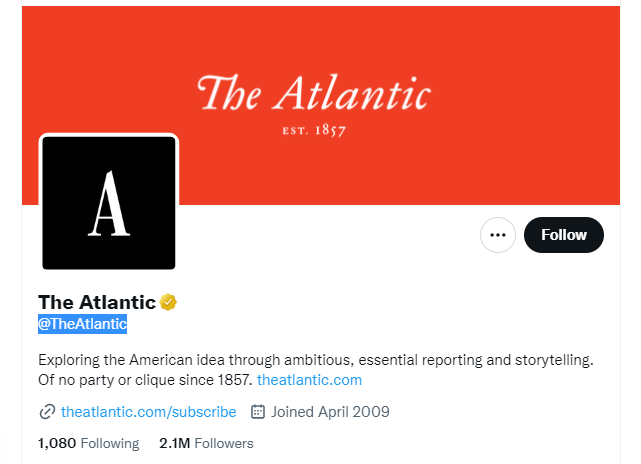 The New York Times (@nytimes) — The New York Times is renowned for its coverage of important news stories and their special education section is no exception.
Its special coverage on education is a must-read for anyone interested in this field. From the latest research studies to interviews with leading educators, this coverage offers valuable insights into the challenges and opportunities facing the education sector today.
The New York Times provides a comprehensive overview of education policy and practice, covering topics such as early childhood education, primary and secondary schooling, college and university education, and vocational training.
Their coverage also includes stories on the role of technology in education, the impact of cultural diversity on learning outcomes, and the challenges faced by educators in the face of budget cuts and changing social attitudes.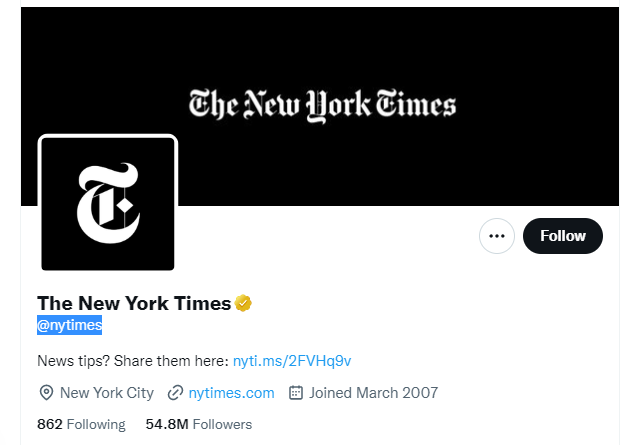 The Guardian (@GuardianEdu) — The Guardian is a well-known British daily newspaper that's gained popularity for its comprehensive coverage of various topics including education.
With an emphasis on investigative journalism, The Guardian has played a pivotal role in exposing issues such as the UK's school funding crisis and the high rates of exclusion among disadvantaged students.
The publication has dedicated sections that offer in-depth analysis and news coverage on a wide range of educational issues, from policy debates to classroom teaching practices.
The publication also features thought-provoking opinion pieces from educators, policy experts, and students, providing a platform for diverse voices to be heard.
Additionally, The Guardian has expanded its educational coverage to include podcasts and videos, making it a go-to source for those seeking high-quality content on education.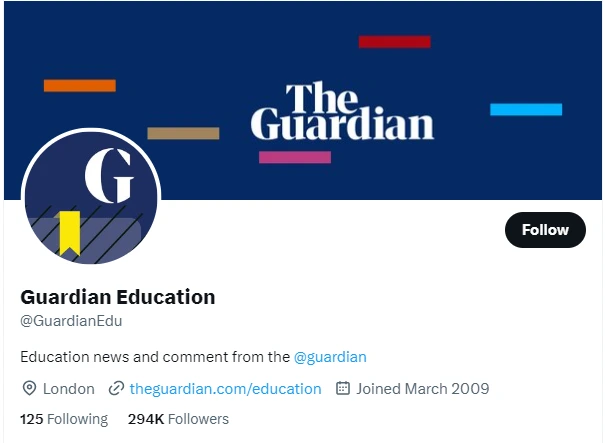 Forbes (@Forbes) — Forbes is a prominent American business magazine that's been in circulation since 1917.
Over the years, the publication has gained a reputation for providing insightful and informative content on a wide range of topics, including business, finance, technology, and education.
In particular, Forbes has developed a special coverage of education that's both interesting and informative. Its education coverage focuses on topics such as educational policy, student debt, technology in the classroom, and college rankings.
Forbes provides its readers with valuable insights and analysis of the current state of education in the United States, including the challenges facing students and educators and the opportunities for innovation and progress.
Forbes' education coverage also highlights the success stories of individuals and institutions that are making a positive impact in the world of education.
Its reporting is backed by research, data analysis, and interviews with experts in the field, making it one of the more valuable education publications for anyone interested in education.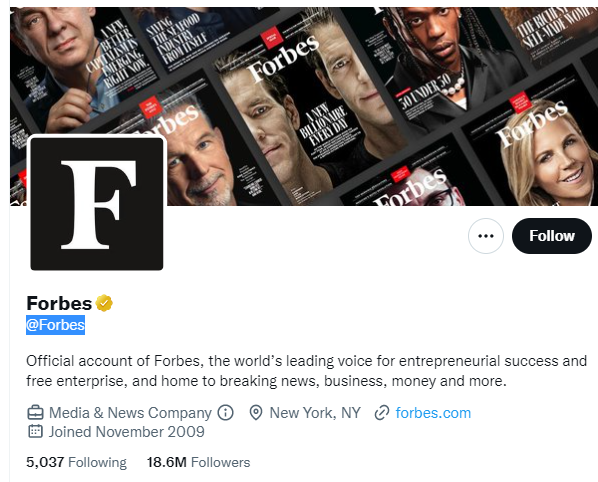 Final Thoughts
Whether you're promoting the latest edTech gadget, offering a hybrid learning platform, or representing Teacher of the Year, our list of education blogs can help you get your PR in front of the right audience.
We made sure to include education publications with a demographic range. So, whether your PR placement is looking for elementary educators, higher education, or students themselves, we've got you covered.
For access to more publications tailored to your specific business activity, book a free consultation with us. You'll get AI-assisted, expert insight into how to improve your PR efforts!