A Guide to Press Releases for New Websites
If you've just launched a new website then your number one priority is going to be driving traffic to it.
As part of your marketing efforts, you can write up and send out a new website press release. This can help you gain media coverage and backlinks to your website.
In this guide to press releases for new websites, we'll walk you through exactly how to do this, including
The World's First Affordable PR Agency Powered by AI
Pay less than the cost of 1 press release per month. Get full-stack, AI-powered PR – Our databases and AI pitching + a dedicated PR expert to manage your outreach campaigns.
What is a new website press release?
A press release for a new website, or a website launch, is a brief announcement detailing the products or services that the website provides.
Ultimately, the aim of any press release is to generate awareness to the media, which in turn generates media coverage and publicity.
In the case of a website launch, the intent is to increase site traffic and attract new clients, as well as to inform existing clients, partners, and shareholders about business developments.
How do you write a new website press release?
There is an art to writing a good press release. This can be broken down into layout and style.
When it comes to layout, it needs to follow the inverted pyramid. This is how news articles are written, with the most important information placed at the beginning, and the finer details included at the end.
And just like a news article, it also needs to answer the 5 Ws: who, what, when, where, and why.
The below graphic breaks this down into more detail.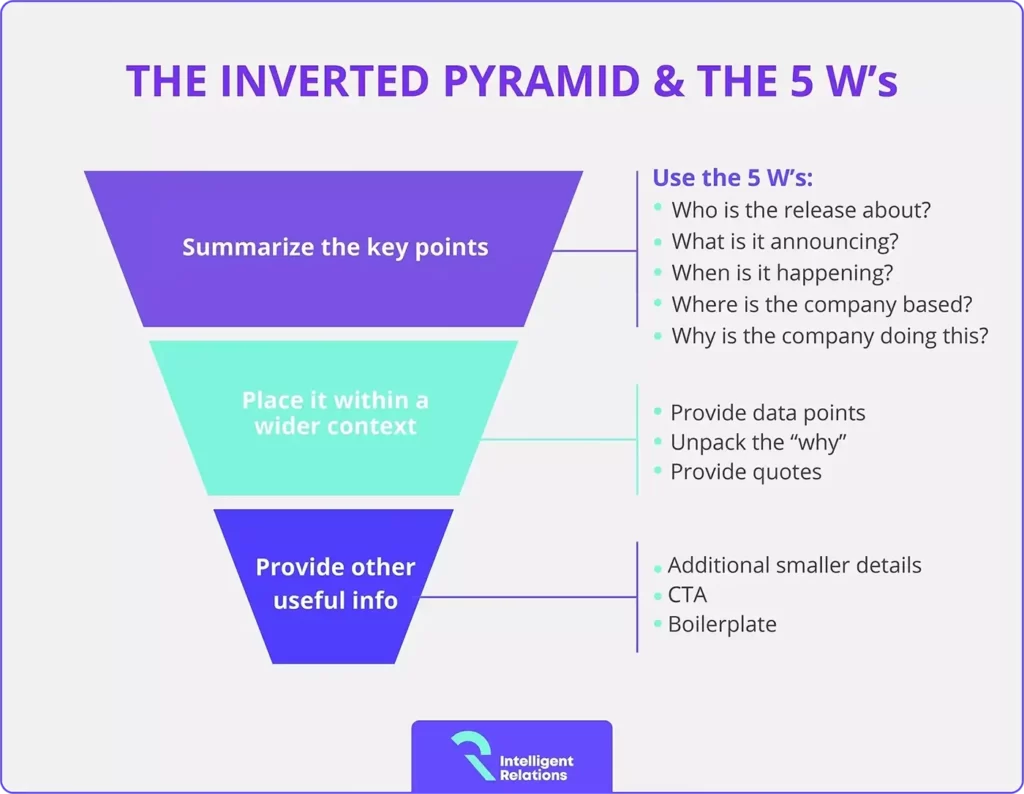 What else should I include in it?
High-quality visuals, graphics, or videos can help to make a new website press release stand out. Releases including photos or videos typically get more engagement than those without.
While press releases aren't as effective as they once were for SEO, they can still provide a net benefit. Ensure the title of the press release contains some of your target keywords and that there are one or two links to your site in the main body (but don't insert any more links than that).
How do I write it in the correct style?
Here are the basic style tips you should stick to when writing your new website press release:
Keep it in the third person. A press release should always be written from the point-of-view of an independent observer—meaning the third person.
Write it like a news article. A press release should be objective and composed in the same manner as a reporter's news article.
Keep it short. You should always aim for no more than a single page of copy, which is between 300 to 400 words.
Write for your target audience. Always keep who you're writing the press release for in mind. This should influence the language you use and the angle you take.
New website press release example
Here's an example of a website launch press release that we wrote for one of our clients, with notes breaking down each section below.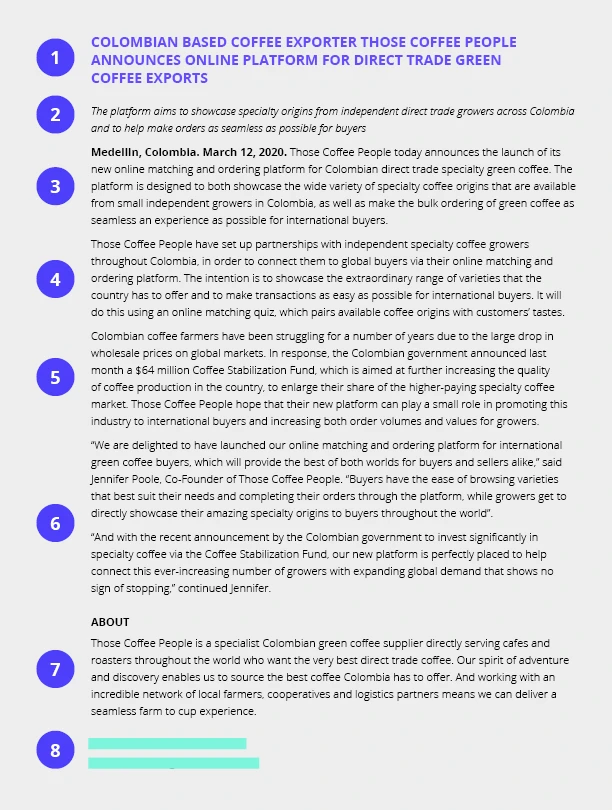 1. Headline
Summarize the key points of the announcement. In this example, we name the company, where it's located, and what the new website does.
2. Subheading
The subheading is used to provide further information that wasn't included in the heading. In this example, we provide more details about what the new website will be used for.
3. Lead/first paragraph
Begin the first paragraph with the business location and date, this answers the where and the when. The rest of the paragraph is then used to answer the who, what, and why. Here we name the company and explain what the new website does. We then answer the why, by explaining why it's been launched.
4. Second paragraph
This is where you provide more details about the new website. Here, we provide more details as to how the new website will work and what's gone on behind the scenes to set this up.
5. Third paragraph
You should always try to place a press release into a broader context, as this explains to journalists why it's newsworthy. In this example, we provide industry context and data points, which support why there is a business case for this new website.
6. Fourth and fifth paragraphs
Always provide a quote from the founder. Here, the quote from the founder provides more context and texture as to why she launched the website.
7. Boilerplate
Provide a boilerplate at the end of the press release, which provides a brief summary of the company.
8. Contact info
Finish off a press release with the contact information of the person who will handle any inquiries from the media.
How do you distribute a new website press release?
The last step before you generate media coverage with a new website press release is to send it out to the media. There are two main ways to do this. Here's a summary of these options and the pros and cons of each.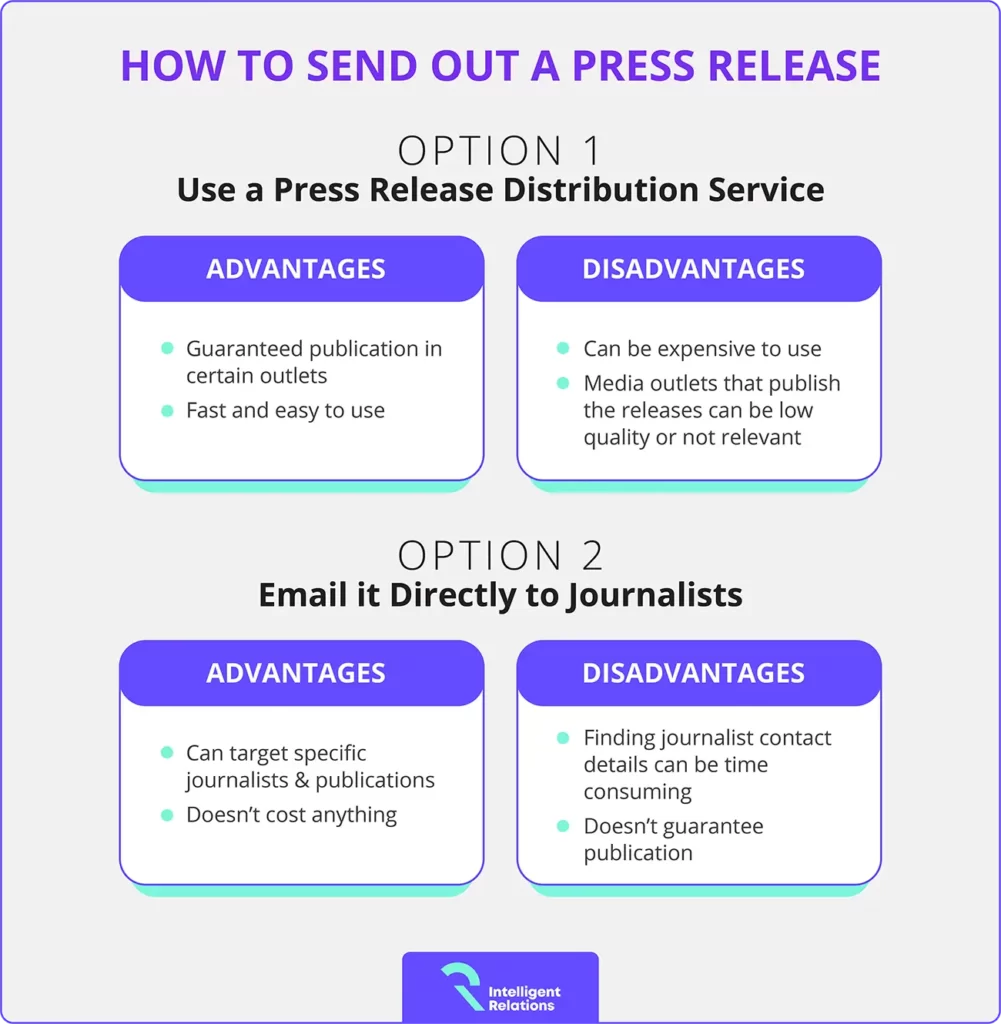 If you choose to use a service to do this on your behalf, then here's our list of the best press release distribution services
You can also read our detailed guide on how to submit a press release, which goes into a lot more detail on your options and which could be the best option for you.
The bottom line
Stick to the best practices outlined above, when writing a new website press release. Remember to keep it objective, short, and formatted in the correct layout.
Or if you need a hand reaching the right journalists, you can try our DIY PR platform, which automatically matches your campaigns to the most relevant journalists, and enables you to email them with the click of a button.